Those of us who write food blogs spend our days dealing with the light hearted and the festive, the pretty to look at and the delightful to eat, yet sometimes when we turn off the laptop and rejoin our friends and family we have to deal with the less than cheery, the sad and even the terrible. Sickness, death, we are all touched by it yet we rarely see it in the food blogosphere. We shield ourselves and our readers from the pain and the reality, we use our food blogs to paint a colorful picture of good food, good friends and loving family celebrations. No one really expects to visit a food blog and be faced by something so personal, so awful as illness. Yet we have all been touched by tragedy, faced illness and loss. These past five years or so, my husband, sons and I have faced more than our fair share. As anyone who knows me well, I am not a person to hide the turbulence, the raw emotions that grow dark inside of me. Life is a Feast and not everything that is served up is tasty and satisfying.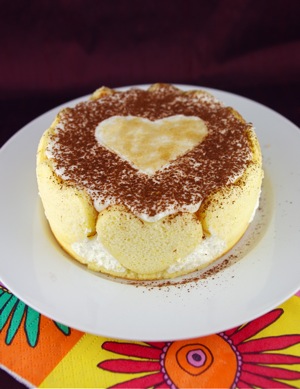 I am not the only food blogger who has taken the risk to write about our own or a loved one's illness or death. Our blogs become a personal diary, a place where we actually feel safe to open ourselves up and share our innermost secrets with our readers who we have come to think of as friends. I find writing about sadness and fear, illness and death therapeutic, comforting, allowing me to think about it, talk about it, look at it straight on rather than pussyfooting around it. Writing about it allows us to work through the thoughts, the fears and we end up walking through the dark tunnel and somehow coming out the other end to a brighter place; we find strength and courage in the sharing, and the words become part of the healing process.
I stumbled upon Barbara Harris' food blog Winos and Foodies over a year ago and there is no other word to describe Barbara better than lovely. Her soft words and beautiful images inspire and make us smile, her mouthwatering food and recipes make us keep coming back for more. And her honesty and courage in her own personal battle against cancer have touched so many of us and helped us get through our own personal tragedies. After Barbara was diagnosed with cancer in 2004, she felt inspired by famed cyclist and multiple winner of Le Tour de France Lance Armstrong and his own struggle with cancer. She explains: "For many of us diagnosed with cancer, Lance has become a hero in our own fight to overcome the disease." Armstrong, known almost as well for being a cancer survivor as for his historic wins, decided to take advantage of his fame and popularity by becoming an advocate for people everywhere living with cancer and a world representative for the cancer community by creating the LiveSTRONG Foundation. The Foundation is his way of calling the public's attention to the issues surrounding the disease while increasing awareness of the need for research and global solutions. And what, you are wondering, does all this have to do with food? October 2 is LiveSTRONG Day 2010, a day on which 1,500 events will be staged worldwide by individuals and organizations taking action in the fight against cancer. Barbara created A Taste of Yellow, an event she hosts annually on her own food blog Winos and Foodies; A Taste of Yellow is Barbara's way of bringing LiveSTRONG home to the food blogging community. A Taste of Yellow gives each and every food blogger the opportunity to participate in this worthy cause by doing what he or she does best: cook and bake!

Perhaps you have a cancer story to share. Or you might like to honor a family member or friend touched by cancer by dedicating your heart to them.
- Barbara of Winos and Foodies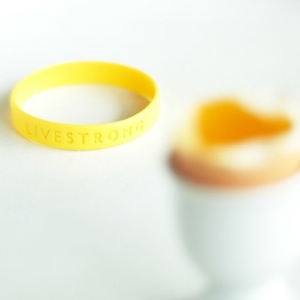 photo: Barbara Harris
Food bloggers around the world are invited to prepare a dish or drink that contains a yellow food, the color of the LiveSTRONG bracelet, and everyone together will be posting their yellow dish on October 2, LiveSTRONG Day. This year, the fourth year of A Taste of Yellow, Barbara decided to add her own personal touch to the event by asking everyone to incorporate hearts into their food either by creating a dish in a heart shape or decorating the food with hearts. So keep your eyes open on October 2 and you will see the food blogosphere filled with yellow love! Barbara will be posting a round up of all the Taste of Yellow entries the following week. This will surely be an event to remember.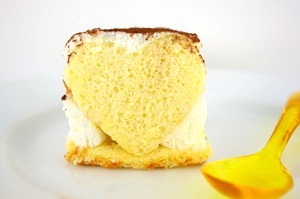 Jamie Schler lives, eats and writes in France. To read more of her work visit Life's a Feast.