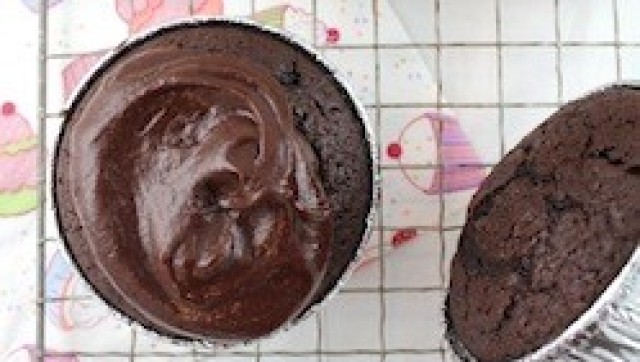 Heartbreak Recovery Kitchen is a lighthearted look at life's woes with drool-worthy recipes that make people happy. - author Jeanne Ambrose
The misery of a love affair gone sour or the excruciating pain of divorce; the niggling discomfort of a blind date gone wrong or not getting a call back for a second interview; the unexpected loss of a job or the emotional tailspin of losing a friend or loved one; we've all suffered heartbreak in one form, one degree or another. And as we drag ourselves home and plop down on the sofa, head in hands, weary soul and heavy heart, we automatically turn to the kitchen for comfort. Whether we drown our sorrows in something chocolaty sweet or the necessary heart mending, soul-repairing medicine is something hot and spicy, food is an automatic reflex. Soothing, comforting therapy, there is no escaping the healing qualities of food.
Heartbreak Recovery Kitchen is the cookbook for healing heartbreak. Recipes and remedies for mending and moving on, as the subtitle indicates, this wonderful little book is a compilation of delectable recipes for every craving - heartache or not. When life hands you lemons has you making everything from lemon chicken lasagna to your own Limoncello (with a hint of lime); fully loaded home-fried potatoes and Bloody Mary with bacon can't but help the morning after; a bit boozy - when that is the only thing that helps - runs from the ale-cheddar soup with bacon croutons, double drunken dogs (a bit of the hair....) to cardamom-spiced mandarin martini; from craving comfort to grills only (yes, barbecue), Heartbreak Recovery Kitchen satisfies every heartfelt need, nourishing our emotions and lifting our spirits while joyfully satisfying the palate.
I am normally averse to cookbooks with cutesy themes; gimmicks usually turn me off; when Jeanne sent me a copy as a gift I was just a bit worried. These type cookbooks risk falling into the juvenile or the just plain silly. Happily, Heartbreak Recovery Kitchen does neither; rather, this endearing, funny cookbook, written by the dynamic, talented mother-daughter duo of Jeanne (the mom) and Lindsey (the daughter) Ambrose is more like a fun Saturday night with your best girlfriends, sharing those stories of heartbreak and laughing as together you cook and eat away the blues.
Jeanne and Lindsey (besides having done a lot of eating) are a seasoned food writing team with years of experience under their common belt. Jeanne has a long career working as a writer, recipe developer and editor specializing in food, nutrition and health. Currently the editor of Taste of Home magazine, she has served as senior food editor at Better Homes & Gardens and contributing editor for such publications as Healthy Cooking, Organic Gardening and MasterChef magazine among others. Lindsey, a passionate cook and eater, has cooked for Food Not Bombs among other adventures. Jeanne and Lindsey have each thrown their fair share of pity parties, struggling along the rocky road of life as we all have, moaning a lost job or a lost lover over glasses of wine and crying into platefuls of food. Yet they have channeled this experience and energy into writing this great little cookbook filled with big, fabulous recipes along with soulful stories and informative tidbits scattered throughout the pages guaranteed to make you smile, make you laugh out loud. And feel much better!
The only problem I truly found with this cookbook was deciding which recipes to cook. Every single one grabbed my attention and made my mouth water!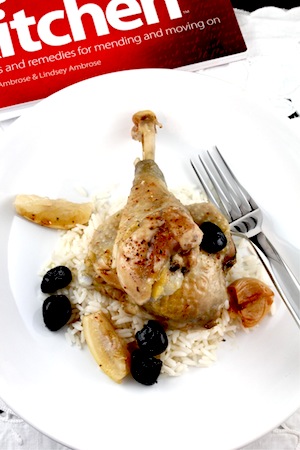 With their cooking knowledge and years of testing recipes both at home and professionally, every scrumptious, mouthwatering recipe Jeanne and Lindsey offer is simple, straightforward and works perfectly. The Walnut-Studded Dark Chocolate Brownies are quite possibly the best brownies I have ever eaten - and I've baked and eaten a lot of brownies! The luscious Easy-Lemon Garlic Chicken is both simple to make and bursting with flavor. And the Double Chocolate Stout Cupcakes are simply the best little adult treat with a kick you can whip up in no time at all, just when you need them the most.
Although they say that laughter is the best medicine, Heartbreak Recovery Kitchen will bring both laughter and food. "The book will provide you with recipes that comfort, cheer, or boost your mood," say the authors, each of whom has experienced her own share of heartache. "Use them to host a gathering of your most supportive friends or to enjoy solo." Heartbreak Recovery Kitchen is the cookbook for healing heartbreak - but not only! Whether just looking for a little comfort or a little down time alone or with friends, or if you are just craving something chocolaty, spicy, lemony or homey, this is the cookbook for every occasion. I just keep grabbing it and making one more savory dish or sweet dessert after the other and everything is simple and fabulous!
As Lindsey and Jeanne say throughout the pages of this delightful and delicious cookbook, "step into the kitchen and cook up a bit of happiness!"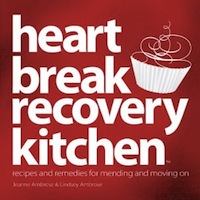 Find more great recipes, witty writings and expert advice on bouncing back from heartache on Jeanne and Lindsey's website Heartbreak Recovery Kitchen!
Happy ending guaranteed!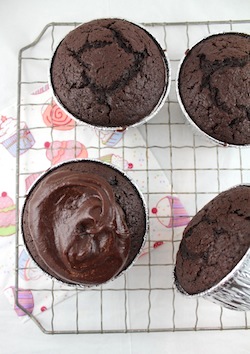 For now, try these very chocolaty, very adult cupcakes:
Double Chocolate Stout Cupcakes
From Heartbreak Recovery Kitchen by Jeanne Ambrose & Lindsey Ambrose. Copyright © 2010. Used by permission.

Makes 12 cupcakes

1 cup flour
½ tsp baking soda
¼ tsp salt
½ cup chocolate stout (I used cocoa and vanilla flavored stout)*
½ cup unsalted butter (if using salted butter, omit the salt listed above)
1/3 cup unsweetened cocoa powder
3 ounces dark, unsweetened chocolate, coarsely chopped or semisweet dark chocolate chips
¾ cup packed brown sugar (I used light)
2 lightly beaten large eggs

Dark Chocolate Frosting (recipe follows) or Favorite Chocolate Buttercream
Coarse sea salt
12 bite-size pretzels, optional

* Pour about 1/3 cup chocolate stout plus foam in the measuring cup, let settle for 1 to 2 minutes, scoop off the foam and you should have about ½ cup. Just top up as needed.)

Preheat the oven to 350°F. Line a regular muffin tin with 12 paper liners. Set aside.

Stir the flour, soda and salt together in a small bowl and set aside.

In a medium saucepan over medium heat, bring stout, butter and cocoa just to simmer; stirring frequently. Add the chopped dark chocolate, stirring until melted. Remove from the heat. Add the brown sugar off the heat and stir until smooth. Whisk in the eggs in a stream until combined. Add the flour mixture and beat until smooth.

Fill the liners with the batter about ¾ full. Bake for about 15 minutes or until a toothpick or tester inserted in the center comes out clean. Or just gently press the top center of the cupcake and it should bounce back.

Cool in the pan for 5 minutes before carefully removing the cupcakes from the muffin pan and cool completely on the rack before frosting.

Dark Chocolate Frosting
Makes enough to frost 12 cupcakes

¼ cup unsalted butter
¼ cup milk or cream
1 cup dark chocolate chips or 8 ounces dark chocolate, coarsely chopped
2 ½ cups sifted powdered/confectioner's sugar

In a small saucepan, heat the butter and milk over medium heat until the butter is melted and mixture is bubbly, stirring constantly. Reduce heat to low and stir in the dark chocolate until melted.

Remove pan from the heat and add the powdered sugar. Beat by hand until smooth. Cool to room temperature and stir well before frosting cupcakes. Add a bit more milk if the frosting is too thick.
Jamie Schler lives, eats and writes in France. To read more of her work visit Life's a Feast.