Mangiare per vivere e non vivere per mangiare.
Eat to live and not live to eat.
- Italian proverb
A great cookbook is like a good friend: it is ever-present, reliable and trustworthy, offering unequivocal pleasures, comfort when comfort is needed, joy in the everyday.
Hazan Family Favorites is my third cookbook from renowned Italian chef Giuliano Hazan. Every Night Italian and How to Cook Italian both sit contentedly on my bookshelf, always within easy reach, each offering this passionate Italian food lover a treasure trove of classic and traditional recipes and new discoveries. Having lived in Italy for several years and having raised and nourished my two sons on Italian culture and food, delving into one of Giuliano's books, making -- and sharing -- his Ossobuco in Agrodolce, Sweet and Sour Ossobuco, the cool and luscious Torta di Ricotta or the stunning Chicken with Green Olives is like a trip home again, back to the embrace of a country and a cuisine we love so well. And his newest cookbook promised to be just as sensational!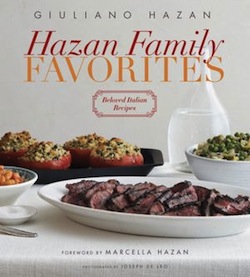 Seven years of living in Italy during our sons' most tender and earliest years, Italian cuisine is in their blood and Italian dishes became our family's comfort food, infused with love and familiarity, all the warmth, goodness and easy pleasure of home. Food for the soul. All these years later, now well ensconced in this very French life, we are still passionate lovers of everything Italian, continuously turning to one classic piatto or dolce when the need arises to return to our roots. Italian cuisine, as we know it, is based on one very simple premise: a few select, high quality, local and seasonal ingredients gathered together and cooked in such a way as to create the most flavorful combination, a rich, luxurious yet homey dish highlighting each separate ingredient, aroma and flavor. Giuliano Hazan captures the very essence of the best of Italian home cooking while making it absolutely accessible to every level of cook.
Hazan Family Favorites allows me to feed my boys like a true Italian mamma. The simplicity of each recipe and Giuliano's way of walking us through each step reassures even the least experienced home cook, allowing him or her to turn out something truly fabulous, while those of us who are often faced with much more complicated recipes and too little time, well, Giuliano offers us the pleasure of cooking and baking with ease and simplicity so we can bring great food to our tables, our families every day.
Yet, Hazan Family Favorites is much more than just another cookbook of easy-to-follow, comforting recipes that titillate the palate, infusing our own home with the warmth of Italy. Hazan Family Favorites is just that: a collection of 85 recipes, family favorites, from Giuliano's childhood, dishes passed down from two sets of grandparents and from the loving hands of the chef's mother, the renowned Marcella Hazan, the extraordinary doyenne of Italian cuisine; but it is so much more than just a cookbook. Evening after evening found me curled up in bed, book nestled against my knees, reading. Giuliano recounts with passion, love and verve his family history, an utterly fascinating tale of cross cultures and cooking from the heart for those one loves. This is definitely a book worth reading in and of itself, the story of one chef's passion for cooking, a passion grown from enduring Hazan family traditions.
The recipes are inspired by the jumble of cultures that make up the Hazan family; Italy to its very core, yet kissed with flavors of the Middle East, heavily influenced by the Sephardic Jewish traditions of one set of grandparents, the Italian roots blended with the Egyptian experience of the other, infused with his and his wife Lael's American upbringings. Giuliano shares both his personal story -- and how this shaped his cooking -- as well as the memory-rich recipes of his youth which now find a special place on his own family's table.
I selected Uccellini Scappati -- Escaped Little Birds -- a recipe that was handed down to Giuliano from his mother Marcella, a dish she cooked for and served to Craig Claibourne, famed New York Times food and restaurant critic. Italian simplicity at its finest, Uccellini Scappati uses a few, fine ingredients to create a flavorful, outstanding dish, at once homey and elegant, much like most Italian dishes. Simple veal rolls layered with slightly smoky prosciutto cotto and freshly grated Parmesan and bathed then simmered in a luscious red sauce, served simply with white rice and a green vegetable, this effortless recipe turned out a stunning meal.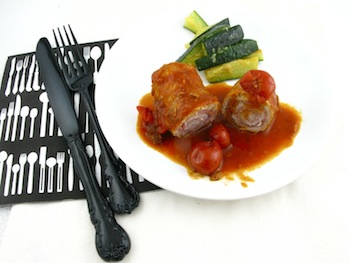 Find more fabulous recipes from Giuliano Hazan as well as fun stories and fascinating facts about Italy, her cuisine, ingredients and food traditions written by Lael Hazan -- with the occasional guest post by Marcella Hazan -- on their blog Educated Palate.
Disclosure: My wonderful friend Lael Hazan asked Giuliano's publisher to send me a copy of Hazan Family Favorites for review, but all opinions of his cookbooks and recipes are my own. I can say in all honesty that his cookbooks are often used and well loved, each dish receiving two thumbs up all around, my Little Italians included.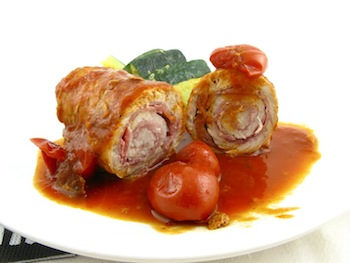 UCCELLINI SCAPPATI

(VEAL ROLLS WITH PROSCIUTTO & PARMESAN IN A TOMATO WINE SAUCE)
from Hazan Family Favorites
Copyright (c) Giuliano Hazan 2012, All Rights Reserved

Time from start to finish: 40 minutes
Serves 4

4 or 5 veal scaloppini, thinly sliced, for a total of 1 pound (500 g) veal
4 large, thin slices of prosciutto cotto, Italian ham, for a total of 4 oz (115 g) ham
¼ cup or so freshly grated Parmesan cheese
2 Tbs (30 g) unsalted butter
1 Tbs vegetable oil
¼ cup (approximately 65 ml) dry white wine*
1 cup or so (I used one can) whole peeled tomatoes with their juice
Salt and freshly ground black pepper

*When cooking with wine, use the wine you will be serving and drinking with the meal.

Lightly pound the veal scaloppini just to flatten evenly (I do this by placing one scaloppini at a time between two slices of parchment or waxed paper and pounding with a wooden crab mallet). Rinse and pat dry; top each slice of veal with a slice of prosciutto and 1 teaspoon of the grated Parmesan, dusted evenly over the surface of the ham. Roll up each tightly and secure with toothpicks.

Heat the butter with the vegetable oil in a large 12-inch skillet over medium-high heat. When the butter and oil are hot and just beginning to color, place the veal rolls in the skillet in a single layer and brown them on all sides. Once browned, transfer the veal rolls to a clean plate.

Add the wine to the pan and allow to bubble for about 30 seconds to allow the alcohol to evaporate. Add the canned tomatoes and break them up with the back of a spoon as you stir them in. Season with salt, lower the heat to medium-low and cook, covered, for 15 minutes. Season the veal rolls on the plate with salt and pepper.

After the tomatoes have cooked for 15 minutes, put the veal rolls back in the pan and heat, covered, for 2 to 3 minutes until cooked through.

Serve hot with white rice, a simple risotto and a green vegetable.
Jamie Schler lives, eats and writes in France. To read more of her work visit Life's a Feast.