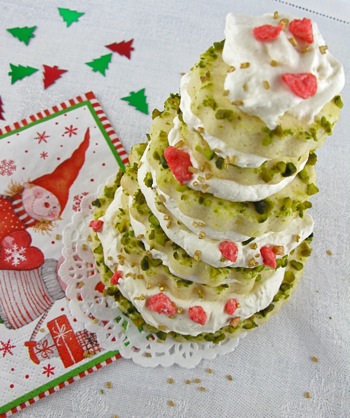 Now that Thanksgiving is behind us, we are all preparing for the end of the year holidays. This week will find many of us celebrating Hanukkah, reciting the blessings and a tale of war, survival and a miracle. As we pull out the boxes of candles and polish the Menorah, as we search out the perfect gifts for friends and loved ones, we think about our holiday menu, eight days and nights of festive meals: the potato latkes topped with tangy applesauce, the fried chicken or fish tenders and the jam-filled donuts, oh, anything fried will do. The decorations will be hung, a space made in front of the window where we will light the candles each night of this joyous holiday, the shimmering lights visible by all who pass in front of our home, a light that exudes warmth and peace. I have a shoe box filled with tiny cutouts of Assyrian warriors on elephants or standing, legs firmly planted on the ground, helmets on and swords in hand, alongside the shabbily-equipped Maccabees with their large blue Star of David emblazoned across their white tunics made by my sons many long years ago which still take pride of place. Of course the boys also carefully drew and cut out the Holy Temple, the sacred place of Jewish worship that was destroyed by the Assyrians in their attempt to wipe out the Jews, and its holy Eternal Light, also threatened with extinction during the war and destruction. Although an episode of faith and survival in the Jews' long history, the festivities of Hanukkah, the Festival of Lights, swirl around the miracle of the magical duration of the tiny bit of oil remaining in the Temple altar's lamp which lasted not the expected one but eight full days until fresh oil could be prepared. Thus was born the tradition of lighting the candles for 8 consecutive nights and the eating of foods fried in oil.
Hanukkah will be swiftly followed by Christmas and though the rituals are different, the spirit and the preparation are the same. Both are filled with good food and good cheer, family and friends, gifts and traditions. Although we have raised our sons in a Jewish home, they have celebrated the odd Christmas whenever they spent their winter holidays with their French grandparents: decorating the tree, setting up the crèche in front of the fireplace, hanging stockings, receiving Christmas gifts and eating their fare share of Bûche de Noël and marrons glacés. We ourselves even had a small Christmas tree in our apartment several times, a wreath on the front door: in part to honor their heritage and their grandparents, in part so they wouldn't feel left out. We have always taken care of how we approach this most jolly of seasons, gently trying hard to counterbalance the excitement brought home from school as my boys watched all the Christmas merrymaking enviously from afar with our own home culture. And along the way, we have learned where the two holidays meet, the similarities and how to make them both work for us side by side.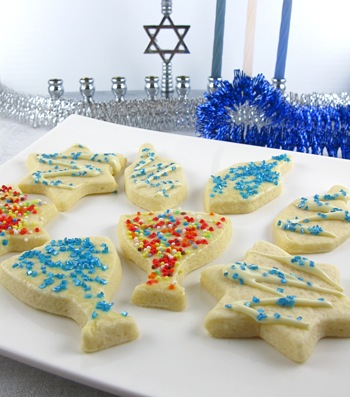 Each of these two holidays has it's own wonderful food traditions yet I often look for both savory dishes and sweet treats that can be prepared for the two together. I love cooking for the holidays and I love giving edible gifts: cranberry relish, cranberry orange pecan bread and pumpkin muffins, stollen and panettone, tiny chocolate truffles nestled in fluted paper cups adorned with red and green poinsettias. And cookies. How much fun - and universal - are holiday cookies? Warm, buttery cookies for both Hanukkah and Christmas and whether in the shape of Old Saint Nick and his fleet of reindeer or dreidls, menorahs and six-pointed stars, they are appreciated by the young and the not-so young alike: a plateful within easy reach of small hands while decorating the tree, lighting the candles or listening to a story, a tin box placed next to the coffee machine at work bringing a small dose of holiday spirit to the office, a platterful set down in the center of a festive buffet table offering a small treat to bring out the child in all of us. Rolling out dough, cutting out shapes, frosting and sprinkling each cookie with glittery sugar in any color you please is a wonderful family activity, something fun for all to do on a snowy afternoon before the big celebrations. Here is the perfect recipe, easy to make and one of the most delicious butter cookies I have ever tasted. Make your own cookies or create a cookie tree: cut out decreasing sizes of round, fluted shapes, stack them up sandwiched with fluffy, snowy white Mascarpone-Goat Cheese Lemon Cream and you have a stunning Christmas Tree centerpiece for your holiday table - until it is pulled apart and eaten.

HOLIDAY CUT-OUT BUTTER COOKIES

Always tender, never crumbly or dry and not at all cloyingly sweet like other butter cookie recipes.

2 sticks (1/2 lb, 225 g) unsalted butter, softened to room temperature
¾ cup (150 g) sugar
2 large eggs
¼ tsp salt
1 Tbs Amaretto (optional)
½ tsp vanilla - use 1 tsp if omitting the Amaretto
3 ½ cups (525 g) flour

In a large mixing bowl, cream together the softened butter and the sugar until light and fluffy. Add the eggs one at a time, beating briefly after each addition just to incorporate. Beat in the salt, the Amaretto and vanilla and then about a third of the flour until smooth. Gradually beat in as much of the remaining flour as possible using the electric beater, then stir in the rest with a wooden spoon or a spatula.

Turn out onto a lightly floured surface. If you haven't stirred in all of the flour you can knead in the rest quite easily. Once you have a smooth, homogeneous dough, wrap tightly in plastic wrap and let it chill in the refrigerator for at least 30 minutes.

Preheat the oven to 350°F (180°C).

Working with about half the dough at a time, roll it out to a thickness of not less than 1/8-inch (no less than .3 cm), being careful that the dough is very evenly rolled out. Carefully cut out shapes with your cookie cutters. Gently transfer to a cookie sheet (I use unlined, ungreased cookie sheets with no problem at all). If you want the fir tree effect, just gently lift the cookies one by one, brush around the edges with a beaten egg, then dip in crushed pistachio nuts before placing on the cookie sheets. I also brushed my Hanukkah cookies very lightly with egg wash and doused them with colored sprinkles.

Bake for about 10 minutes. They will be set and appear cooked but they will NOT brown. You'll know they are done because they will slide right off the cookie sheet when just nudged with a spatula. Carefully slip each cookie off of the baking tray and all to cool on racks.

You can now frost them or drizzle with melted chocolate as I have done and decorate them as you please.

MASCARPONE-GOAT CHEESE-LEMON CREAM
Adapted from a What's For Lunch, Honey? recipe. Fabulous!

7 oz (200 g) mascarpone cheese, drained
1 oz (30 g) fresh, tangy goat cheese, drained
2 Tbs (30 g) superfine sugar
Finely grated zest of ½ lemon
1/8 tsp ground cinnamon
½ tsp Limoncello

¾ - 1 cup (about 200 ml) heavy whipping cream
Edible decorations (colored sugar, chopped nuts, etc)

Place the mascarpone, the goat cheese, the sugar, zest, cinnamon and Limoncello in a mixing bowl and beat until smooth and creamy. Chill.

To create the Cookies and Cream Christmas Tree:

Have the Lemon Cream, the whipping cream as well as the glass bowl and beaters for beating the whipped cream very well chilled before making the "snow".

When ready to make the Cookies and Cream Christmas Tree, beat the heavy cream in the chilled bowl with the chilled beaters until very thick. Using the same beaters, beat the Lemon Mascarpone Cream briefly (in a large bowl) just to loosen it and make it smooth and creamy after chilling in the fridge. Add the whipped cream to the Lemon Mascarpone Cream, folding and then beating briefly to blend and thicken.

Simply pile up the various-sized ruffled cookies which had been trimmed in chopped green pistachio nuts from largest to smallest, placing a large dollop of snow/lemon cream carefully in the center of each cookie round before placing another cookie on top trying to keep the green pistachio bits visible. Decorate by sprinkling the snow with colored sugar decorations
Jamie Schler lives, eats and writes in France. To read more of her work visit Life's a Feast.