Making a list and checking it twice...
Christmas is approaching quicker than quick and Santa is desperately checking his good list against his list of gifts, making sure that there is something for everyone and that everyone will be pleased as punch (or eggnog) with what he or she finds under the tree or stuffed into the stocking. As an obviously happy eater, Santa knows that choosing a gift or two for the foodie in one's life - the cook, the baker or simply the gourmand -- is a difficult task indeed. It has to be just right.
We imagine that choosing something special or two for the food-lover in our life is just the easiest thing. We hop online and order the season's best and hottest cookbook or food memoir and it arrives on our doorstep ready to wrap and slip under the tree.
But how about kicking it up and offering something unexpected, something extraordinary, something memorable. How about something edible or even better?
Let's put a little oomph and pizzazz into the gift giving this season. I have compiled a short list of fabulous, extra special gifts for the Butcher (the cook), the Baker (the baker) and the Candlestick Maker (well, the gourmand) that can be ordered online or with a quick phone call and be delivered in the nick (Saint Nick) of time, just in time for the Christmas.
1) Sunchowder's Emporia artisan jams and jellies: I have been loving Wendy Read's deluxe artisan jams and jellies since 2010 when I first tasted spoonfuls of the Raspberry Chocolate Chambord and the Raspberry Pepper jams. Her Florida-based company began in 2008 when she bought her first copper pot and began creating her incredible jams, butters, chutneys and more.
Wendy sources the best seasonal local Florida fruits and vegetables, Driscolls' berries, local honey, Hawaiian crystallized ginger, the finest quality vinegars and spirits, island Madagascar vanilla beans, Callebaut and Valrhona chocolates among other fresh, excellent-quality products to prepare her all-natural, handcrafted jams, jellies, butters and chutneys. Every complex flavor, fruit-forward, full bodied jam and condiment is prepared by hand in small batches. I adore the Raspberry Pepper Jam baked into a crostata, the Blackberry Chambord and the Blueberry Basil Jams on toast. And the Pumpkin Butter is fabulous for the holidays, baked into puddings or swirled into coffee cakes. Her jams are also perfect for creating a savory glaze for ham, turkey or barbecued meats.
And for the holidays, Wendy has created some fabulous gift boxes... create your favorite combo of fresh fruit flavors including Raspberry Cointreau or Raspberry Chocolate, Strawberry, Blackberry Chambord, Spiced Pear Butter, Pineapple Tangerine, Jalapeno, Apricot and Wildflower Honey Jam or Florida Tangerine Ginger Rum Jam. Amazing ! (Single jars starting at $5.00 and gift boxes from Under $15.00)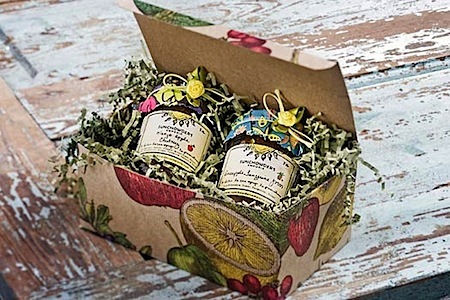 2) KitchenIQ Better Zesters and knife sharpeners: I always loved my microplane zester until I received KitchenIQ's Better Zester as a gift. It is simply... better. The Better Zester has a curved handle for a much better grip and more efficient zesting angle; the case on the back captures and holds all the zest while you are zesting, then just slips off to offer up super finely grated zest rather than spitting it all over the countertop; the food-safe nonstick coating on the teeth means that the utensil slides and glides over and around the fruit smoothly and easily. This is the absolute must gift for your favorite cook and baker who, like me, is constantly using lemon or orange zest in recipes. (Under $20)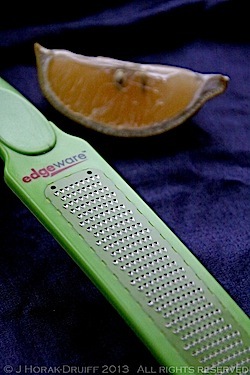 photo courtesy of Jeanne Horak-Druiff
My husband, the knife guy, loves the KitchenIQ Edge Grip 2 knife sharpener. It grips the countertop so it doesn't move when sharpening and it is the best, most efficient sharpener we have ever owned and used. A stunningly sharp blade with only a couple of easy swipes. (under $10)
3) Nuubia Chocolat (USA): Award-winning* French (from my own adopted city of Nantes!) chocolate chef Lionel Clement creates his exquisite artisan chocolates and chocolate confections in San Francisco from only the finest-quality, purest, sustainably-grown ingredients. I had the pleasure to taste his chocolates in SF and was stunned at the luxurious textures, their beauty and the amazing flavor. Chocolate-covered sea salt caramels, Champagne truffles, raspberry jasmine tea or coffee whisky ganaches, almond coriander, espresso & hazelnut, yuzu & hazelnut or pistachio marzipan pralines, stunning half spheres filled with lime juice vanilla or pineapple-hazelnut caramel, or chocolate-covered marshmallow... and his chocolates can be ordered online and in beautiful gift boxes. For the USA market.
* Lionel Clément was the 2008 USA Chocolate Masters Champion and the 2009 World Chocolate Masters Silver Medalist . (Nuubia avoids all palm oil and all GMO products. Most of their products are gluten free and some are even Vegan. Their marshmallows coated in chocolate are kosher.)
4) Vincent Guerlais is one of France's hottest commodities, a superstar of chocolate, an Agitatueur des Papilles (Taste Bud Agitator)! And my personal favorite for handcrafted, artisan luxury chocolates, pâtes de fruit, candies, confections and bars. His new collection of luxury chocolates will arrive to your (or a loved one's) door in a fanciful box designed by artist Adolie Day, illustrating one of the Seven Deadly Sins (this year's holiday theme), or select one of my absolute favorites, an astonishing Tablette à Partager (the sharing bar... which you may not want to share), Les Fingers or the Caramelis (stunning little domes of chocolate), each filled with a smooth, creamy salted butter caramel.
Or add a humorous twist by offering a box of chocolate Havanas, Vincent's delicious take on the famous Nantes berlingot hard candies, the colorful, chocolate-covered fruity praline-filled Guerlingots, or his newest treat, the Babies Beurres, homage to Nantes' LU Petite Beurre cookies, pairing a smooth, creamy salted butter caramel with chocolate.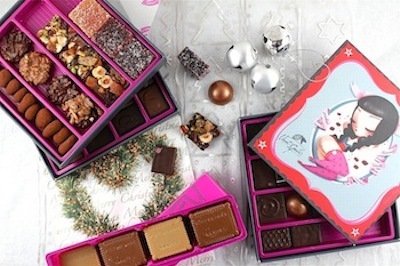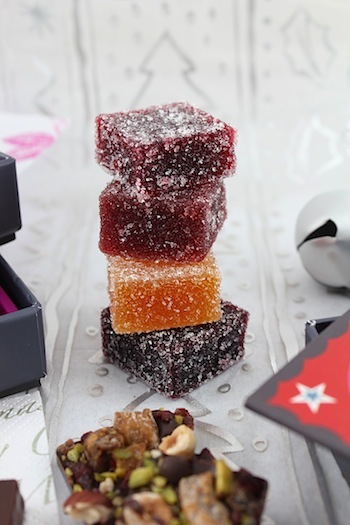 5) You would absolutely love to offer your favorite cook a cooking class with a renowned chef, right? But it isn't always within reach. Well, now you can offer an online cooking class with Giulian Hazan, son of famed Italian cookbook author Marcella Hazan and super talented Italian chef, cookbook author and teacher in his own right! Giuliano now offers classes in the online Craftsy kitchen! Offer the gift of Homemade Italian Pasta or Classic Italian Pasta Sauces -- either Meat & Tomato or Seafood & Vegetable.
Gift packages for the Online classes (extremely affordable, from $30!) include:
• 5 or 7 HD video lessons with anytime, anywhere access
• Downloadable class materials, including pasta and sauce recipes
• Hours of close-up instruction from Giuliano Hazan
• Answers from Giuliano in the Craftsy virtual classroom
Brilliant! This is what I want for Christmas!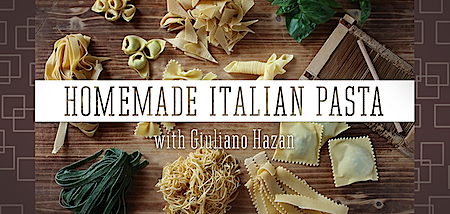 Purchase one of Giuliano Hazan's online classes on Craftsy.
6) Gail Dosik is One Tough Cookie and handcrafts her delicious cookies to fit your every desire and imagination. Personally designed cookies -- a personalized, edible gift -- for every imaginable occasion, celebration or holiday, shipped as cookies or delivered on a cake.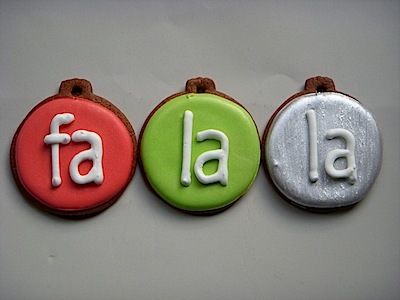 7) Savory Spice Shop: Since 2004, Mike and Janet Johnston have been offering their amazing collection of spices and original spice blends -- over 160! And now they can be ordered on their online shop, along with sauces, extracts and specialty items -- all handcrafted in their Denver warehouse. Choose the perfect gift for that passionate and spicy cook in your life! Sea salts from around the world, including Italian black truffle and chardonnay oak smoked, hard-to-find Pomegranate Molasses or Spicy Chipotle sauce, a mind-boggling array of liquid extracts, including chocolate, cherry, butterscotch or brandy and an incredible selection of spice blends for both sweet and savory, baking or cooking.
Our personal favorites? Park Mill Maple & Spice Pepper, Lodo Red Adobo and The Highlands Italian Cheese Sprinkle. Even my fastidious husband is an addict.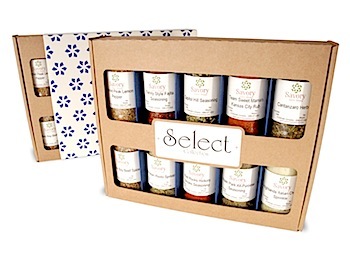 photo courtesy of Savory Spice Shop
8) A Kelly Moore Camera Bag: For your favorite food (or lifestyle, wedding, product... ) photographer, how about a beautiful, stylish and über practical camera bag? Photographer Kelly Moore and her team have been designing the fantastic collection of camera bags since 2009... and my favorite photographer friends love their bags so much they carry them everywhere simply as handbags... with their camera always within reach. Removable baskets, adjustable dividers, lots of pockets, the option to wear any bag messenger style, these are the best camera bags! For men and women, professional photographer, amateur or student, a Kelly Moore bag is the chicest, most thoughtful gift for any photographer.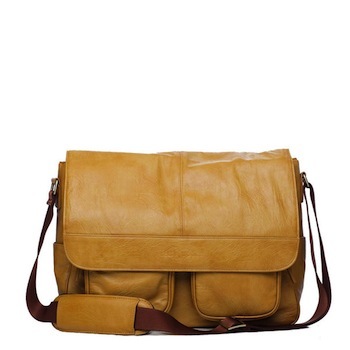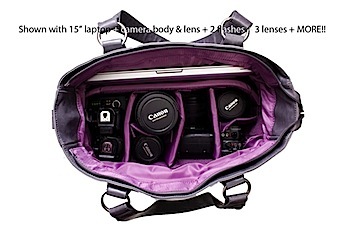 photos courtesy of Kelly Moore
(Note: I only recommend products that I love, consume and use myself and that I know very well. I have not been asked nor have I been in any way compensated for putting any of these products on my gift wish list!)
Jamie Schler lives, eats and writes in France. To read more of her work visit Life's a Feast.