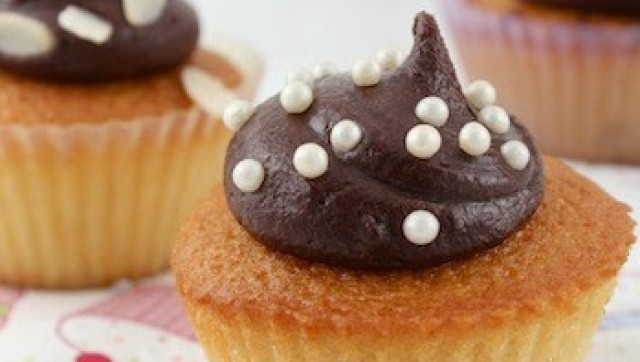 Disclaimer: I received a review copy of Mini Treats & Hand-Held Sweets from Taunton Press publishers. I am also a personal friend of Abby Dodge. But the choice to write this review as well as my honest opinions given here are all my own. The decision to bake as much as I do from Abby's cookbooks is my own as well.
I'd like to believe that all of my work -- recipes, articles, cookbooks -- will be evergreen regardless of time and trends. While it's fun to be 'in trend' with a book, it's rarely my objective. My goal is always to offer up recipes -- both sweet and savory -- that home cooks and bakers will be delighted with when they make them in their kitchens for years to come.
- Abigail Johnson Dodge
I am the happy owner of three Abby Dodge cookbooks: "The Weekend Baker", "Desserts 4 Today" and her newest gem "Mini Treats and Hand-Held Sweets" and her recipes are regularly created and recreated in my kitchen. Her Espresso Chocolate Cake with Mocha Mascarpone Frosting, a recipe developed for and published in Bon Appétit magazine, is a stunner and more than worthy of any celebration!
Her four-ingredient Creamy Espresso Pudding soothes the coffee lover in me every time. Her Raspberry Blueberry Coffee Cake is tender and delicate with the sweet tang of fresh berries, a family favorite for breakfast. And her Nutella Fudge Brownie Bites? Do I even need to explain? Her Emergency Blender (or one-bowl) Chocolate Cupcakes -- that I turned into individual mini Bundts -- are simply out of this world good. I have come to have complete faith in Abby's recipes; I know each will work and each will make my very hard-to-please family smile. And eat.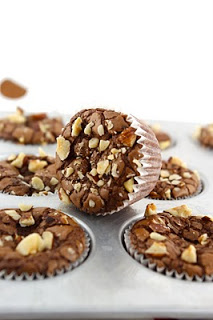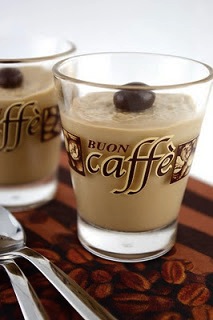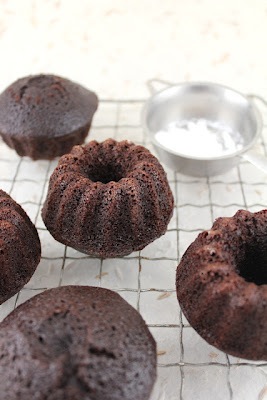 Her newest cookbook, "Mini Treats & Hand-Held Sweets (100 Delicious Desserts to Pick Up and Eat)," immediately found its place in my kitchen. Chock full of the homey (Cinnamon Toast Scones), the classic (Mini Strawberry-Rhubarb Pies), the decadent (Triple Threat Chocolate Squares) and the thoroughly surprising (Grown-Up Ginger Margarita Pops), Abby's latest baking book is yet another in her grand repertoire of tasty recipes for the home baker. Abby, of course, has talent in spades and the experience to prove it: a classically trained pastry chef, Abby earned her diploma at the prestigious La Varenne cooking school in Paris. From there, her long line of impressive stints developing recipes and writing for several big-name publications and a string of cookbooks makes her the master of baking in my book.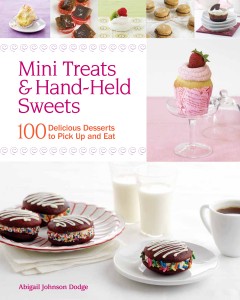 Although trained in classical French pastries, Abby's cookbooks are filled with what I consider quintessentially American treats. And instead of offering fancy, complicated recipes for bakers as experienced as she is, Abby offers accessible and easy recipes as much for the novice as for the more experienced home baker. "When I moved out of the bakeries and French kitchens and into food editorial for many New York based magazines like Woman's Day, Ladies, Home Journal and Parent's," Abby told me, "I had the opportunity to really listen to American home cooks and bakers from all across the country. I learned to develop and write recipes that reflected their palates and interests while still utilizing my treasure chest of solid, classic techniques."
"Serving up dessert from this Mini Treats & Hand-Held Sweets means no plates, no forks, no spoons -- no kidding," explains Abby. "Easy-to-make and even easier-to-serve desserts that will dazzle" is the aim of "Mini Treats & Hand-Held Sweets." And the Double-Trouble Chocolate Cupcakes, Streusel-Topped Double Cherry Slab Pie (the next on my own list), Lemon Meringue Pie Poppers, Mini Mocha Roll Cakes, White Chocolate-Cherry Popcorn, Blood Orange and Creamy Tangerine Pops certainly live up to this credo. And Abby, as she does in all of her cookbooks, gives extremely precise instructions that will give even the beginning baker confidence and great results, fun suggestions for twists to change up and personalize each treat, and her own kitchen wisdom oozing with her long experience.
This fabulous book for bakers of every level is a wonderful collection of homey, comfy recipes both old fashioned cozy and contemporarily cool.
As Abby says: "My recipes reflect the readers' global palates, thirst for knowledge and fearlessness in the kitchen. My hope is to always listen to my audience and deliver excellent recipes that are based in solid technique with a modern interpretation and, perhaps, a twist or two." And she does.
Good things do come in small packages! This book makes a fabulous gift for your favorite baker. Or for yourself!
BETTER-THAN-INSTANT VANILLA CUPCAKES

From "Mini Treats & Hand-Held Sweets" by Abigail Johnson Dodge (recipe reprinted with permission).

1 ¼ cups (lightly spooned in the measuring cup and levelled with a knife) flour
¾ cup granulated sugar
2 tsps baking powder
½ tsp salt
6 Tbs (3 oz) unsalted butter, melted and cooled
½ cup water
1 large egg, at room temperature
1 yolk from a large egg, at room temperature
1 Tbs vanilla extract

Position an oven rack in the center of the oven and preheat oven to 375°F (190°C) - I have an unusually hot oven so I set mine to 180°C. Line 12 regular-sized (2 ¾-inch diameter) muffin cups with paper or foil liners (I used silicone cupcake cups).

Put the flour, sugar, baking powder and salt in a medium or large mixing bowl and whisk to combine.

Put the melted butter, water, egg and yolk and vanilla in a small bowl and whisk until well blended. Pour the wet ingredients over the dry and whisk until well blended and smooth, about 1 minute.

Portion the batter evenly among the prepared muffin cups, filling each about 2/3 full. (I poured the batter into a large measuring cup with a spout, which makes pouring into cupcake papers/molds easier and neater.) Bake in the preheated oven until a toothpick inserted in the center of a cupcake comes out clean, 14 to 16 minutes. Move to a wire rack and let cool for 15 minutes. Carefully remove the cupcakes from the pan, set them on a wire rack and let cool completely.

Frost as you please. Eat as many as you like, in thoughtful moderation and saving some to share.
Jamie Schler lives, eats and writes in France. To read more of her work visit Life's a Feast.