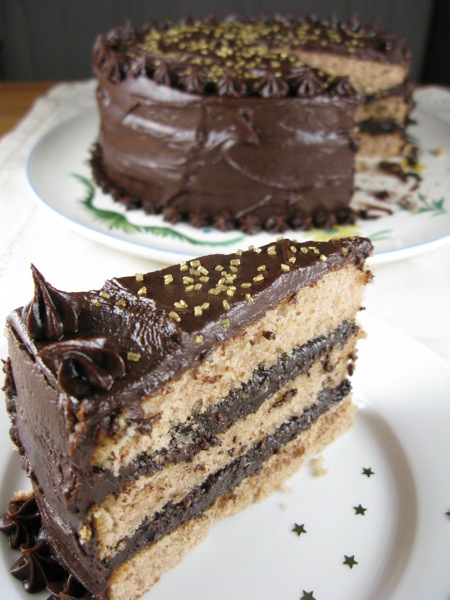 Thanksgiving is the most American of all American holidays. Each year, families and friends travel thousands of miles to gather around tables all across the country, putting aside differences and family squabbles, forgetting about work and school and the old day to day grind, to celebrate that long-ago meal shared by the first settlers and the native American Indians. They fete freedom and liberty, an abundant harvest and the gifts of the earth that find their way to their plates. It is a day of joy and pleasure, sharing and fun, a day of eating and drinking, games of touch football amid the crunch of gold and red foliage and a day to celebrate being American.
But, as the old saying goes, when in Rome do as the Romans. I do not celebrate Thanksgiving. I do know that most people carry all of the traditional holidays and celebrations tucked up safely in their baggage wherever they may roam, but when one travels as lightly as I, when one leaves family and friends behind and settles in a new country, there may just not be room to take all of those traditions with us. It just doesn't seem natural or right anymore to prepare a feast in the name of something that our new friends and loved ones know nothing about, feel absolutely no connection to. And maybe we also, over time, feel a bit disconnected as well.
So is there something wrong with me, something unpatriotic about my nonchalant shrug of the shoulders when someone asks what I'll be cooking? But how does someone, anyone deal with those holidays that simply do not cross cultural lines? I peruse food blog after food blog, cooking magazines and websites and all I see is a barrage of recipes for Thanksgiving, decorations for that Thanksgiving meal, Thanksgiving pies and cakes and turkeys and relish. But when one enters a mixed marriage whether religious, national, cultural or all of the above, how does one choose what to fete? Do we celebrate each and every festival from Hanukkah to Christmas, Passover as well as Easter, July 4th and July 14th (well, in my case, anyhow)? Or do we simply pare it down to the bare minimum and just pull out all the bells and whistles on each other's birthdays? We usually go with the flow and do as the Romans do and enjoy whichever holiday is being celebrated by those around us if we are staying with family, but if not, if just in our own home together, well, then...
But I still love to cook and bake and one thing that did find its way into my suitcase is an old, battered recipe book. Pages torn and stained, this small, spiral-bound notebook is filled with holidays past, hand-written recipes tried and true made for innumerable holidays great and small, foods served on white tablecloths or wrapped up as gifts and each one is a reminder of the bonds of friendship and family. And whether Christmas with my in-laws or the odd Thanksgiving with my family in the States, I recreate these old favorites, the Cranberry Relish and the Cranberry Orange Walnut Bread, the Pumpkin and Apple Pies, the breads and the stuffings all found within the pages of this one twenty-five year old notebook. But when we are on our own with only the occasional couple for dinner and a non-stop procession of hungry young architecture students, friends of my son who are utterly fascinated with good old American cuisine, I blend the old with the new, the homey with the stunning show-stopper, and make whatever we are celebrating (or not) festive indeed!
As autumn rolls into winter, the market stalls are a cornucopia of the season's fruits and vegetables, each one calling for attention. But which to choose? What to make for this year's feasts? Shall we choose deep orange pumpkins with their jack-o'-lantern grins turning each into steaming bowls of savory sweet pumpkin soup and slices of homey pumpkin pie? Or cranberries, that ruby red jewel of the season, all that tangy excitement bursting forth from muffins and coffee cakes, glistening bowls of relish gracing the holiday table, the perfect marriage with that other winter fruit, the orange, a wonderful love affair of tart and sweet. Or apples and pears turned into spicy sweet delicacies, homey and warming after a day in the snow, served up with mugs of hot cocoa or warm mulled wine. And then there is the sophisticated fig, all sugar-and-spice Christmassy, their elegant, coy dew-drop shape dripping with chocolate or drenched in golden cinnamon and nutmeg-spiked syrup, snuggling down deep into a blanket of soft fragrant cake or lavishly adorning an otherwise any-season dessert.
But truly the simple chestnut, that ugly, lumpy, homely fellow, picked up from the ground, out of the dirt, gathered into baskets on a forest adventure, carried home and steamed or grilled or tossed into the fire truly means autumn and holidays to me. Chestnuts are perfect added to seasoned cornbread stuffing or tossed with sausages and sage then stuffed in your holiday bird or chestnuts married with apples and sweet potatoes bring a nutty goodness to the sweet. Risottos and gnocchi, soups and breads are all thrilled to be embellished by this hearty, rich nut, infusing warmth and all the good things of the earth into an otherwise frivolous or simple dish. And so for an extra special, unique finish to your Thanksgiving or holiday meal, save the pumpkins and cranberries, the pears and the figs for another day and place this spectacular chestnut cake enrobed in chocolate buttercream and filled with a luscious cognac-infused chestnut cream in the center of the table and you will have a fabulously festive season.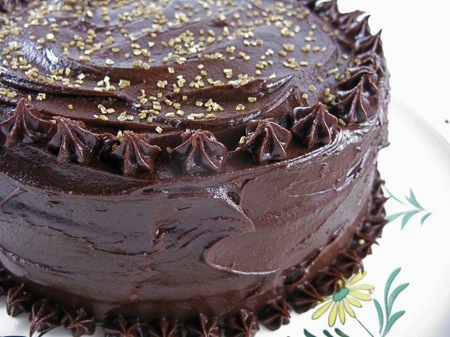 CHESTNUT CAKE

From Rose Levy Beranbaum's The Cake Bible

3 large eggs
1 cup (250 ml) milk
2 ¼ tsp vanilla
1 ½ cups + 1 Tbs (190 g) sifted bread or cake flour
1 cup (110 g) sifted chestnut flour
1 ½ cups (300 g) sugar
1 Tbs (14.5 g) baking powder
½ tsp salt
12 Tbs (170 g) unsalted butter, softened to room temperature (the softer the better)

* I don't sift my flours and I use French regular white flour which is the equivalent of American cake flour.

Preheat the oven to 350°F (180°C). Butter two 9 x 1 ½-inch (23 x 4 cm) round cake pans, line with parchment paper then butter and lightly flour. (For this recipe, I used 3 pans for a 3-layer cake and it worked perfectly).

In a medium-sized bowl, whisk together the eggs, ¼ cup (65 ml) of the milk and the vanilla. Set aside. Place all of the dry ingredients (the flour, chestnut flour, sugar, baking powder and salt) n a large mixing bowl and, using an electric mixer, blend together on low speed for 30 seconds. Add all of the soft butter and the remaining ¾ cup (185 ml) milk to the dry ingredients and blend on low speed until all of the dry ingredients are moistened. Increase the mixer speed to medium (high if using a hand mixer) and continue beating for another 1 ½ minutes, scraping down the sides as needed. Gradually add the egg mixture in 3 batches, beating for about 20 seconds after each addition to blend. Scrape down the sides and make sure that the batter is smooth and well blended.

Divide the batter evenly among the prepared pans and gently smooth the surface with a spatula. The pans shouldn't be more than half full. Bake for 25 to 35 minutes depending on your oven until the cake is golden, puffed, set in the center and a tester inserted in the middle comes out clean. I baked mine for 20 to 25 minutes as I had divided the batter into 3 pans instead of 2.

If you must bake the layers one at a time - as I do because my oven is just too small - then loosely cover the remaining layer(s) with plastic wrap and store in the refrigerator until ready to bake.

Remove the cake pans from the oven to wire cooling racks and allow to cool for 10 minutes before loosening and then turning the cakes out of the pans and letting them cool completely before frosting.

CHOCOLATE CHESTNUT COGNAC CREAM FILLING
From Saveurs magazine Spécial fêtes 2009 issue

6 ½ oz (200 g) crème de marron (sweetened vanilla-scented chestnut cream)
slightly less than 7 Tbs (100 g) unsalted butter, softened to room temperature
6 ½ oz (200 g) bittersweet or semisweet chocolate (I used Lindt dessert 70%)
2 - 3 Tbs cognac or to taste

In a heatproof bowl over a pot of simmering water melt the chocolate and then let it cool slightly.

In a medium-sized bowl, beat the chestnut cream with the softened butter until smooth and fluffy. When the chocolate has cooled slightly, whisk the chocolate into the chestnut mixture, then whisk in cognac to taste.

If the cream is too thin to spread between cake layers, simply chill it in the refrigerator until spreading consistency.

SIMPLE CHOCOLATE BUTTERCREAM FROSTING

11 ½ ounces (325 grams) powdered/confectioner's sugar
7 tablespoons (100 grams) unsalted butter, softened to room temperature
4 tablespoons (50 grams) unsweetened cocoa powder
4 tablespoons very hot water

Using an electric hand mixer, cream the butter and the powdered sugar together. Add the cocoa powder and the hot water and beat, scraping down the sides as necessary, until well blended and fluffy. If too thin to spread simply chill for a bit in the refrigerator.

To assemble the cake:

Place one of the cake layers on your serving platted. Slide wide strips of wax or parchment paper under the edges of the cake all around; this will let you frost the cake while keeping the serving platter clean!

Divide the Chocolate Chestnut Cognac cream filling evenly between the bottom layer of cake and a second layer of cake. Using a spatula gently spread the cream over the tops of both layers to the edges. Gently and carefully lift the second cream-coated layer and place on the bottom cream-coated layer on the platter. Now place the final clean layer on top. You now have three layers with two layers of chocolate chestnut cream filling sandwiched in between. Using your metal spatula frost first the sides of the cake, evenly covering all around the cake. Then finish by frosting the top making sure to fill in all the gaps along the edge. Gently pull the waxed paper out from underneath the edges of the cake and voila! frosted and you still have a clean serving platter. Decorate as you like (I kept some chocolate buttercream frosting aside to pipe a decorative border with then I sprinkled gold candy sprinkles all over the top of the cake).
Jamie Schler lives, eats and writes in France. To read more of her work visit Life's a Feast.