Public perception of The American Recovery and Reinvestment Act of 2009 (ARRA) seems to be that it's sort of enigmatic; people aren't quite sure what's happening with all of that money. There are some new infrastructure projects popping up here and there (with accompanying signs denoting a relation to the ARRA), but a great deal of activity goes on behind the scenes -- away from the public eye. We need the economic stimulus to ignite more visible, community based initiatives like the Laborers' International Union of North America's (LIUNA"s) weatherization training program.

Today in Brighton, I watched LIUNA graduate its first group of skilled and certified Denver-area weatherization workers, in what is a monumental first step toward a nationwide movement to teach, credential, and employ workers in the weatherization trade (a.k.a. making people's homes more energy efficient). It was a fitting ceremony, considering that today, October 30th, is National Weatherization Day (betcha didn't know that). LIUNA's program is geared to kill two birds with one stone. By training, and then employing workers to retrofit the millions poorly insulated American homes -- which cost the average family hundreds of extra dollars each year, and substantially increase our aggregate carbon emissions -- unemployed people gain jobs, and in the process, we lessen our dependence on dirty (and war-causing) sources of energy (it's estimated that for each home we weatherize, we save the energy equivalent of more than five barrels of oil each year, most of which comes from the Middle East at present).
Once rolled out, LIUNA's training program could create hundreds of thousands of new jobs, reduce household energy costs by $3.5 billion per year, and save the equivalent of 500 million barrels of oil annually. Those impressive (albeit aspirational) figures aside, the most valuable aspect of the program -- to me -- is that it's working from the inside, out; it's empowering jobless people within individual communities by teaching them a valuable skill-set that will enable them to support their families through fulfilling careers.
Some background on this topic: The ARRA invested $5 billion to expand the Department of Energy's Weatherization Assistance Program and meet the Obama Administration's goal of weatherizing one million homes each year. This is a nearly 10-fold increase in the amount typically invested in weatherizing poorly insulated homes, but it is still not enough to fix all of the nation's energy inefficient homes. DOE recently announced that it will be allocating over $400 million in competitive energy efficiency grants, which could help fund weatherization projects in cities like Denver and around the country. LIUNA is working with partners, such as the Sierra Club, Change to Win, Clean Economy Network, and FRESC to help close the remaining weatherization investment gap and identify ways to ramp up both public and private investment in America's weatherization industry, including "pay-as-you-save" models, utility partnerships, bonds and pension fund investments.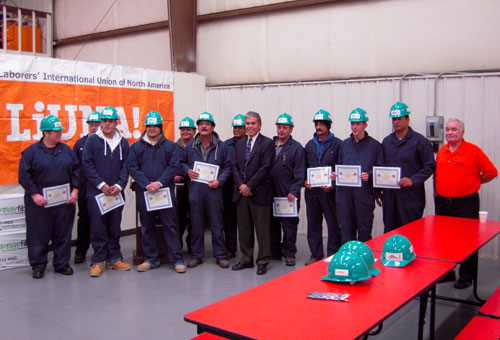 Executive Director of the Colorado Department of Labor and Employment, Don Mares, congratulates the first group of LIUNA weatherization program graduates.