It's slim pickings when it comes to lesbians on reality TV. But come June, Ilene Chaiken, executive producer of the Showtime series The L Word, a fictional drama about the fabulous (and far-fetched) lives of lesbians in Los Angeles, is making her scripted show a reality.
The Real L Word: Los Angeles follows "a group of real-life, high-profile, left coast lesbians as they go about their daily lives, at work and play." Think Real Housewives, but gay. And as the name suggests, if the L.A.-based show is successful, Chaiken could create Real L Word franchises across the country.
The documentary series about the real lives of lesbians has also been called the first gay-themed premium cable reality series (Logo's Curl Girls, a six-part series about lady surfers in 2007, was the first lesbian reality show on a major network).
Until recently, The Real L Word cast was kept hush-hush ― although the camera crews following attractive women around L.A.'s lesbian hotspots in the last couple of months were a bit of a giveaway.
Showtime recently revealed the ladies of The Real L Word, as well as a teaser with lots of lip-licking and belt-grabbing.
Like the name, the cast was selected to mirror the characters of The L Word, which went off the air last year. In fact, one of the reality stars was the inspiration for player Papi's character.
And at first glance, these six women in their late-20s and 30s seem as successful and stunning as their fictional counterparts ― one cast member even came out on Oprah ― of course, like many reality shows, their resumes may be padded for added interest.
Much like The L Word, the reality show will likely draw criticisms about how gay girls are represented on the small screen ― too femme? Too thin? Not diverse? (there are a couple of Latinas in the mix), or just not "real" enough. Because if there's one thing lesbians love, it's judging other lesbians. Let the games begin (clockwise from far left):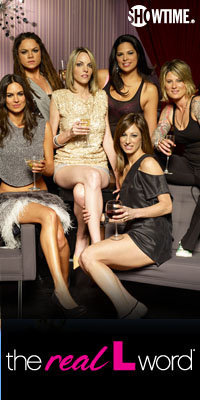 Tracy, 29, a film & TV development executive, new to the lesbian scene and dealing with a mother who's not pleased with the gay-thing.
Whitney, 27, special effects artist and wild child with a weakness for straight girls.
Nikki, 37, rep/manager/producer and all around industry power-player, once married to a man, she came out on Oprah and is now planning a wedding with Real co-star Jill.
Rose, 35, a real estate advisor, and the inspiration for Papi's character on The L Word, Rose is trying to shake her bad relationship habits and settle down.
Mikey, 34, founder, The Gallery Los Angeles/producer of L.A. Fashion Weekend, a custom motorcycle shop owner turned L.A. fashion bigwig, Mikey also has plans to get hitched.
Jill, 33, writer, this girl next door from Jersey is engaged to co-star Nikki.
The Real L Word premieres Sunday, June 20 at 10 p.m. on Showtime.