This full-page ad in The New York Times, which ran on Sunday, marks the 40th anniversary of the WAR IS OVER! campaign launched by John Lennon and Yoko Ono on Dec. 15, 1969. Click the image or this link to watch a campaign video. And have a look at this slide show.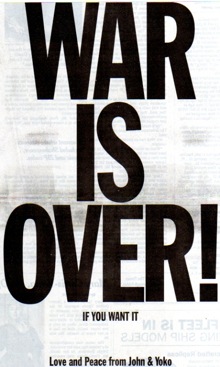 Billboards with the inscription "WAR IS OVER! IF YOU WANT IT" were placed in 11 cities worldwide: New York, Los Angeles, Toronto, Rome, Athens, Amsterdam, Berlin, Paris, London, Tokyo, and Hong Kong. Along with these bill boards leaflets were distributed, posters plastered up, newspaper advertisements placed and radio announcements made. When John was asked how much the billboards cost, he replied, "I don't know -- but it is cheaper than someone's life."
The posters have been translated into more than 70 languages. Go here for free downloads of the posters in 59 translations . . . like this one. Oorlog Is Verby! Oh yeah.