This week I want to spotlight a book that dovetails neatly with the current zeitgeist in the Los Angeles art world, a spirit of time and place that I believe is largely a result of the Getty's city-wide Pacific Standard Time initiative. Taschen's fabulous photography book, Los Angeles, Portrait of a City, fleshes out the cultural identity of the city, before and after the 1945-1980 focus of Pacific Standard Time, and is nothing less than a joy to own.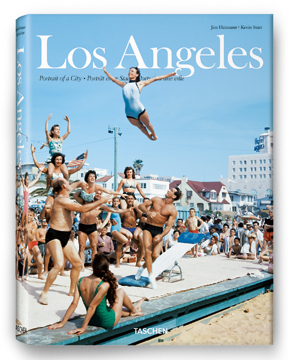 So get comfortable in your favorite chair and give yourself at least two hours to take in the over 500 photographs that range from the first known photograph of Los Angeles, a largely pastoral scene taken in 1862, to a portrait of the founder of Forest Lawn surrounded by prints of big-eyed Jesuses, to recent landmarks such as Frank Gehry's Walt Disney Hall.
You'll travel through time with highlights of the city's cultural, political, industrial, and sociological history. A 1927 photograph by Cliff Wesselman shows pistol-packing police chief James "Two-Gun" Davis. The caption reads: "Adopting a tough-on-crime stance, he announced that he would 'hold court on gunmen in the Los Angeles streets; I want them brought in dead, not alive, and will reprimand any officer who shows the least mercy to a criminal.'" Yikes!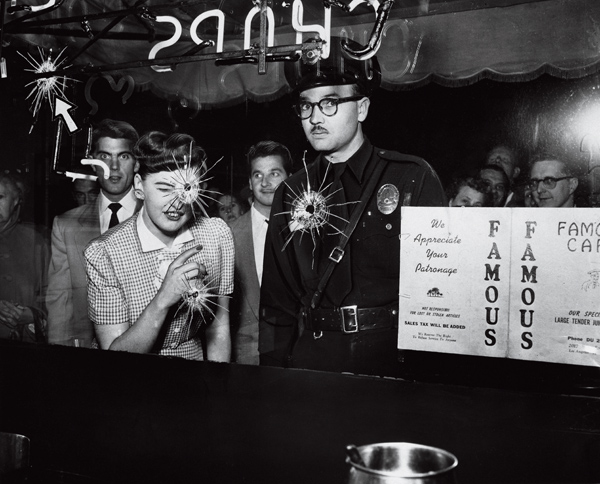 Image courtesy of University of Southern California/Regional History Center. "339 Anonymous: Spectators join police at the aftermath of a shootout," 1953.
One photo shows German American Bund picnickers in 1938 raising a large 3-D swastika in La Crescenta's Hinderburg Park. Another shows the bottom of Marilyn Monroe's lifeless foot sticking out from a under a blanket in a morgue refrigerator. We see a young Ronald Regan modeling for a sculpture class at USC (hated his politics, but what a bod!), a group of female impersonators arrested in a raid in 1927, and Faye Dunaway posing for a post-Academy Award portrait by the pool at the Beverly Hills Hotel.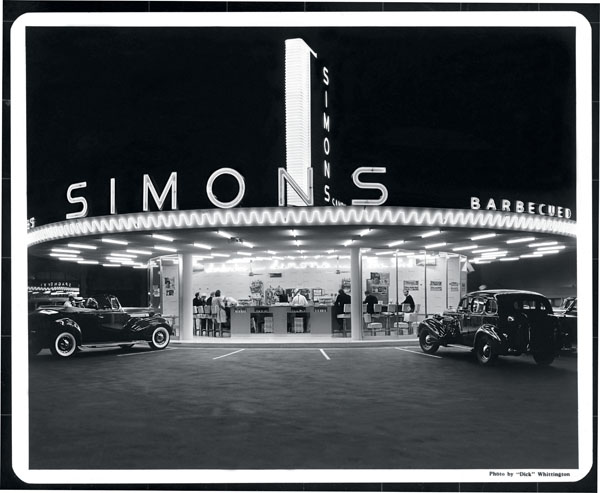 Image courtesy of Jim Heimann Collection, "271 Dick Whittington: Simon's drive-in, Wilshire Boulevard and Fairfax Avenue," c. 1939.
Architecture, from kitsch eateries to Case Study Houses, is abundantly represented. A photo of the Spruce Goose being transported to Long Beach Harbor seems a precursor to the recent media-blitz over LACMA's much ballyhooed rock. I was surprised to learn that there was once an elevated bike path that ran from Pasadena to Los Angeles (Anyone want to start a movement to bring this back? Even I would ride a bike to LA if the path were completely free of cars).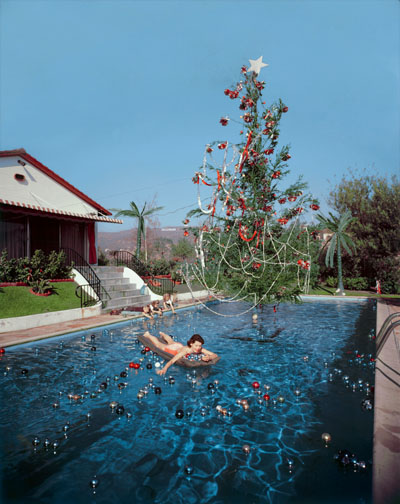 Image courtesy of Getty Images, "336 Slim Aarons: Rita Aarons, wife of the photographer, swimming in a pool festooned with floating baubles and a decorated Christmas tree," ca 1955.
Riots, earthquakes, fires and floods, rock stars, movie stars, O.J. Simpson carrying the Olympic torch on Pacific Coast Highway, John Belushi's lifeless body being removed from the Chateau Marmont, an Angelyne billboard (I spotted her last week in her pink Corvette in Hollywood) and Joni Mitchell leaning out the window of her Laurel Canyon home are all included.
Essays by Kevin Star, copious captions, blurbs from books and movies about Los Angeles, and maps of the area as it grows, round out this portrait of the city. You don't have to live in Los Angeles to appreciate this book and the huge cultural impact Los Angeles has had on the rest of the world.