The vernal equinox falls on March 20th, a magical date when the hours of day and night are equal. It's the first day of spring, season of renewal and fertility. What better time to plan a wedding?
Spring, from now through to mid-June, is indeed the most popular time for nuptials, and more and more couples are opting for a ceremony and reception in the garden.
Here in England -- despite our unpredictable weather -- our gardens look their best in spring and early summer, and they certainly provide a romantic backdrop. Top dollar can buy you a wedding at Highclere Castle, where "Downton Abbey" was filmed. It's available for weddings complete with gardens and grounds. But not all of us can afford to fly across the pond and pretend to be Lady Mary from "Downton." For those with more modest budgets, country inns and bed and breakfasts have beautiful gardens and, more recently, private owners of fabulous gardens have gone into the wedding business. But the time-honored tradition of a wedding at the home of the bride's parents is hard to beat. Like the ceremony of a father 'giving away' his daughter, the bride leaving her former home with her husband (whether by chauffeur-driven Rolls Royce, Surry-with-the-fringe-on-top or hot air balloon) is a powerful symbol of the start of married life.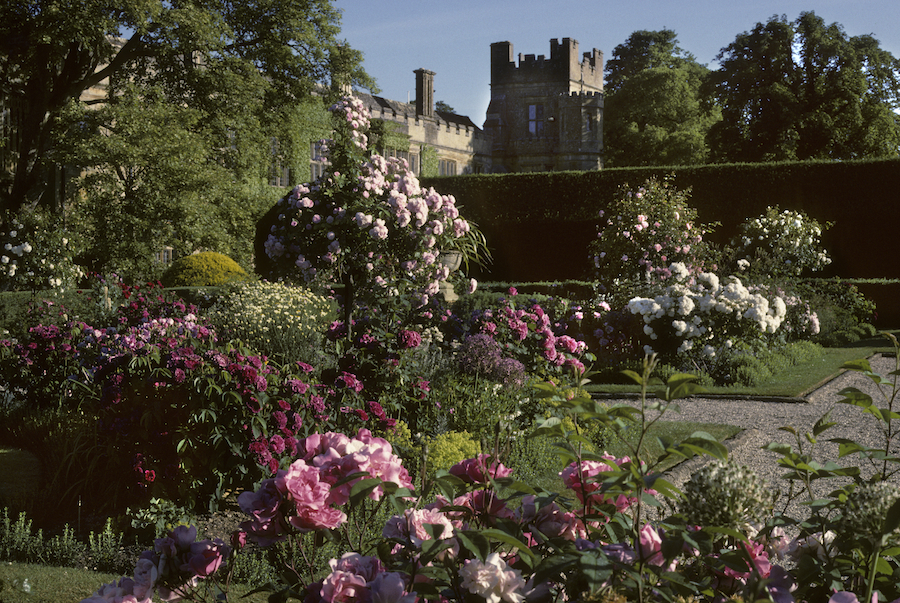 A wedding is a wonderful opportunity to show off your garden, but there's no doubt about it, by planning an outdoor wedding, you're taking a risk. My own wedding day 50 years ago began with thunder, lightning and torrential rain. Fortunately, the sun came out mid-morning and all was well. More recently, we held a lunchtime reception for our daughter Sophy's wedding in our garden. Here are some of the things that helped to ensure the day was a success:
• Check local climate records. Go for a time of low rainfall, warm days and frost-free nights. Make sure your wedding site is in an area that won't get muddy or flood if it rains.
• Choose a date to suit your garden. This may mean planning a long time ahead -- I was sad my beautiful roses were not blooming for Sophy's wedding, but by the time we came to book the church, the only Saturday available was a week too early for the roses.
• Decide where the tent will go. You're convinced it won't rain on the day? Don't push your luck. You can get tents with windows so guests can still see your lovely garden. If the weather turns out perfect, roll up the tent's sides, leaving just a canopy providing welcome shade.
• Provide shade from the sun and shelter from showers. Older guests appreciate a choice of places to sit down, as does anyone in stiletto heels whose feet are killing them. Set out a few tables and chairs under canvas gazebos or garden umbrellas.
• Take your cue for decorating the tent and tables from the garden, basing color schemes and themes on flowers that will be blooming on the day. Keep it simple -- let the garden be the star.
• It may get chilly in the evening. Arrange for heat lamps or splurge on a heated tent.
• Bathrooms! If there aren't enough in your house, hire portable facilities. The nice looking ones!
• Rent a P.A. system so guests can clearly hear the ceremony. Useful too for speeches and music at the reception. Make sure an electricity supply is available.
• Let the neighbors know. If you're using your own backyard, make sure to ask the neighbors if you can use their driveway and apologize in advance for the noise. Better yet, invite them!
• Make a smooth path from car to garden. Nobody expects a red carpet, but some kind of matting is useful to cover mud or dust.
• Have a policy about children and stick to it. They are easier guests in a garden than at a more formal venue, and parents do appreciate being able to bring them along. One of the best things we did for Sophy's wedding was to hire a professional nanny service to look after babies and toddlers.
• Finally, nobody, not the groom, not the maid of honor, not even the father of the bride, should make a speech lasting more than five minutes.
Jane Fearnley-Whittingstall is a garden designer, writer, and winner of two Chelsea Flower Show gold medals. Her book Happily Ever After: A Lighthearted Guide to Wedded Bliss (Atria Books / Marble Arch Press), will be published in May 2013. For more information about Jane, visit her website at http://janefearnley-whittingstall.co.uk/.