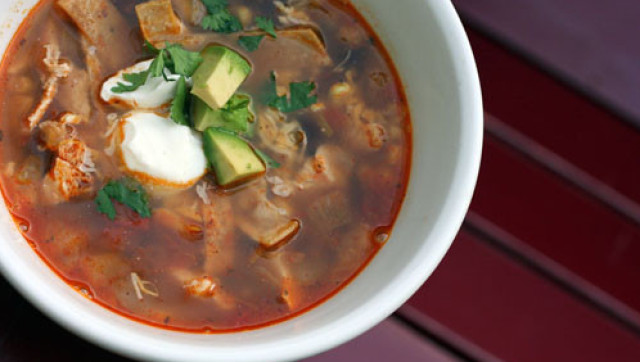 My friend Lindsay is a fabulous cook. When we were neighbors, she made me feel guilty for having a food blog because, in all honesty, she was the one of the two of us who should have been sharing her culinary prowess with the world. Lucky for me when she cooked she would let me shoot tons of photos and then eat her food, providing me with blog fodder and a full belly.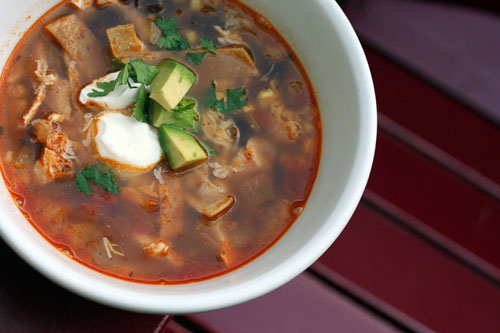 One of the true gems I picked up from Lindsay was a soup recipe - Aaron and Lindsay's Chicken Tortilla Soup Extravaganza! I love the name for two reasons. First, it reminds me of my Lindsay and her great husband Aaron. I love recipes that inspire memories. They make me happy. Second, it has the word 'extravaganza' in the title. How can one NOT want to eat a soup with the word 'extravaganza' in the title?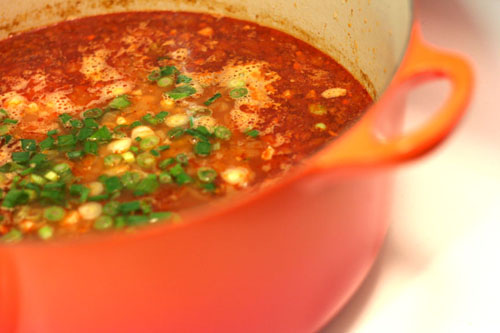 This soup is fabulous. It always comes out right. It's not too difficult. The flavors are divine. You have full control over the amount of heat. And the toppings? Oh, the toppings. Be still my tortilla-soup-loving heart.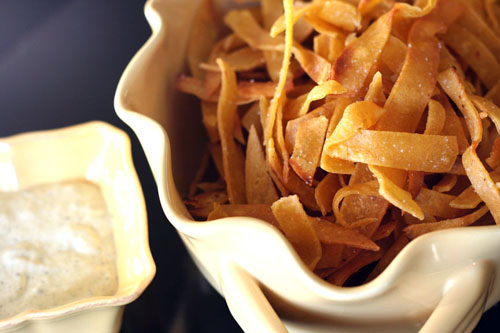 Speaking of toppings, Lindsay actually fries up her own tortilla strips for the soup. I just buy tortilla strips. See, I told you Lindsay is the one who should be writing the food blog.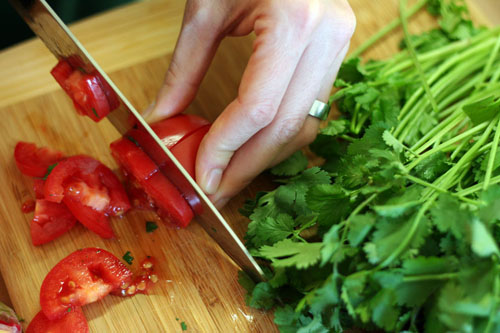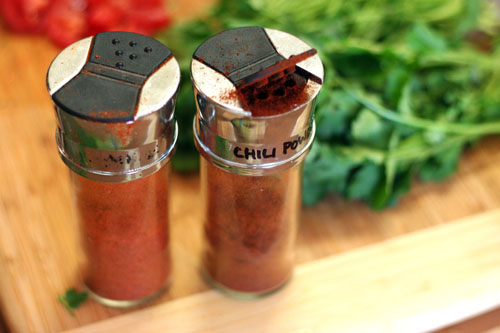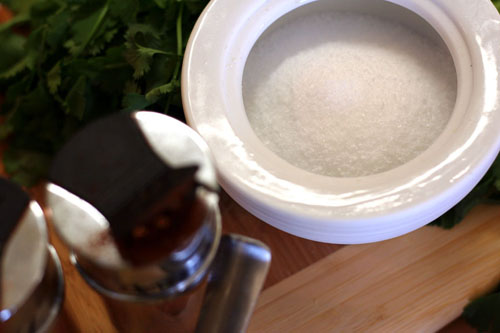 I miss my days of watching Lindsay cook, of staring at her beautiful, well-organized spices and her cute little bowl of salt. I always felt a bit like I was in the audience of a cooking show at Lindsay's house. And while I miss those afternoons together, at least I can still make her soup and think fondly of her as I eat.
Aaron and Lindsay's Chicken Tortilla Soup Extravaganza
From Jane Maynard, This Week for Dinner
1 onion, finely chopped
olive oil
2 green onions, chopped
4 cloves garlic, minced
8 cups chicken broth
2-3 tomatoes, chopped
1/2 bag frozen corn
1 large chicken breast
1 can black beans, drained & rinsed
1 lime (one extra for garnish)
1 handful cilantro, chopped
4-5 corn tortillas, cut into strips
1 avocado, diced
cayenne pepper
chili powder
cumin
salt and pepper
cheddar or jack cheese, shredded
sour cream
Saute onion in olive oil until soft, then add garlic, green onions, cayenne, chili powder, and cumin. Saute until fragrant (a minute or two). Add chicken broth. Bring to a boil, then lower heat to a simmer. Add tomatoes, corn, black beans.
Grill up chicken spiced with cayenne, chili powder, garlic powder, salt, and pepper. (You can also pan-fry it, but it won't add the smokiness that the bbq does). Cut up or shred chicken and add it to the soup. Try the soup and add more seasonings according to taste, if needed. Add lime juice and cilantro.
In large fry pan over medium-high heat, crisp up tortilla strips. Add salt. You may do this with oil or cooking spray. (For a shortcut, use tortilla chips instead).
Serve soup garnished with avocado, cheese, sour cream, tortilla strips, fresh cilantro, and a lime wedge.