I am over the moon for today's recipe, murgh makhani, more commonly known as butter chicken. Our favorite Indian restaurant in Palo Alto, Darbar Indian Cuisine, has the BEST butter chicken. I can't get enough of it. I've been trying to find a recipe so that I can make it at home, but all recipes have come up far too short. So, I did a lot of research, compared about 6 different recipes and have created my own. And I am here to tell you (in all humility, of course!), I nailed it. My version isn't identical to Darbar's, but it is darn close and they are equally as good. Success! (To add to the elation, both girls inhaled their dinner! This is a not-too-hot Indian dish, nice for kids. Increase the heat with more chilis and cayenne if you so desire!)
The key to this dish is using tandoori chicken. Almost all of the recipes I found were skillet recipes that simply add plain chicken breasts to the sauce. Using tandoori chicken makes ALL the difference. A delectable, mouthwatering difference. Not only is there more depth to the flavor, but the meat is oh so tender. Using tandoori chicken requires planning ahead, but it's worth it.
Without further ado, I give you murgh makhani!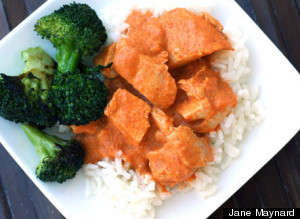 Murgh Makhani, i.e. Indian Butter Chicken
From Jane Maynard, This Week for Dinner
Tandoori Chicken:
Adapted from a recipe on About.com - this is a good American kitchen adaptation that doesn't require a tandoor (clay oven) and works perfect for cooking tandoori chicken to go in a sauce
- 3/4 C plain yogurt
- 2 T lemon juice
- 2 cloves minced garlic (I use my garlic press)
- ~1 inch ginger root, peeled and crushed (it was hard to crush, I squeezed the juice out with my garlic press and threw in some of the mangled pieces of the root)
- 1 T cumin
- 1 tsp. coriander
- 1/2 tsp. cayenne pepper
- 1/4 tsp. cardamom
- 1/4 tsp. cloves
- 1/4 tsp black pepper
- 2 tsp. salt
- 4 boneless skinless chicken breasts (this is the amount you'll need for the butter chicken sauce below - you can make this recipe with bone-in, skinless, dark & white meat chicken cut into pieces - my personal preference are boneless, skinless chicken breasts and they worked great)
- 1-2 T canola oil
The night before you want to make butter chicken, mix the above ingredients (except the chicken) in a bowl. Take the chicken breasts and stab them a bunch with a fork, then make some gashes with a sharp knife. This part is fun, especially if you have some frustration to vent. Marinate the mutilated chicken in the yogurt mixture overnight and until you're ready to cook the next day.

To cook the chicken, pat off some of the marinade, brush with oil and place in a pan (I used my 9X13 metal pan). Roast in a 450 oven for about 20 minutes, or until juices run clear. Let cool a bit then cut into chunks.
Butter Chicken Sauce:
Adapted from 6 different recipes! Katie from GoodLifeEats and this YouTube video deserve a special shout out!
(no need to carefully chop these ingredients, you're going to blend them eventually)
- 1/3 sweet onion, chopped
- ~1 inch of ginger root, peeled and julienned
- 2 cloves of garlic chopped
- 1 green chili (membranes and seeds removed), chopped
- 6 T butter (divided - 2 T and 4 T)
- 6 medium tomatoes, cut into large pieces
- 2 tsp garam masala
- 1 tsp chili powder
- 1/2 tsp. cumin
- 1/2 tsp. cardamom
- 1/4 tsp. coriander
- 2 shakes cinnamon
- 3 oz tomato paste
- 1 cup chicken or veggie broth
- 1/2 C cream
- 4 cooked tandoori chicken breasts (above) cut into chunks
Sautee onion, ginger, garlic and green chili in butter until onions are translucent.

Add tomatoes and let simmer for ~5 minutes. Add spices (garam masala, chili powder, cumin, cardamom, coriander, cinnamon) and simmer another 5-10 minutes or so. Add tomato paste and broth, stir. Blend everything in a blender until smooth then return to pan. Add tandoori chicken, cream and butter.

Serve with basmati rice and naan bread. Yum!