I think holiday treats and goodies are wonderful, fun, pretty, cute, delicious... all of the above! But I am a lazybones when it comes to making them myself. When I discovered today's treat I was excited because it fit the bill of super cute and super easy. It's a recipe even my lazybones can handle.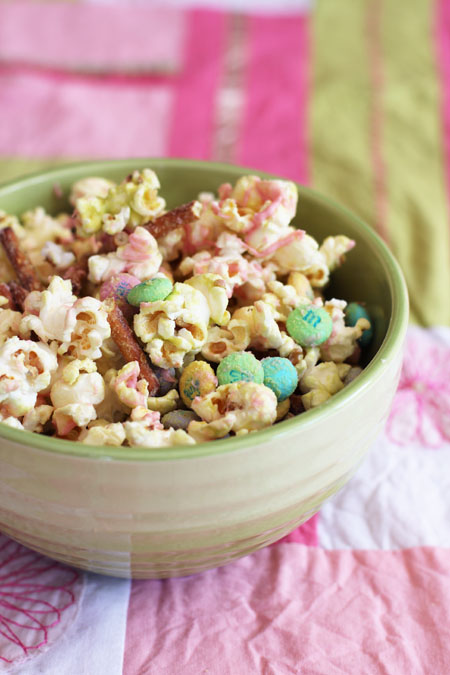 Bunny Bait (so named by Bake at 350) is the Easter version of this sweet and salty holiday popcorn treat, but I can't wait to make it for other holidays, too. Just switch out the candy melt color and M&Ms of the season and bunny bait becomes Reindeer Food or Leprechaun's Treasure. The possibilities for cuteness are endless!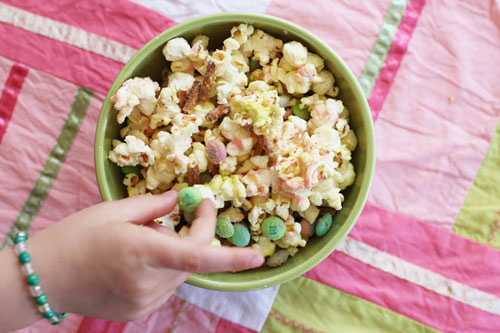 This stuff is addictive. Don't say I didn't warn you.
Sweet & Salty Holiday Popcorn
From This Week for Dinner
- 1/2 cup unpopped popcorn (yields about 24 cups)
- 8 ounces candy melts (you can just use white and let the M&Ms and/or sprinkles add the color, but feel free to use a colored candy melt, too!)
- 1 1/2 cups rod pretzels, broken into smaller pieces
- 1 12-oz package M&Ms (holiday themed)
- Sprinkles to match your color theme (optional)
Pop your popcorn (I used my Whirley Pop). Pour into a giant bowl. Add pretzels and M&Ms, but don't stir anything yet. Melt the candy melts as per package instructions, then drizzle over the popcorn mixture. Toss and toss and toss to coat. (It takes a lot of tossing!) The pretzels and M&Ms will want to sink to the bottom, so when you serve it or put in bags for gifts, be sure to toss again and then scoop. Also, if you do plan to bag the popcorn for gifts, let it sit out for a bit to allow the candy melts to temper.
For Bunny Bait, I used Easter M&Ms and pink and green candy melts. I poured the green first, tossed it, then let it sit for a bit before drizzling the pink, so that the colors didn't run together. The result was cute, but next time I'm just going to use one color -- it's just as cute and less effort.