Public trust in the federal government has been on the decline for decades, but for many young people, D.C. still remains a beacon of excitement and opportunity. With the millennial generation increasingly driven towards social causes, it's no surprise that aspiring women leaders are interested in working in the nation's capital on policy-related issues. And who can blame them? There's much to love about the city -- the passion for service, the cultural diversity, the siren blaring motorcades (well, maybe not that last one).
But breaking into this hotbed of activity is not for the faint of heart and can be more challenging than many soon-to-be graduates often anticipate. The current economic climate may make it harder for women to envision their career paths, to recognize the extent of opportunities available to them, or to get their foot in the door.
Enter PLEN -- the Public Leadership Education Network, a 35-year-old organization that has helped thousands of soon-to-be graduating women better understand and make connections in the policy world. Students from across the U.S. apply to participate in D.C.-based seminars (many on scholarship) designed around potential callings -- law and public policy, science and technology, women and the congress, or international policy. Each seminar consists of a series of interactive panels led by women working in a specific field. And while a crash course from a subject matter expert on a pressing policy issue is no small potatoes, the real bread and butter is the opportunity that PLEN students have to ask practitioners, how did you get here and are you willing to help me?
Presenters come prepared to speak candidly about the interwovenness of their personal and professional lives, providing invaluable insight on their trajectory and what it's like to work in a specific field. Take human trafficking, which PLEN asked me to present on with the Solidarity Center's Neha Misra. Neha and I reviewed emerging trafficking trends, our respective focus areas, and current challenges in the space. Our insider's take on the issue was hopefully interesting, but the highest value for these students was the exposure that they got to accessible women who have gone before them. You can read the biographies of great women leaders like Angela Merkel and Madeleine Albright (and you should), but it's a little tougher to ask them questions about their choices or for personal help. When Neha and I completed our trafficking-related comments, I wasn't surprised, then, that the discussion quickly moved to the personal.
"My parents want me to go to law and I'm not sure I want to go -- what do you think?"
"I want to work on national security and human trafficking. What organizations cover this intersection?"
"Human trafficking is so traumatic -- how do you balance your job with your emotional
health?"
Students ask these questions because presenters make themselves available to candidly answer them. And while there's no one-size-fits-all advice for how to pursue a policy career, it's a lot harder to get started if you don't have access to role models in whom you can see yourself (40 percent of PLEN participants are from populations historically, racially, or ethnically underrepresented in national public leadership and 13 percent are non-traditional age students). As PLEN participant and Barnard Junior Dianna Yau put it, "women do not necessarily need to aspire to be Hillary Clinton or Condoleezza Rice... they can contribute to society in their own unique way." Yau's not denigrating Clinton or Rice, but pointing out that there are myriad career paths to model and that the more exposure students get to these models and active mentoring opportunities, the more likely these young leaders are to fulfill their potential.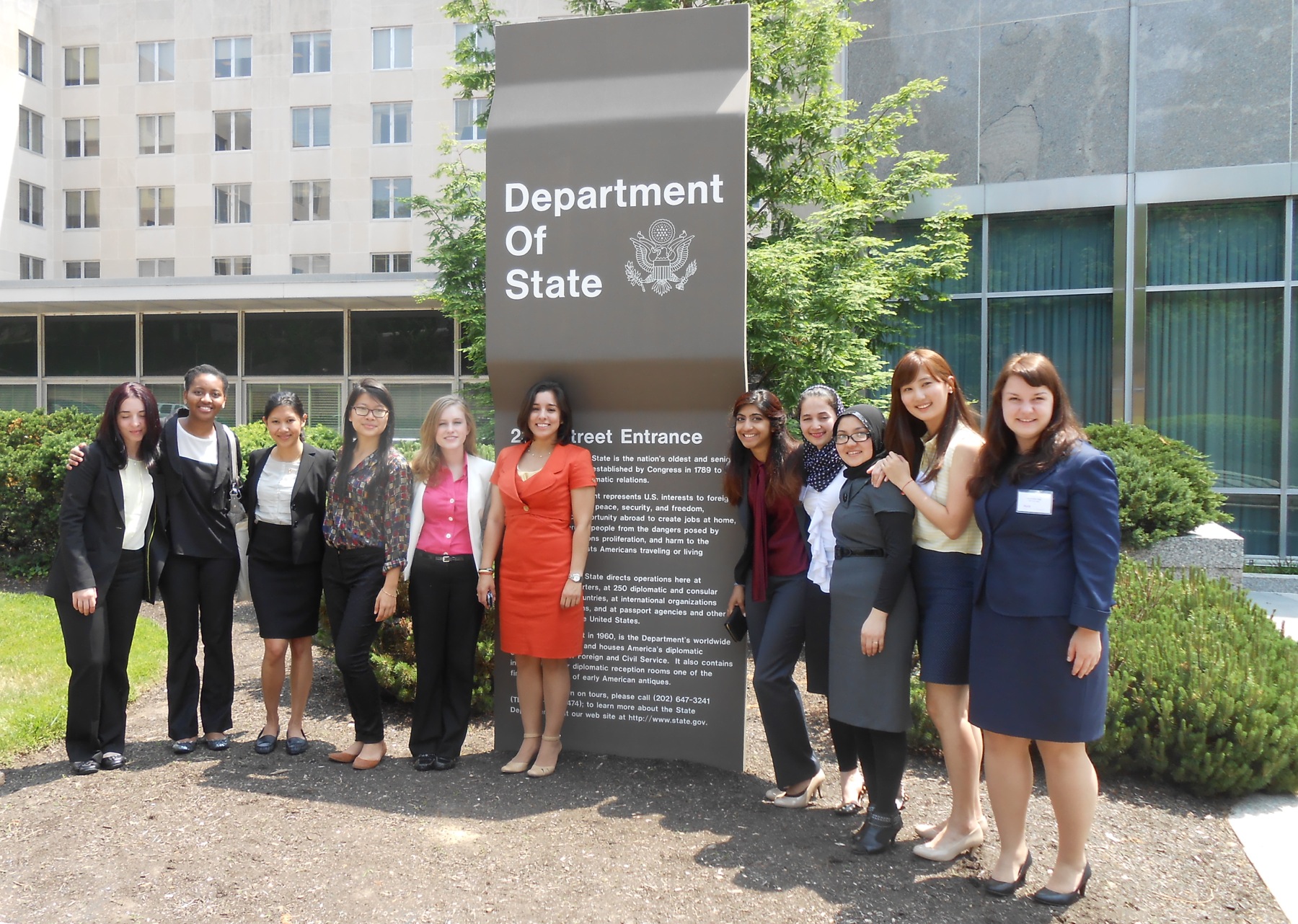 Pamela Reeves, a recent PLEN seminar keynote, hit the nail on the head when she said that "we cannot underestimate how important the support of other women is to these aspiring leaders: the act of communicating "we have been there, we've got your back when you walk down that path" is a small contribution to the enormous gift they will be giving all of us by their success."
She's right, and she represents an active mentor in my life. I met Pamela when she and I both worked at the State Department. After joining the Secretary's Office on Global Women's Issues, I quickly grew to admire the quality of Pamela's private sector engagement efforts coupled with the dynamism of her character. Sitting not far from Pamela's desk, I was able to learn through mere observation what made her so effective. It wasn't until Pamela agreed to meet me several times for coffee, however, that she began to have a tangible impact on my life, becoming an accessible role model that could provide personalized advice.
I look up to a number of people, but only few of those that I admire am I able to ask, how did you get here and are you willing to help me? Organizations like PLEN provide opportunities for young women to make these connections before they enter the work world, a potentially huge competitive advantage for deserving participants. We can "lean in," we can study the lives of great leaders before us, but nothing is quite like accessible role models from your field actively invested in your success.