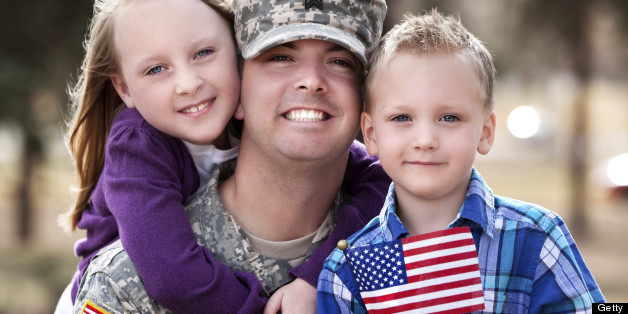 As a kid, I used to count down the days until the Fourth of July. The holiday meant that I got to don my favorite red, white and blue swimsuit, eat endless amounts of BBQ and spend time with my family and friends. As I've gotten older, however, I've tried to reflect less on the festivities and more on the true meaning of Independence Day and all that it represents. In anticipation of this year's holiday, my mission was to learn more about the ongoing needs of those who have made and kept America free -- our veterans.

I decided to reach out to William Roby, Board Chair of the veterans' organization USA Cares, to teach me about the challenges that post-9/11 veterans are facing, particularly with regards to post traumatic stress disorder (PTSD).
Morris: First, tell me about USA Cares. What is the mission of the organization?
Roby: USA Cares' official mission is to help bear the burdens of service by providing post-9/11 military families with financial and advocacy support in their time of need.
M: Tell me more about what that means and what that looks like on a day-to-day basis.
R: Let's say that a reservist normally makes $60,000 a year in her civilian job. If she was called to active duty after 9/11 and remained on active duty for seven years, she may only be making $30,000 a year, as a solider. That means that she has been sacrificing half of the income that she normally contributes to her family. Accordingly, her family may be in financial trouble (underwater on the mortgage, owing car loans etc.).
Or, let's take a veteran suffering from post traumatic stress disorder (PTSD). Treatment may be free, but he may need to miss a couple of months of work in order to get that treatment. This often discourages a veteran from seeking treatment because he and his family cannot afford to lose those three months of salary.
This is where USA Cares comes in -- providing emergency financial assistance to veterans and their families in appreciation for their service and sacrifice. The organization relies solely on donations, meaning that it never charges fees or accepts repayment from veterans, so veterans don't have to worry about paying it back.
M: What is PTSD?
R: PTSD stands for post traumatic stress disorder. PTSD is a psychiatric disorder that can develop after someone experiences or witnesses a life-threatening event. Contrary to popular belief, PTSD is not unique to military combat -- it can also be triggered by other occurrences, such as a car accident; physical or sexual assault; or a man-made or natural disaster.
After the traumatic event, some survivors fully recover, but others do not and may develop PTSD.
M: What are the common manifestations of PTSD?
R: Difficulty sleeping, nightmares, flashbacks, social isolation, irritability, and feelings of numbness are all common. These can then trigger depression, anxiety or substance abuse, among other things.
M: How many veterans of post 9/11 wars are estimated to be suffering from PTSD?
R: The Department of Veterans' Affairs (VA) estimates that since 9/11, almost 30 percent of Iraq and Afghanistan War veterans being treated at Veterans' Affairs hospitals and clinics suffer from PTSD.
M: How can the families of veterans who suffer from PTSD be affected?
R: The families of veterans living with untreated-PTSD may face higher rates of divorce and family violence. The risk of marital and familial discord underlines the necessity for a PTSD-sufferer to get treatment and receive familiar support.
M: What are common obstacles that soldiers face in getting access to treatment for PTSD?
R: Perhaps the biggest obstacle is fear of getting help. Some soldiers worry that seeking PTSD treatment will be a "stripe killer," meaning that they are afraid that undergoing treatment could end their career. There also continues to be a social stigma around PTSD, which public awareness can help to dispel.
Finally, a major challenge to treatment is the wait time to seeing a doctor and getting diagnosed. The volume of veterans' claims means extended wait periods for processing through the VA's Health Care System. The VA is currently working on reducing these wait times.
M: So what is the overall role of the Department of Veteran's Affairs?
R: The role of the VA is to provide support services to the men and women who have served. Support can come in the form of health care benefits, a job, or assistance with purchasing a home. The VA also provides veterans with disabilities assistance if their disability was caused by their service. This could mean anything from a watch that reminds a veteran when to take his medicines to adaptive home modifications.
M: Can you share an anecdote about the power of PTSD treatment?
R: When a husband and father of three kids returned from Iraq, he would stay up for days, suffering from nightmares and feelings of isolation. The solider's military pay, the family's only source of income, was constantly re-evaluated and delayed by a paper trail of documents and long phone calls. He was dealing with two major surgeries, as well as PTSD, but his financial challenges prevented him from seeking the residential PTSD treatment he needed. We stepped in and helped pay off late bills, allowing him to be in residential treatment for two months.
M: What do you see as the biggest challenge to organizations helping veterans with PTSD?
R: Each veteran-focused organization's challenge is unique. One of USA Cares' biggest obstacle is getting a veteran to provide the necessary information about his or her case for the organization to help him or her. Some veterans hesitate to follow-up after they ask for initial help because they are afraid of being rejected from the program, or the paperwork (no matter how minimal) seems daunting.
Another challenge is memory. Some veterans struggle with forms of memory loss, so they forget what they asked for from the organization.
M: Thank you so much for what you do. How can others help?
R: Americans can help by getting involved with an organization focused on veterans and their families (look for one with a low overhead). The needs of veterans will likely continue to climb, so the more help, the better.
Most importantly, if a family is struggling with a loved one because of PTSD, or if someone thinks that s/he might have PTSD, it is important to talk to someone and get help.