"One hundred," John says, biting into a juicy burger the size of two hands clasped together. "This is my 100th burger from Frites 'N' Meats."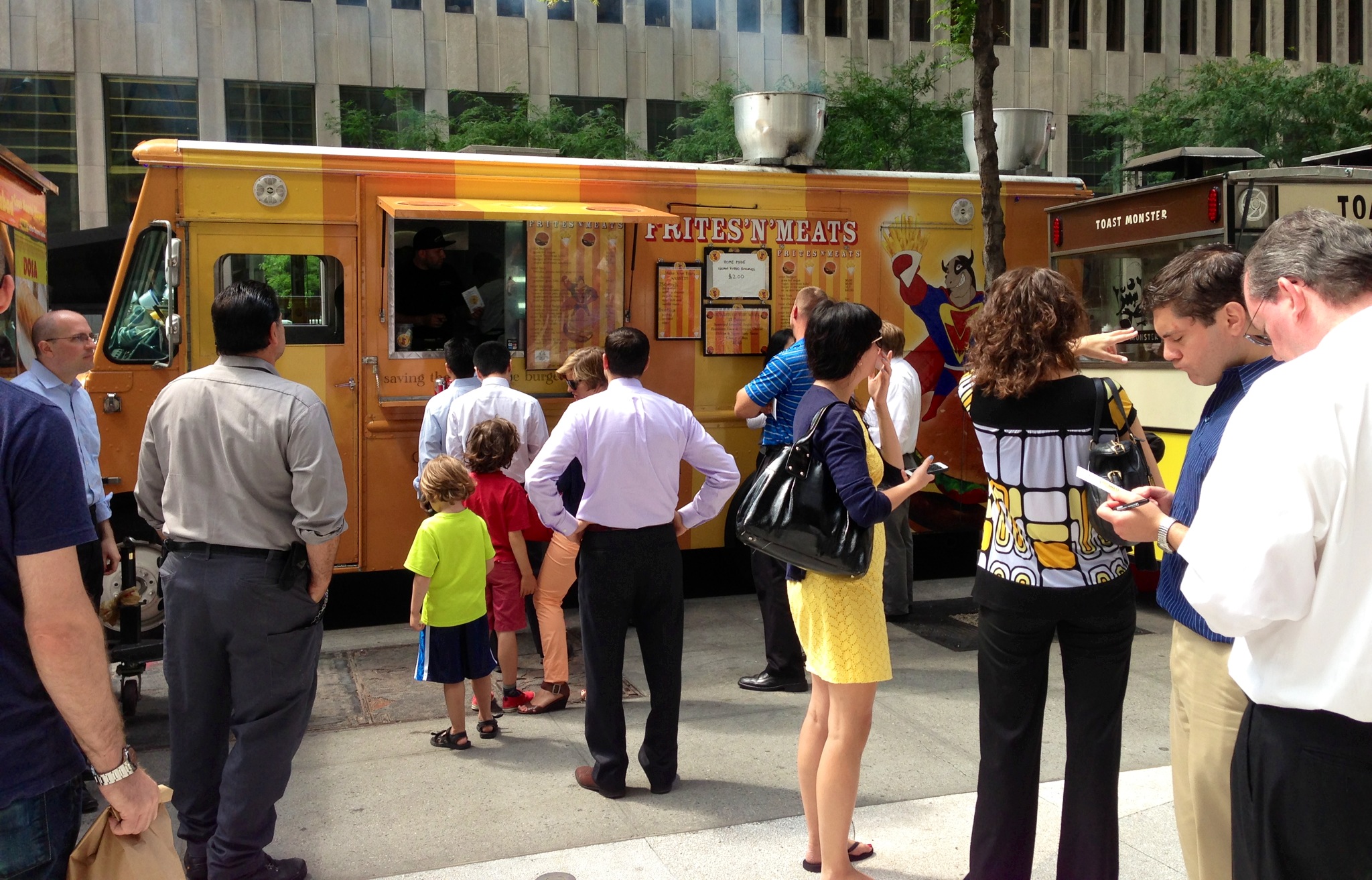 John, a 56-year-old executive at a financial firm located in Midtown Manhattan, has been an avid patron at Frites 'N' Meats since he first stumbled upon this good ole' burger and fries food truck in 2010. For busy New Yorkers like John, who refuse to walk more than two blocks for lunch, food trucks that show up right outside the doorstep of their office buildings are as convenient as deliveries minus the tip.
Every Monday, rows of food trucks park outside the Time & Life building on 50th St. between 6th and 7th Ave. Businesspeople dressed in suits and tourists with fanny packs alike form long lines along different trucks as the lunch rush hour begins.
From Taiwanese Fried Chicken Over Rice from Bian Dang on one end of the street to Ham, Swiss, and Herbs crepe from the Crepes Truck on the other, John browses through his options to determine what could satisfy his palate. Like every week, however, his footsteps inevitably pause in front of Frites 'N' Meats' bright, yellow-and-orange striped truck. He grabs a Sharpie and a menu card from the counter to build his own premium burger.
"I'm not too adventurous when it comes to food," John confesses as he routinely marks Xs next to his choice of meat, cheese, bread, and toppings. "I always go for the Wagyu burger with Cheddar cheese, a couple strips of bacon, and tomato on brioche bread, plus a side of Frites."
The grand total for his lunch? $13.75. John digs through his wallet and hands over three $5 bills.
"Keep the change," he says, adding that he only pays with cash and never with credit card so that his wife, who always insists that he cuts down on red meat and fries, won't suspect his weekly misdemeanor at Frites 'N' Meats. "As far as she's concerned, I haven't had red meat in seven months," he jokes.
As John awaits his burger and fries that are cooked to order, he describes the changing food scene in New York City. When he first relocated to Midtown in the early 1990s, his typical lunch menu included Chinese take-outs or sandwiches from local brick-and-mortar delis. Food trucks were unheard of, while street food usually meant cold pretzels or bland hot dogs from food carts.
Together with the advent of geo-targeting social sites like Twitter and Foursquare in the mid-to-late 2000s, the mobile food business saw its boom. In fact, it was right around Thanksgiving in 2010 when John's co-worker told him about the "revolutionary fast food experience on wheels."
"Good thing that I didn't have a client meeting that day, right?" John says.
Unless he is swamped with work or has lunch meetings, John has since reserved his Mondays for burgers and fries from Frites 'N' Meats because it offers everything he needs in terms of speed, convenience, and taste.
"Order for John! Order for John!"
John rushes up to the counter and immediately takes out the burger from the wrap. The longer it stays in the heat-insulating wrap, the more likely it will deviate from its perfectly cooked, medium rare state.
"One hundred," John says. "This is my 100th burger from Frites 'N' Meats."