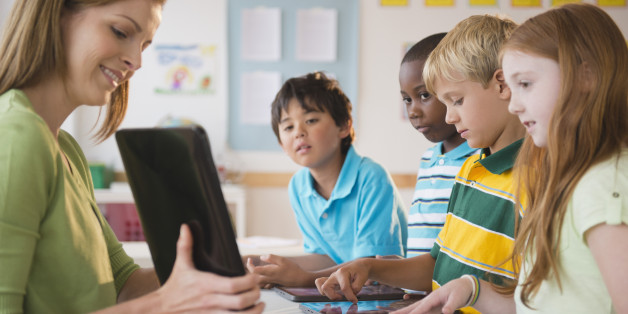 As many students and teachers are returning to school this week, we should take a moment to reflect on something positive that happened in the dog days of summer - in our nation's capital of all places - that will have a profound effect on the nation's public schools. Despite the endless partisan gridlock in Washington, a groundbreaking vote by the Federal Communications Commission to restructure how it spends taxes on mobile phones will make a real difference in America's public schools.
What do mobile phone taxes have to do with public education? A lot.
It turns out the FCC identified a serious sticking point in bringing better technology to our schools: without a sound communications infrastructure all the latest cool apps and new software won't help kids learn. I have been partnering with schools to help integrate technology solutions for the past five years and, in stark contrast to the outdated technology infrastructure in most school buildings, scores of new products, apps and learning managements systems have been introduced into the marketplace.
The FCC, in a split vote, approved a plan to modernize the E-Rate system, which invests funds raised from mobile phone fees to improve the communications access for public schools and libraries. The new directive dedicates $2 billion in existing E-Rate funds to help more schools finally enter the digital age through enhanced wi-fi and broadband connections.
This sounds like common sense, but for too long, government funding streams have been focused on outdated basic services. While the private sector and educators have been looking to employ great tools and content in classrooms, the decrepit nature of the technology infrastructure has rendered many of these innovations ineffective. The E-Rate modernization takes a logical middle ground of building the digital infrastructure needed to help deliver on the promise of digital and blended education.
Until now, the E-Rate funds mostly went toward "basic access," which is really just code for dial-up Internet services. Anyone with experience in education technology - from teachers to service providers - will tell you that low-speed Internet is worse than having no Internet at all because you end up wasting valuable classroom time waiting for programs to load and inevitably you lose key program functionality.
Same goes for lack of wi-fi. The traditional edtech model, which gathered students in a discrete computer lab or at desktop machines in the library, is disappearing. That's because technology, like any other learning tool, is much more effective when it's part of the classroom flow. More teachers are integrating laptops, tablets and whiteboards into interactive classroom activities. This requires adequate wi-fi coverage, which isn't a reality at most public schools.
Digital learning is exploding across the country and, in many ways, is leveling the playing field for students to have access to the best curriculum and learning tools. In particular, we are seeing growth in blended learning, which includes both a traditional classroom teacher and digital tools and activities. These are not possible without high-speed Internet and broadband.
The FCC's move comes at an interesting point for edtech, as a backlash against technology in the classroom has been starting to bubble up. Most of this backlash, like in this recent piece in The Hechinger Report, points to unused computers and untrained teachers as the issue. But that is not an indictment of technology use in the classroom but a reflection of the common lack of understanding in what it takes to make technology classroom-ready.
A recent national survey of teachers by digedu found that more than half of teachers are basically left to fend for themselves when it comes to using technology in the classroom. This isn't a surprise to anyone who has spent time in schools; in fact I thought those results would be much worse.
While the FCC vote was a significant step, it certainly won't get us all the way there. Technology training and integration support need to become bigger priorities for state education departments, which can help school districts better address these challenges. In addition, too many low-income students often don't have access to the web outside of the classroom, which puts them at a disadvantage to wealthier students with home broadband. President Obama has created a plan to close the Internet gap and many states, like Massachusetts, have their own initiatives to increase high-speed access in underserved areas.
So on the first day of school when you snap a photo your daughter climbing aboard the bus with her new One Direction lunch box, the mobile phone you're using will have contributed to a significant investment in the nation's education infrastructure. With the FCC action this summer, at least now it will be tax money well spent.