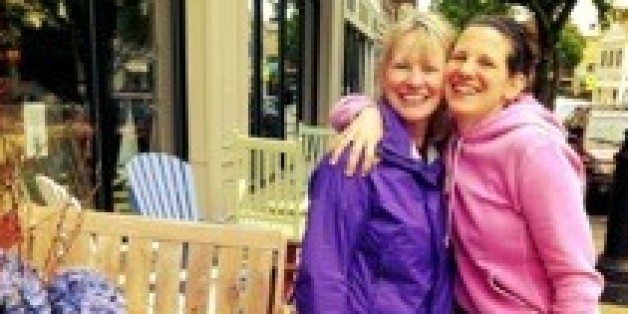 1. Education matters. If it takes four years or 20. It is an investment in opportunity, self-confidence and a sacred value. Don't take it for granted. Not ever.
2. Believe in equality. If the 8-year-old girls' athletic uniforms and fields aren't as good as the 8-year-old boys' uniforms and fields, fight for it. Even if it takes tireless hours of convincing cigar-smoking old men that it matters, don't back down. Take that philosophy and spirit with you on the journey.
3. Protect your young. If someone speeds past you on a quiet street when your child is learning to ride a bike, it's OK to chase after them on foot and firmly hold them accountable when they pull over. Rid the world of injustice.
4. Honesty is the best policy. She will find out. She will find you. She will.
5. Don't settle. Let relationships be built on respect, let it be mutual and designed to go the distance. Know that it helps if he loves you just a little bit more than you love him. Better to be cherished than to chase.
6. Talk. Yell. Laugh. Cry. Say what you mean and know that a cup of tea is often the home of solution and celebration.
7. Be humble and resilient. She will be your greatest cheerleader. She will be your greatest critic. This is a lesson of the world. Stay the course.
8. Root for the underdog. And don't be afraid to be one. Conquer the highest mountain, but always honor the place from which you took the first step.
9. Put family first. But know that loyalty doesn't mean you can do whatever you please. Get your head out of your ass. Now.
10. Learn surrender. In a battle of wills, she will win. Every single time. Go peacefully.
11. Grit. Nurture it and never lose it. Because sometimes in life you will find yourself with only that and it will be the thing for which you are most thankful.
12. Gratitude. To survive, you need the basics. To shine, you need the belief. Everything else gets in the way. Stay clear on that.
13. Adventure always. Someday you might want a pink motorcycle and to hike alongside grizzly bears. Nothing should stop you.
14. Compassion and grace. Always see a piece of yourself in everyone. Learn from others. Life is a series of sliding doors -- let that reality keep you steady. Choose the path of integrity -- even if it's lonely, it is the only way.
15. Know love. Know courage. One day, after the hard work is done, it is OK to write your child a love letter and tuck it into her suitcase when she leaves home. And in the moment she stumbles upon it, your secret will be out. She will see that you were always tender and gentle -- even fragile -- but often hid those things to protect and provide. Someday, she will learn all that a hero must do to save the world and grow a child to thrive in it.
Then she will know that everything she needed to know, she learned from her mother.
This post is part of HuffPost Parents' Mother's Day series, exploring the lessons our moms taught us about parenting.
Like Us On Facebook |

Follow Us On Twitter |

Contact HuffPost Parents