Health disparities, the gaps in health care that the US Centers for Disease Control define as "avoidable, unfair differences in health status seen within and between populations," have been getting some well-deserved attention recently.
One of the most disturbing health disparities gets so little attention that it constitutes a hidden health crisis. People with intellectual disabilities get less and lower quality health care -- or no health care. They experience much higher rates of preventable disease, chronic pain and premature death. And the discrepancies are ubiquitous, in rich countries as well as poor ones.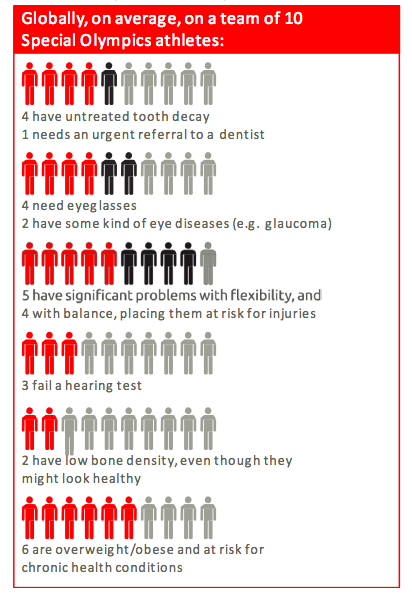 Special Olympics started a program called Healthy Athletes in response to this health injustice. Healthy Athletes has provided 1.4 million free examinations in seven critical health areas since 1997. As the infographic shows, we have found that 40 percent of our athletes have untreated tooth decay, 40 percent aren't wearing corrective lenses but need them, and 33 percent would fail a hearing test.
We are also working to narrow the health gap through a two-year-old initiative called Healthy Communities, and this week we released data showing the initiative's impact. Healthy Communities has been designed as an on-going, comprehensive, community-based effort. It brings health services to athletes in their communities. By building partnerships with local health care professionals, hospitals, government, and other organizations or companies, it allows Special Olympics to serve more athletes in harder-to-reach locations in a cost-effective and sustained manner. And, crucially, Healthy Communities improves the access of people with intellectual disabilities to follow-up care. The initiative is at the vanguard of the Special Olympics Health Revolution.
Healthy Communities was launched in 2012 at the Clinton Global Initiative with a $12 million gift from businessman and philanthropist Tom Golisano. The Golisano Foundation is the only foundation focused on achieving health equity for people with intellectual disabilities and its Director, Ann Costello, explains its partnership with Special Olympics this way:
"People may not know," says Costello, "that Special Olympics is the largest public health organization in the world for people with intellectual disabilities. No other organization has the ability to reach millions of people with intellectual disabilities."
The Healthy Communities initiative is currently underway in 14 sites including six U.S. states (Arizona, Florida, Kansas, New Jersey, New York and Wisconsin) and eight other countries (Kazakhstan, Malawi, Malaysia, Mexico, Peru, Romania, South Africa and Thailand). Special Olympics is proud to receive significant funding for the US sites from the US Centers for Disease Control and Prevention.
In just two years, by offering health clinics in remote villages, partnering with governments, businesses, universities and community organizations, training people with intellectual disabilities to be peer health educators, and more, Healthy Communities has:
Provided 52,424 free health examinations at 404 clinics, in seven health areas such as vision, hearing, and oral health;
Linked 2,187 people to treatment for serious health conditions discovered through the free examinations;
Offered health examinations and clinics in 116 new locations around the world, where people would not have had access to care otherwise;
Trained 11,882 health care professionals to provide on-going, community-based care for patients with intellectual disabilities;
Trained 382 Special Olympics athletes to be health educators for other people with intellectual disabilities;
Delivered health education on locally-relevant topics such as healthy weight, HIV and AIDS, and malaria to 18,292 Special Olympics athletes, their families and coaches; and
Engaged 9,884 people with intellectual disabilities in health education opportunities such as fitness clubs and cooking classes.
Based on these achievements, Special Olympics announced this week the goal of expanding the initiative to 100 Healthy Communities in Special Olympics programs around the world by 2025.
To achieve this goal, we need others to join us. The barriers to equitable health for people with intellectual disabilities are stigma, prejudice, ignorance and lack of training and capacity building. People with intellectual disabilities are left out of routine childhood vaccinations. They are much less likely to be offered routine screening tests such as mammograms. Due to their substantially lower bone density than the general population, people with intellectual disabilities have to cope with increased bone fractures throughout their lives. Fifty percent of people with Down syndrome over the age of 60 suffer from Alzheimer's disease, compared to 6 percent in the general population over age 60. People with intellectual disabilities are more likely to be obese in upper- and middle-income countries and underweight in poor ones, compared to the general population. And yet, they get the worst health care.
To change the status quo of the most vulnerable people getting the worst health care, there are urgent roles for everyone through Healthy Communities. Governments can change policies and improve health systems to ensure equity. Doctors, dentists, nurses, and other health professionals can agree to provide care. The private sector can make health resources more available and affordable for people with intellectual disabilities. Individual and communities can join the Special Olympics Health Revolution as volunteers.
Let's all "mind the gap" -- and work to close it.