Fashion and art: both luxury goods, both highly desirable, both totally different in their function.
One is in its broadest sense crucial to survival, preserving modesty and protecting from the elements. The other's function, to quote Oscar Wilde, "is quite useless."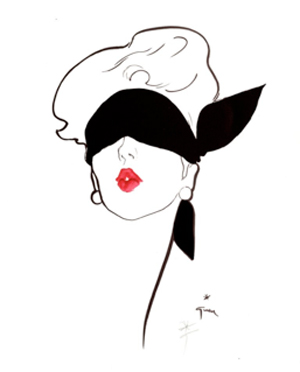 René Gruau, Rouge Baiser (image courtesy of East of Mayfair)
So where does the co-mingling of these two worlds come from? Is it cynical überbranding propelled by the PR machines of the fashion industry who want to top their glamour quotient with the exclusivity and wealth found at museum benefits, in art galleries and auction rooms or is it a genuine exchange of creativity?
The obvious intersections between art and fashion that come to mind are are recent well-known collaborations between fashion houses and artists. Richard Prince and Takashi Murakami, for example, designed the most recognizable bags of all time for Louis Vuitton. It is also worth noting that Francois Pinault not only owns Christie's (the biggest art business in the world) but also the fashion conglomerate Gucci Group. Similarly Miucca Prada invests heavily in the arts through her Fondazione Prada. No Fashion Week or major Art Fair passes without a show or event that involves a collaboration between a gallery, museum, designer, starchitect, celebrity, model, artist, magazine editor and a major fashion brand, supported, of course, by the appropriate luxury liquor brand. Thedesirable new sponsors for museum shows are no longer banks and insurance companies, but sexy names like Gucci, Prada and Armani. The caché of one megabrand feeds another and vice versa.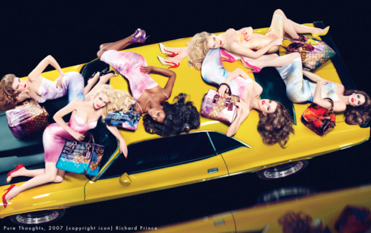 But this isn't how fashion and art were initially intertwined -- at the turn of the last century, the two were inseparable. Before the advent of modern fashion photography, magazines like Vogue, Harper's Bazaar and La Gazette du Bon Ton were filled with fine drawings of clothes and accessories rather than glossy photo spreads of supermodels. Fashion illustrators were given free range to interpret the spirit of each decade through their own personal vision and style. The most famous names among them were Erté, George Lepape and Christian Bérard in the first half of the century and the visionary René Gruau and Antonio (Lopez) in the latter half. These artists didn't simply draw fabric on mannequins, they created the flair, glamour and desire surrounding each trend through their illustrations and advertisements.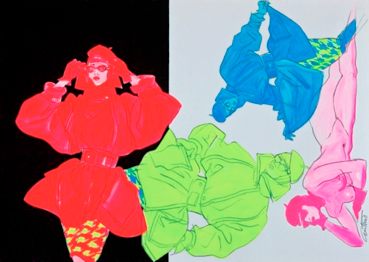 Antonio & Juan Ramos, For Italian Vanity (Image courtesy of East of Mayfair)
This tradition persisted alongside fashion photography as late as the 1990's, but was eventually replaced almost completely by the more effective, practical and versatile medium. The very first modern fashion photographs were shot by Baron de Mayer and fine art photographer Edward Steichen. Soon after, the work of Steichen, Cecil Beaton (also a fashion illustrator) and Horst P. Horst developed fashion photography into a serious art form.
The photographers who followed in their wake are household names such as Irving Penn, Richard Avedon, Peter Lindbergh, Steven Meisel and Mario Testino. These icons created images that have shaped our perception of style and beauty immensely and remain highly collectible artworks today.
While the Mert & Marcus, Craig McDeans and David Sims of today may not be quite as well known to those outside the fashion industry, many brands are also looking beyond their borders and engaging fine art photographers to enhance their visual branding. Most recently, the brilliant minds behind Bottega Veneta have secured the likes of Robert Longo, Jack Pierson and Alex Prager to give their campaigns a serious artistic credibility, Diane von Fürstenberg's summer campaign contained surreal echoes of Dali and John Baldessari and Marc Jacobs commissioned artist Rachel Feinstein to design the spectacular set for his latest New York runway show.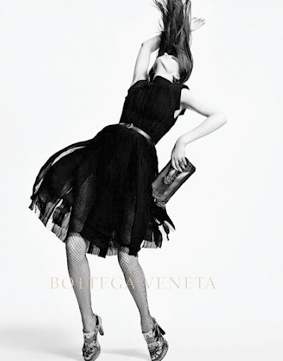 While one could interpret such choices as a clever PR strategy, no better than a luxury brand slapping their logo on a serious cultural event, it is clear that the relationship is not one-sided. The art world is hardly being highjacked by high end brands -- it is just as enamoured with the fashion industry and both can feed each other in different ways. As long as the creative output is convincing (despite being very commercial) and allows both sides to take advantage of new ideas, audiences and resources without undermining artistic integrity, the romance will stay alive.
Janina Joffe is the co-founder and director of East of Mayfair.