This is the last blog in our series as we count down to the winter solstice -- the darkest day of the year. These past few weeks, we've featured some of the brightest lights of hope, the true shooting stars, in our community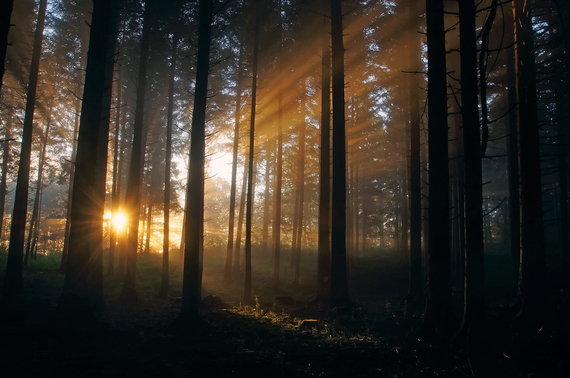 Over the past few months, I've found myself in a constant state of travel, often moving up and down the East Coast, and every time I return to Oregon, I do so with fresh eyes.
If you've read the blogs in this Countdown to Solstice series, you'll know that this year we took part in the Emotion Revolution Summit, co-hosted by the Yale Center for Emotional Intelligence and Lady Gaga's Born This Way Foundation, which focused on the social and emotional climate in our nation's high schools. After listening to Patrick Kennedy speak at a Mental Health America NYC policy meeting on the same day that we attended the CEO Summit on Mental Health in the Workplace at the New York Stock Exchange, and after participating in the Rosalynn Carter Center Symposium on Mental Health Policy -- I can say that radical change is in the air.
But after talking of education and mental health reform at a national, systemic level, it is especially encouraging to come back home to Oregon and see theory being put into practice! I'd like to spotlight the following individuals and organizations working across the state for their holistic and progressive contributions to brain health and education. Through them all burns a fierce light of hope!
Keep Oregon Well! #KeepOregonWell is an awareness campaign partnership between Alpha Media and Trillium Family Services, featuring concerts and interviews with great artists that includes Walk Off the Earth, Bleachers, Michael Franti, David Gray, Charli XCX, and Flo Rida! Sheila Hamilton (featured below) wrote a moving blog detailing her interview with David Gray that touches on self-care and mental health awareness.
Sheila Hamilton
Sheila Hamilton, is truly an inspiration. A five-time Emmy Award-winning journalist and news director at KINK FM, Sheila has also authored a memoir that came out this fall. All the Things We Never Knew details her experience with her late husband's mental illness. A moving and brave book from a Flawless woman!
Dr. Stuart Ablon at Think:Kids
Dr. Stuart Ablon is the director of Think:Kids and an associate professor of psychology at Harvard Medical School. Think:Kids teaches and promotes Collaborative Problem Solving (CPS) as a means to help children with behavioral challenges. The method uses relationship-building and skill-building, not power and control, to help kids. Dr. Ablon remarks, "The State of Oregon has been a leader across the world in better understanding and helping youth with behavioral challenges. Statewide efforts to implement Collaborative Problem Solving across systems of care have literally set the bar for more humane, compassionate and effective treatment for kids and their families."
The Department of Child and Adolescent Psychiatry at Oregon Health & Science University
Dr. Ajit Jetmalani, the Director of Child and Adolescent Psychiatry at OHSU, helped drive the alliance between OHSU and Massachusetts General Hospital/ Think:Kids back in 2012, which has increased the dissemination of the CPS model throughout Oregon. About this revolutionary approach, Dr. Jetmalani has said, "By approaching children differently, we create opportunities for empathetic relationships that can dramatically reduce challenging behaviors."
J Pepin Art Gallery
J Pepin Art Gallery was founded by Jennifer Pepin, an artist with a history of mental health challenges. The gallery features contemporary artists who are reframing the perceptions of mental health. Along with their work, each artist publicly shares their creative journey and experience with mental illness.
Unity Center for Behavioral Health (opening in 2016)
Portland's suicide rate is much higher than the national average, and this innovative, patient-centered behavioral health care center will offer immediate care to people experiencing a mental health crisis. Emergency room treatment for people with behavioral health issues is a public health issue across the country: People can get stuck in emergency rooms without access to adequate care for days. This center will be a national model and will provide a safety net so fewer people will fall through the cracks of the mental health system.
Foundation for Excellence in Mental Health Care The Foundation for Excellence in Mental Health Care, is an international organization based in Oregon that takes a holistic and community approach to mental health care by incorporating compassion and respect into its practice. By connecting philanthropists with researchers, people with lived experience, and mental health professionals, the foundation aims to develop recovery-focused care for those living with brain health challenges.
The end of each year brings many of us time and space to regroup -- to take in all the lessons and accomplishments of the year. We reflect and we learn. And what better way to forge a new path in the new year, then by creating ample space to celebrate those people and organizations who have given new hope to brain health care and education in this country? The intention of our countdown, much like the intention of all we do, is to spread light in the dark -- to look deeper into the shadow and see hope begin to glow. We have focused on the accomplishments that we're thankful for at the Flawless Foundation; we've focused on the myriad of innovative brain health approaches being spearheaded coast to coast, from New York City to Portland, Oregon; and we've taken the moment to reflect on the past, particularly the anniversary of the tragedy in Newtown, and how those affected are fashioning their own light and hope out of absolute darkness. So, we take another step, and we look forward. We hold the virtues of flawlessness in our hearts, and we carry light with us through the darkest day of the year and begin anew, with more sun shining on each passing day