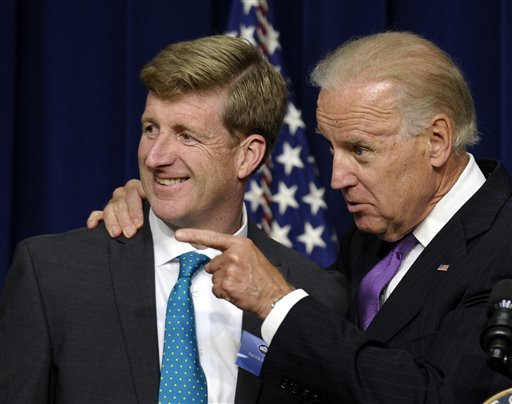 (AP Photo/Susan Walsh)
It is hard to believe that in less than two months we will be at the one year anniversary of the tragic school shooting in Newtown, Connecticut. And yet again this week, a middle school student in Nevada shot himself after killing a teacher who had stepped in to save the lives of several other kids. As unthinkable -- and unfortunately common -- as these events are, there is hope for positive change if we work collaboratively and take action NOW! Change is possible and President Obama's call to action in those dark days following the Sandy Hook tragedy is being taken seriously. We have united in this country in a way that has never happened before. With prevention, awareness, good policy and healthcare we can halt this public health emergency and reduce the unnecessary human suffering.
A shining example of positive leadership in action is taking place this week in an historic event in Boston, when Patrick Kennedy launches the Kennedy Forum at The John F. Kennedy Presidential Library and Museum. The inaugural Kennedy Forum will bring together mental health advocates to expand the national conversation around this last frontier of civil rights. As Patrick explains, the Forum celebrates the 50th Anniversary of President John F. Kennedy signing the Community Mental Health Act, as we work "to remove the stigma surrounding mental illness and to once and for all achieve parity by treating the brain the same way we treat the rest of the body." Participants will include leading thinkers in mental health policy and advocacy, with panel discussions moderated by Chelsea Clinton and keynote addresses by Vice President Joe Biden and Health and Human Services Secretary Kathleen Sebelius.

Once again, the greatest political family of our time -- itself so deeply affected by both mental illness and gun violence -- is inspiring a new movement of hope and solutions. Collaboration, brilliance and fierce dedication to service... the legacy of the Kennedy family lives on to change history for the underserved and misunderstood members of our collective human family.
For More information please visit http://thekennedyforum.org
The featured speakers at the opening dinner will be webcast live on the Kennedy Forum website starting at 7:30PM EST on Wednesday, October 23. Following the conference, video and media from the Forum will be posted on the website as well.
Janine Francolini is the founder of The Flawless Foundation, which is a sponsor of The Kennedy Forum.
This post has been updated from a previously published version.