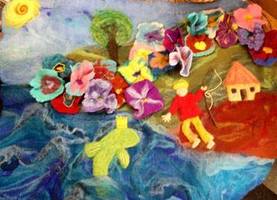 Felted art project created by the first grade class community at the Portland Waldorf School -- 2014


An open letter to my son on his last day of school!
To my almost 8th grader,
Wow, it's the last day of 7th grade -- Congratulations on a great year! Your Dad and I are so proud of you and all that you have accomplished this year both academically and socially. The past few weeks have been filled with many beautiful end of the year celebrations and rituals. I particularly enjoyed the project of organizing the 8th grade promotion ceremony and working closely with your class community. I can't believe that next year you will be an 8th grader moving on to High School -- Feels like yesterday that you were just starting preschool.
And it's also been very sad lately as once again, we have been faced with the news of three school shootings in less than three weeks with two of them being in our own backyard. I am guessing that this week's tragedy hit home because it took place in the "Main Street USA" town of Troutdale where you and your Dad have the ritual of hiking along the river after getting milkshakes at the Troutdale General Store. While a shooting close to home can be particularly scary, I am grateful that this tragedy inspired a productive conversation between us about education, violence and what that translates to in our everyday lives.
I know that the school you attend is not your preference and am glad that we have been able to communicate about our philosophical differences and worked out a solution. I was relieved the other day when we were discussing the tragedy in Troutdale and you shared your thoughts on the issues around violence in schools and said that you believed that close relationships and community are important factors in creating healthy schools. I was thrilled that you understood the importance of community but also a bit confused about why you talk about preferring the education that you struggled with before you attended the Waldorf School. I know 6th grade was a tough time to change schools and learn a whole new culture and philosophy but it's hard to understand why you would trade your tremendous school success now with the stress of three hours of homework per night and tutoring which only resulted in weekly computer generated evaluations revealing very poor grades. We respect the fact that you didn't want to change schools and are glad that you understand that we had to move you abuptly when an appropriate education for you wasn't being provided.
We get it -- it's been hard to adjust to the holistic philosophy of the Waldorf School. Let's face it, for five years you only knew big schools, large classes, standardized testing and one style of teaching and evaluating. Thankfully, we can agree to disagree and look at what we know to be true which is your current academic and social success. Right now you may feel that belonging to a tight knit community might not be your thing but hopefully one day you will appreciate that your school days begin and end being greeted by your teacher as she looks you in the eye and shakes your hand. Hopefully when you are making a school choice for your own children you will want an environment like The Portland Waldorf School where every child is really seen and heard on all dimensions of their being. And, hopefully the open dialogue between us on these important issues will continue as beautifully as it did this week
In closing my dear boy, if you remember one thing from your current school experience, it's this most important equation...
L+O+V+E=LOVE
Happy Summer!
Love,
Mom