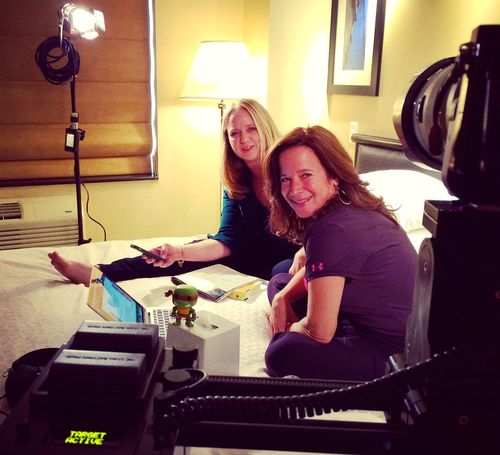 How does one sit with the awe-inspiring, truth-telling Liza Long without being completely raw and honest herself? How can you not go as deep as possible and speak from the depths of your soul when you are talking with a woman who publicly exposed her -- and her family's -- own truths about living with mental illness to millions of people? When I met with Liza in New York to shoot our video interview series, "Liza and Janine Unplugged," we decided to share about our own personal histories of being in a very dark place in our lives.

In doing this, I felt scared, vulnerable, and uncomfortable. However, I am driven by knowing we have to share these truths in order to keep shedding light on this topic, otherwise we'll continue to hide behind secrets and shame. Nevertheless, it's not easy to revisit the memories of my adolescent years when I was struggling with serious mental health challenges and suicidal ideation.
When talking about these issues, I often pose the question, "Do we have any other choice?" The answer is a resounding no. If we want to slay this beast of a public health emergency, we cannot let suicide, depression, and other brain health challenges hide behind closed doors. Our only choice is to continue to build dialogue, so that we may break down the lethal secrecy and shame that surround these issues. Honesty, and the willingness to be vulnerable and uncomfortable, are the true antidotes to shedding light on this topic.
So, let's continue to take the risk, open up the conversation, and make ourselves accessible to others through authenticity and openness.
I wore my super heroine shirt for the interview with Liza in honor of her courage. Now, I'm feeling that I also need a super heroine cape, so as to increase my courage and keep flying through the discomfort of unpeeling these layers, one by one.
#strongertogether
Liza and Janine Unplugged, Part Two (with special guest, Ross Szabo)
---
Have a story about depression that you'd like to share? Email strongertogether@huffingtonpost.com, or give us a call at (860) 348-3376, and you can record your story in your own words. Please be sure to include your name and phone number.
Need help? In the U.S., call 1-800-273-8255 for the National Suicide Prevention Lifeline.