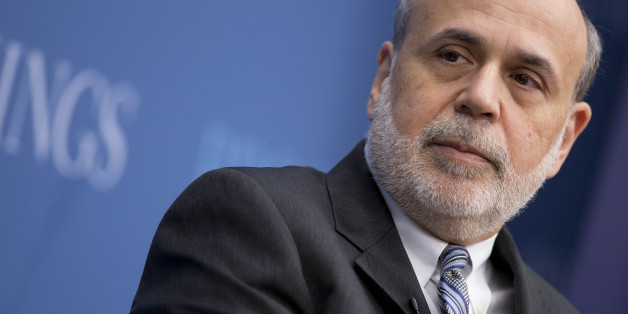 It's hard to find anyone outside the Fed to say something positive about the impact of their quantitative easing, or "large-scale asset purchase" program. And while there's certainly some concrete evidence that it had its intended direct impact of lowering longer-term interest rates, there's less evidence that it hit its broader, indirect target of investment, growth and jobs.
Still, one cannot help but notice the recent slowdown in the housing recovery and one further cannot help but wonder about the extent to which Fed actions to pull back on their LSAPs is implicated in the said slowdown, though there are of course other moving parts here.
First, there's no doubt that the housing recovery has significantly slowed. According to a Credit Suisse index, homebuyer traffic is down more than a third from last year, and Wednesday's new home sales were off big time, with sales down 13 percent from a year ago, the first year-to-year decline since 2011 q2. Pending home sales have also been negative in recent months and recently hit their lowest level since late 2011.
Before turning to QE, however, note the lousy winter weather is implicated, as are still tight credit standards for mortgage lending. And while Case-Shilller home prices have decelerated, they're still posting double-digit gains, year to year. Plus, some of the slowdown was warranted -- housing bubble watcher Dean Baker tagged some of the pace of growth in some markets as "clearly unsustainable."
But regarding QE, note these facts:
When former Fed chair Bernanke set off the "taper tantrum" in a press conference in June of last year by pointing out that at some point, the Fed would start scaling back the LSAP, bond and mortgage rates spiked (see first chart here regarding the 10-year yield).
The 30-year fixed-rate mortgage went up about a point around then from the mid-threes to the mid-fours and has stayed there.
As the Fed has tapered its asset buys, which include agency (GSE) mortgage-backed-securities, from85 billion a month to its current level of55 billion, the yield curve for bonds has steepened. As market analyst Chris Rupkey recently noted: "The two-year to 10-year yield spread was 232 basis points still in March 2014, near the widest levels reached in this post-recession period."
Sure, there are some signs of a strengthening macroeconomy which would steepen the yield curve, but they're still pretty ambiguous. I don't think anyone should be seeing strong green shoots, as they say, and it won't help if housing weakens further.
All's I'm saying is that sometimes it's hard to see the impact of something until you start doing less of it, and I suspect more careful, ceteris paribus, research would find a link between tapering the LSAP, higher mortgage rates and the slowing housing market.
This post originally appeared at Jared Bernstein's On The Economy blog.