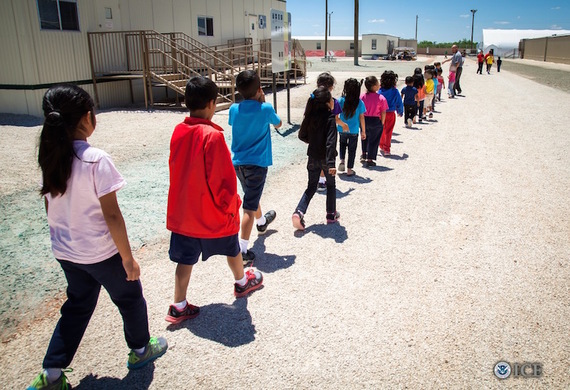 Children walk to classrooms at the Dilley detention center. (CHARLES REED/DVIDS)
We should not outsource the sensitive government function of forcibly detaining human beings to a few morally bankrupt corporations. Private corporations prioritize profits above the interests of the general public, and the significant responsibilities associated with physically depriving individuals of their liberty should be borne by the government, subject to the due process of law.
We recently made progress when the Department of Justice (DOJ) announced that it will no longer contract with corporations to run private prisons to house criminal detainees. This decision came after the DOJ Inspector General found what we have known all along: these facilities compare poorly to those owned and operated by the government. They do not provide the same level of services, safety and security, while also failing to save on costs.
Following the DOJ announcement, the Department of Homeland Security (DHS) announced last month that it will consider if similar reforms are necessary with respect to our immigration detention system - the largest such system throughout the world. DHS created a new advisory council to provide an evaluation by the end of November. Given the findings of the DOJ's Inspector General's report from August of this year, further analysis seems unnecessary. If private prisons fail to provide the necessary services to criminal detainees, then it follows that they are wholly inappropriate in the civil immigration context.
The U.S. detains nearly 400,000 immigrants- including asylum-seekers, women, and young children - annually within a combination of over 200 federal, state, and privately-owned facilities. Approximately two-thirds of these detainees are held in private, for-profit detention centers. This lesser-known system of mass incarceration and human suffering costs American taxpayers in excess of $2 billion annually. That is approximately $5.5 million per day, allowing corporations to profit significantly from jailing vulnerable populations.
Many of the contracts that the DHS has signed with these facilities contain "tiered-pricing" provisions that reduce the cost to the government per detainee as the overall number of detainees rises. Tiered pricing provisions clearly incentivize the detention of the greatest number of immigrants - and thereby the greatest profits - above humanitarian and due process considerations, or meaningfully addressing our broken immigration system.
Immigration detention is supposed to be civil in nature, designed to ensure that people attend their court hearings and comply with any orders issued by immigration judges. Far less costly and humane alternatives, including ankle bracelets and telephonic reporting, have proven to be effective in meeting this goal. Nevertheless, we continue to be dependent upon immigration detention centers that are largely indistinguishable from jails and prisons, severely limiting daily activities of detainees, separating them from loved ones, and often limiting their access to legal counsel and communication.
All immigrant detainees held by the federal government should be provided the same minimum level of care. As things currently stand, our immigration detention centers are subject to varying detention standards. Some facilities are bound by Immigration and Customs Enforcement's 2011 Performance-Based National Detention Standards. Others use a version from 2008, while some even use standards from 2000. Failure to fully implement the most recent standards at all facilities places many detainees at unnecessary risk. Abuses - including beatings and sexual assaults, as well as the mistreatment of LGBT immigrants - are well-documented. Inadequate health care and nutrition, and the improper use of solitary confinement have been cited at various facilities throughout the country.
The President has repeatedly pledged to use his executive authority to address the most dysfunctional aspects of our broken immigration system, and the use of private, for-profit detention facilities to house vulnerable populations certainly fits within this criteria. But this is not a problem of the President's making. The current administration is forced to maintain in excess of 34,000 detention beds at all times - a completely arbitrary figure that is set by Congress, without respect to the actual needs of ICE.
While statistical data indicates that our foreign-born population is significantly less likely than our native-born population to commit crimes, there is a small number of unauthorized immigrants with serious criminal histories who pose threats to our communities. These individuals should be the focus of our detention and removal apparatus until Congress manages to get its act together in reforming our immigration system.
It is clear that we must work to reform immigration detention in the U.S., as our current system is a relic of another time that runs contrary to our collective values and economic interests. In the interim, we can ensure that this work is conducted in a more humane and ethical manner, while also serving the interest of American tax-payers, by eliminating the use of for-profit detention centers.

Polis has represented the Second Congressional District of Colorado since 2008. Polis serves on the Committee on Rules, the Committee on Education and the Workforce, and the Committee on Natural Resources.
Polis has been a consistent advocate for reducing the use of immigration detention centers and closing private immigration detention centers. In 2012, Polis called for the Government Accountability Office (GAO) to investigate incidences of sexual violence against immigrants in the custody of the Department of Homeland Security. He has authored several columns on the topic and is a vocal proponent of comprehensive immigration reform.