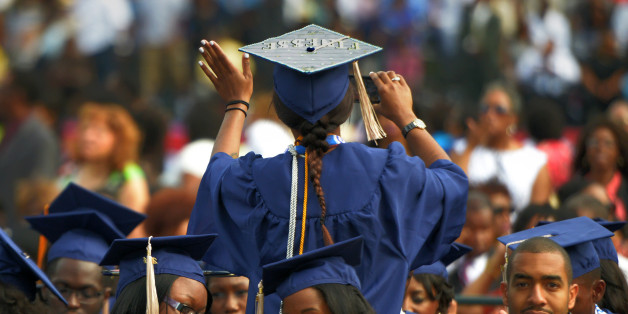 U.S. Attorney General Eric Holder last week commemorated the 60th anniversary of the Brown vs. Board of Education Supreme Court decision during a speech at Morgan State University's spring commencement exercises. Like most speeches made by members of the Obama Administration on historically Black college campuses, Holder's message was intended to reverberate with African-Americans, and for everyone else, to serve as a highway marker on the long journey to equity.
With a fitting blend of personal reflection, political promotion and social critique of the years, which followed the alleged end of segregation in American schools, the nation's top attorney addressed more than 900 graduates of Maryland's flagship HBCU; the key institution at the center of a successful lawsuit against the state for maintaining a "separate but equal" system of higher education between its predominantly white institutions and four historically Black universities. He talked about the difference between racism that offends, and racism that displaces people away from opportunities, access and prosperity.
Without directly mentioning the Maryland HBCU lawsuit or other attacks on HBCUs by way of federal and state neglect, Holder's remarks should signal to all HBCU students, alumni and supporters that now is the time to press on matters of the nation's criminal mistreatment of its historically Black institutions.
Since the era of Brown, laws making classifications based on race have been subjected to a legal standard known as 'strict scrutiny.' Almost invariably, these statutes, when tested, fail to pass constitutional muster. But there are other policies that too easily escape such scrutiny because they have the appearance of being race-neutral. Their impacts, however, are anything but. This is the concern we must contend with today: policies that impede equal opportunity in fact, if not in form.
In Maryland, the notion cost HBCUs more than 40 years and billions of dollars in lost students, research contracts and private gifts that may have come if the schools were allowed to keep unique programs in engineering, computer science, business and nursing. All of these things were lost under the banner of the University System of Maryland claiming false efforts to bolster minority access, while simultaneously forcing HBCU students into deplorable learning conditions and cultural and professional dissonance for wanting a historically Black education.
Florida's flagship HBCU faces similar attempts on its signature joint engineering program with Florida State University, where legislators approved, then launched a study of a split to create two engineering schools directly across the street from each other. There is little to learn in studying the inefficiency of two pipelines of funding and infrastructure development, all on the dime of Florida taxpayers. But with the objective of making FAMU's program appear inferior to the FSU program, legislators believe their efforts will cause an eventual and swift merger of the program into FSU's school in just a few years.
In Louisiana, the Southern University System has survived a merger attempt on its growing commuter campus in New Orleans, and the financial exigency of its flagship campus in Baton Rouge. Grambling State University was pushed into one of the most embarrassing chapters in HBCU sports history, as a result of its own executive arrogance, but with drastic state budget cuts as the original sin.
The symbolism and timing of Holder's address will likely serve as the first notes in a crescendo of attention for Maryland's landmark legal decision that, in 2014, could very well attract the same kind of attention and purposeful governmental response as Brown v. Board caused 60 years ago. Education is the last and most precious commodity in the ongoing pursuit of social justice, and African-Americans should consider more seriously the notion of access to better facilities, racial diversity and larger classes being false signs of opportunity and equality.
Students, alumni and supporters must not let dramatic program and funding cuts in North Carolina be overshadowed by a few new programs in the state designed to quiet HBCU advocacy. In the face of millions of cuts, a few hundred thousand from the governor and senator isn't enough to keep HBCU doors open or constituent mouths shut. In South Carolina, we should hold lawmakers to the promise of more from the same state government, which has not yet responded on the question of South Carolina State University being, essentially, too important to fail.
Nationwide, there remains so much work to do in saving HBCUs, with little time and even fewer resources to aid in the cause. But without discussion, without increased advocacy and awareness of the HBCU struggle in the Black American public arena, Holder also describes what is next for those who prioritize and plan for the future of our institutions.
Of course, talking forthrightly about these difficult issues -- and building a constructive and inclusive national dialogue -- will not by itself be sufficient to address them. But it's a necessary first step that must lead to action. Our most serious and systemic challenges are too often dismissed, or oversimplified, or blamed on politics. But we do ourselves and our great nation a grave disservice whenever we reach for easy answers or revert to stale talking points; whenever we fall victim to old paradigms and traditional habits of thought; and whenever we trade the noisy discord of honest, tough, and vigorous debate for the quiet prejudice of inaction -- and the cold silence of consent.