In this Hyper-Connected, Online Age of ours, digital gestures that replace physical or tactile ones have grown increasingly accepted by etiquette mavens and average Joe Six-Packs alike. Just scanning the e-pages of the venerable The New York Times, for example, you can begin to comprehend this trend toward digital gestures: We are introducing ourselves to prospective employers via email, sending and receiving e-wedding invitations and even announcing our divorces on Facebook. And though I couldn't find Times corroboration, I hear that some people are even having sex on the Internet nowadays.
So as we slouch into Valentine's Day 2013, have we yet reached the point where a Valentine's Day ecard would be a satisfying -- or even a not unsatisfying -- alternative to the paper-and-glitter Hallmark version? If it is sufficient to declare the end of your love on a social network, shouldn't it also suffice to simply acknowledge the continuation of your love with a digital simulacrum of a greeting card?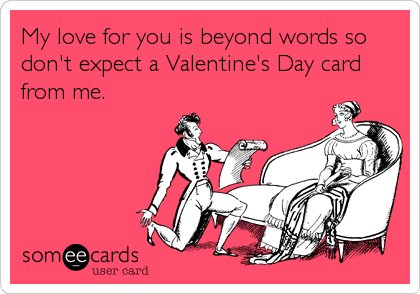 Based on the people I surveyed about the issue, it does not seem -- even in this advanced, enlightened year of 2013 -- that a Valentine's Day ecard can yet be called a suitable replacement for a real one. Birthday ecard? Fine. Happy graduation ecard? Sure. Valentine's Day ecard?
Only if dinner is really, really nice.
Indeed, the prevailing sentiment among the folks I talked to seemed to be that Valentine's Day implies an intimacy that rises above the impersonality of an ecard. In other words, if you're going to give your significant other a card (and there was even disagreement over whether even that gesture was still necessary), you might as well hit CVS and blindly grab something pink before you pick from one of the 2.5 million Google results that pop up from a search of "Valentine's Day ecard."
We're asking the question because acceptance, or at least usage, of the V-Day ecard appears to be rising. According to a survey conducted by SOASTA, almost 40 percent of Americans will send a digital Valentine's day card, with almost 50 percent of men aged 35-to-44 responding that they planned on sending an ecard.
Alas, the SOASTA survey did not indicate whether those men would supplement that ecard with a physical card, or physical flowers, or really anything that their lovers could hold in their hands. Presumably, the ecard is but an appetizer to the entree of romantic offerings that the men and women responding to the poll had planned.
One person I surveyed suggested that there is a spectrum of occasions when an ecard could be an acceptable substitute, with Valentine's Day ranking fairly low on that list. If the birthday of a coworker is the optimal ecard event, Valentine's Day is positioned at the opposite end, hanging out with the Condolences for a Death in the Family ecard.
But let's stay focused on love, and not death: What say you, commentariat of HuffPost? Is an ecard, and only an ecard, ever a sufficient gesture for your significant other on Valentine's Day? And if it isn't now, could its status as an insufficient gesture ever be upgraded?
Not that I would ever, EVER substitute an ecard for a real one. I've *totally* already bought my card. Totally.
I'll be right back.