Ok, so I was aiming to run a 'Books Uncovered' column every month or two. Instead it's been about four months since my last one, and needless to say there have been many, many books worthy of coverage that have likely not received the press they deserve. As said in my previous BU pieces, this is my attempt to shine some light on some books that I believe deserve a bit more recognition, have an intriguing author or backstory, or are just plain interesting. Hopefully at least one, if not all, will pique your attention and find a comfy place on your TBR pile--perhaps on top of that new blockbuster everyone in your book group has already read. Besides, is there any greater feeling for a book lover than discovering the wonders of the unexpected? For this edition of Books Uncovered, I'm devoting space only to books published by independent presses. And while I normally link to the major retailers at the end of each piece, I'm going to limit this posting to Indiebound. You all know how to find the books via those retailers, but if you're interested please use your local indiebound store to support your community. Now, on to the show...
INNOCENT MONSTER by Reed Farrel Coleman (Tyrus Books)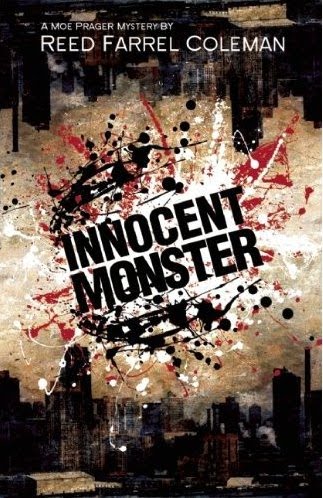 Coleman is the resident noir poet laureate of the United States, and his mystery novels have won and/or been nominated for every award in the industry (including an astonishing three Shamus awards). Ask any mystery writer who their favorite mystery writers are, and more often than not you're hear Coleman's name. Innocent Monster is the sixth in Coleman's Moe Prager series. And as said by NPR's Maureen Corrigan: "I haven't been able to stop thinking about Coleman's Moe Prager mystery series ever since one of God's own divine messengers -- that is, an independent bookseller -- recommended it to me last year. If life were fair, Coleman would be as celebrated as Pelecanos and Connelly. Then again, if life were fair, a hard-boiled poet like Coleman would have nothing to write about."
Says Coleman:
"Innocent Monster is as much a product of its title as anything else. I love playing with words and one day the words innocent and monster in juxtaposition popped into my head. I had a title but no book. I suppose I've always had a guilty fascination with childhood stars and prodigies and how fame and money warp their personalities--can anyone say Michael Jackson? I also recalled a documentary I saw about an art prodigy and how the money, fame, and exposure distorted her parents as much or more as the child herself. And since my son, now a freshman at FIT studying illustration, has decided to make the New York art world the world he wants to inhabit, I thought why not set it in that world. Well, not exactly in that world, but at the fringes of the New York art scene. Like in all of the arts--writing included--there is this murky borderland where serious art and commercial art collide. The novel focuses on where those worlds collide. I wanted to explore the ancient questions about what constitutes art, who gets to make those judgments, and why. I owe a great debt to artist and author Jonathan Santlofer for teaching me about the serious side of things. The best part of writing within the constraints of the PI novel form is that one can explore almost any subject and the readers will go along with for the ride as long as the crime involved gets their attention."
Buy INNOCENT MONSTER via Indiebound
DON'T STALK THE ADMISSIONS OFFICER by Risa Lewak (Ten Speed Press)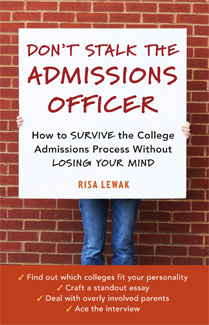 As a former product of the Manhattan school system, I know full well the insanity that comes with getting into college and the lengths parents and their frantic children will go to get into the institution of their choice. Because if they don't get into that school, their lives are over, futures non-existent, relationships doomed to failure, and body destined to be overtaken by horrible B.O. (none of that is true--but don't tell that to the family of a manic high school junior)
Says Lewak:
"Because I wake up in the middle of the night screaming from college admissions nightmares that still haunt me from fifteen years ago, I wanted to write a funny college guide book that would give kids and their parents an opportunity to laugh at how crazy and absurd the process is. There's a reason people literally go insane when applying to college: the process is ridiculous. Why are seventeen year-olds expected to have "passions" and be "leaders?" The frenzy to get into college has been taken to extremes, leading to record enrollments in clubs like the Juice Enthusiasts across the country. Parents have also become more involved than ever before; writing essays for their children and obsessively e-mailing admissions officers is not out of the ordinary anymore. There's a chapter in the book: "When to Tell Your Parents it's Time to Start Seeing Other Children" that addresses the tension that arises between parents and their children during this grim time. Applying to college is definitely a joyless rite of passage but I'm hoping that if parents and students can take a step back and laugh a little bit, the process becomes a bit easier to bear."
Buy DON'T STALK THE ADMISSIONS OFFICER via Indiebound
iDRAKULA by Bekka Black (Sourcebooks Fire)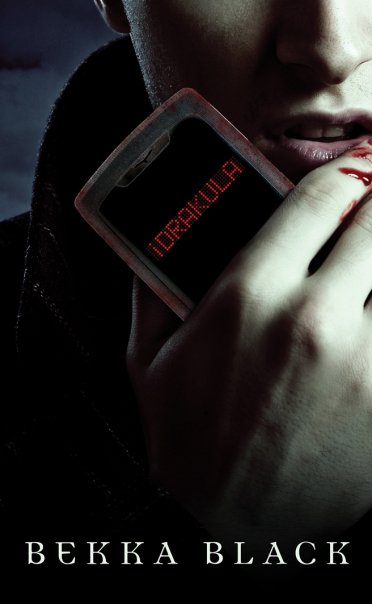 Transmedia is the hot new buzz word in publishing. It encapsulates books and writing that can cross numerous mediums to present a story that can be enjoyed on multiple platforms, with content that is perhaps specifically geared to each one. Enter iDrakula, written by Bekka Black (a.k.a. award-winning historical mystery writer Rebecca Cantrell). iDrakula is a contemporary retelling of Stoker's epistolary tale, only now told via Twitter, IM, text, etc... As well as being released in a standard print edition, a special iPad and iPod/iPhone app was created for iDrakula, a book that reaches across multiple platforms to retell a timeless story in timely fashion.
Says Black:
"When I was in Los Angeles on a book tour for A TRACE OF SMOKE last summer, I saw tables of silent teenagers texting each other instead of talking to each other. I immediately thought: what if I wrote a book for them, one they could read on their phones? What if I wrote a book that used only the cool things that they could download to their iPhones? I decided to start with a story everyone knew, but give it a twist: Dracula! Bram Stoker's original was written to showcase the high tech communication methods of his time: the typewriter, the wax Victrola recording disk, newspaper articles, and ship's manifestos. So, I wrote iDrakula in the language of today: text messages, texted photos, URLs, and short emails. It's Dracula as seen through the eyes of my phone, except with a few changes to the story to make it come out the way I always wanted it. I always felt Mina was tougher than she got credit for. iDrakula will be released as a print book on October 1, but also as a killer application for the iPhone, the iPad, and the iPod touch on September 15. In keeping with that, I dedicated iDrakula to my son, my husband, and my trusty cell phone. I wanted the book to look as much like the phone experience as possible and submitted a sample design including web browsers. Then the design team at Sourcebooks took over. Their work exceeded my expectations as they turned the print book into a love affair between and iPhone and an iPad. I love the iPhone skins they created. It's a great visual way to keep track of who is receiving which texts."
Buy IDRAKULA via Indiebound
THE REPORT by Jessica Francis Kane (Graywolf Press)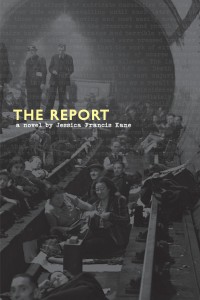 I was alerted to this novel by a friend who reads more books in a month than most do in a lifetime, and upon looking into it was astonished to discover the accolades and raves it had received. Kane, whose work has appeared everywhere from McSweeney's to Salon to Granta, based her first novel (following the story collection Bending Heaven), has penned a novel set around a real-life tragedy that killed 173 during World War II. The Report takes the threads of meaty, authentic historical fiction and weaves them into a tapestry layered with mystery, tragedy and redemption.
Says Kane:
"In the fall of 2000, I was an American living in London trying to write a novel. I worked every day in various reading rooms of the British Library, slowly plugging away at an idea that was going nowhere fast. Then one afternoon I wandered into the bookshop and heard a brief talk about the wartime Bethnal Green Tube Disaster, in which 173 people who were seeking shelter from an air raid lost their lives. There were two things about the story that immediately compelled me. First, the idea of one person being asked to conduct an inquiry and write a report for the government. Not a commission or a panel assembled by opposing political parties; just one lone magistrate. Second, the nature of the community's grief. A tight-knit community that had by all accounts behaved nobly during the worst of the Blitz, suddenly blamed for a terrible and unexpected accident. It seemed like fascinating material for a story, and so I took notes and visited the Tube station and walked around the area. I knew I wanted to write about it, but I wondered what I -- an American living in the wrong era -- could possibly say that might ring true? I held onto my notes for a long time. It was not until after the events of 9/11, after watching that inquiry and report-writing process unfold in the press, that I understood what drew me to Bethnal Green. I wanted to write about the impossibility of reckoning tragedy, any tragedy. After a disaster, the need for clarity is so strong. We want answers. We want to know what happened, who is responsible. But the truth is often complex. How does anyone -- whether a lone magistrate or a whole panel -- decide what to tell a devastated community about the tragedy it has endured? So, my novel began with the magistrate, Laurence Dunne. But, as I wrote, other characters emerged who I put in different places on the night of the disaster and who had very different responses to its aftermath. Together, they allowed me to explore the questions of blame and responsibility -- what exactly is the difference? -- with which I was consumed. In the end, I had a book that strives to exalt the power, even the necessity, of literature to explain tragedy. "Forgiveness without understanding is like faith without proof," says Rev. McNeely at one point in The Report: difficult, but worthwhile. At the time, Laurence Dunne's report was praised for its objectivity, but because our perception of blame changes over time, perhaps fiction makes more sense of the truth than any official government report ever can."
Buy THE REPORT from Indiebound
JASON PINTER is the bestselling author of five thriller novels (the most recent of which are The Fury and The Darkness), and is an agent with the Waxman Literary Agency. His first novel for young readers, Zeke Bartholomew: Superspy!, will be released in the summer of 2011. Visit him at www.jasonpinter.com or follow him on Twitter.