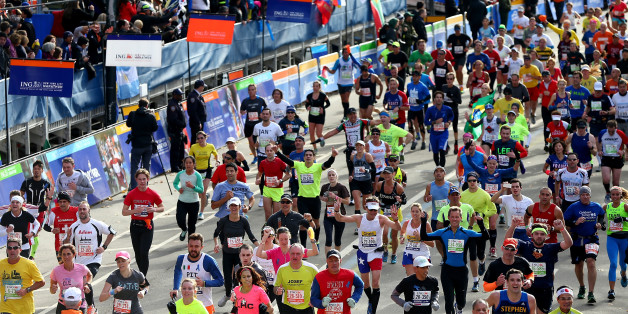 I awoke at 4:30 and got dressed in my hotel room by the light of the open bathroom door. I knew I was about to embark on an adventure that would leave me a changed man, but the enormity of what was to come was too overwhelming to contemplate. At that point, I was focused on one thing: finding my way to the New York Public Library on 42nd and 6th.
I dressed in my throw-away clothes and said goodbye to my wife and children. We planned to see each other at mile 16 or 17 on First Avenue around 11:45 later that morning. Failing that, we would always see each other after the race in the S section of the Family Reunion area. After some motivating words and some final hugs and fist bumps, I was out the door.
There were lots of other runners hydrating and walking down the dark sidewalks outside the hotel. It was an easy one mile walk down to the New York Public Library. I made some small talk with a few other nervous runners and followed the crowd to the line of buses.
It was at the bus line that the enormity and scope of this event really hit me for the first time. The bus line was incredibly long, and the volunteers were very efficient and good at keeping everybody moving. Numbers were repeatedly checked and runners were directed to buses. Seconds after sitting down, the bus rumbled off toward Staten Island.
On the bus I met a nice woman from Florida who was running in her 16th marathon. She said that New York was her favorite race and that it was a great choice for a first timer. She had been one of the runners stopped at the 25.5 mile mark at Boston.
We talked about that horrific day on April 15. She almost didn't run, because she's an accountant and that is tax day. The bombers were never mentioned by either of us; they didn't deserve recognition for what they had done. She said more than once that it had been such a beautiful day for a race. The 2013 NYC Marathon was a chance for the world to move forward from the wreckage of Hurricane Sandy and the tragedy in Boston.
Fort Wadsworth
The buses arrived outside Fort Wadsworth just before 6 a.m. Runners were directed through security and told to make sure their bibs were visible at all times. All bags were checked, people were patted down and wanded by NYPD officers, and many items were discarded as a result of security regulations. The entire process was very efficient, and I found myself in the open space of the staging area a few short minutes after leaving the bus. As I wandered into the open area volunteers directed me toward my staging area based on the color of my start wave. I walked to the green area to bide my time for the next 2.5 hours.
As I passed the press area I saw at least 20 television and media vehicles with satellite dishes. There were multiple helicopters in the air overhead. Huge video screens displayed messages and information for runners. A bluegrass band was playing on stage as I passed through the common area, and mounted speakers repeated information over and over in various languages. One runner I passed just looked at me and said "Wow, wow, wow..." and then looked away again.
There were hundreds of porta potties available in the staging area. Runners were offered Poland Spring water, Dunkin Donuts coffee, bagels, and PowerBars. Many runners were sitting against the chain link fencing that bordered the staging area. Some sought refuge from the cold winds by sitting in between the UPS vans or behind the porta potties.
Time slowly passed until the announcement was made around 8:20 that the first wave was being called to the corrals. I made a pit stop at the bathroom, threw away my plastic bag, and headed to the corrals. After verifying my number I was let into my assigned corral with about 500 other runners.
Once in the corrals, the waiting started again. I spoke to a few runners about race strategy, the course, and the weather. These are universal topics that any runner can chat about. There were plenty of porta potties in the corral. I was able to get in and out twice with zero wait time. Amazing.
We were called forward as the wheelchair racers started their race. My sweat pants and winter jacket went in the goodwill bin and I headed to the starting line. The elite women went next. We heard the announcements and the crowds but couldn't see what was happening from our position. The green wave runs on the bottom level of the Verrazano Narrows Bridge.
Clothes were flung from runners toward the sides of the starting line area like stray popcorn kernels. Some of the clothes made it into the trees; some were dropped at the runners' feet for the rest of us to hurdle as we passed. More announcements were made, the elite men were introduced, and then we all paused to listen to the national anthem.
Goose bumps and shivers started at this point. Not from the cold, but from the sound of children singing our national anthem and thoughts of Boston, Hurricane Sandy, and all of the threats that face our nation and our children. So it was with a mixture of national pride and nervous anticipation that my marathon race began. The howitzers fired and the pack surged forward.
Miles 1 - 10
Mile 1 was an uphill climb in a massive crowd of runners. It was a slow uphill start at 09:07 pace. Helicopters buzzed off to the left and right of the empty bridge and emergency vehicles sped down the unused right-hand lane to clear a path up ahead. I admired the view of the city and marveled at the experience.
Mile 2 and 3 went by very quickly. Mile 2 was my fastest at 6:17. It was mostly downhill and the pack thinned enough to allow for some movement. It was also during mile 2 that runners began to see the first spectators.
Running through Brooklyn was a wonderful experience. The crowds were loud and supportive, my legs were fresh and full of energy, and my spirit soared as I just tried to take it all in. Each neighborhood had its own unique character, and the cheering crowds made every runner feel like a rock star.
At this point, the miles were flying by and the race was too easy. I ditched my zippered sweatshirt at mile 3, my gloves at mile 4, and my hat at mile 6. I hit mile 10 at 1:13:42 averaging about 7:22 per mile and feeling very strong.
Miles 10 - 20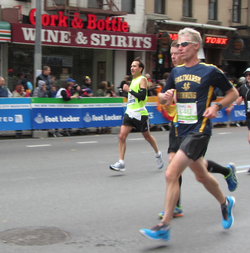 From Brooklyn runners continue into Queens. The crowds thin out a bit from miles 13 to 16 and the race starts to feel longer after passing the familiar half marathon distance and realizing what is still in front of you. Runners face a couple of uphill climbs over bridges during this stretch. The wind became a real nuisance as constant gusts of up to 20 miles per hour buffeted runners. Running across the Queensboro Bridge, I missed my hat and gloves.
The anticipation of seeing the faces of my wife and children kept me going. I turned the corner off the bridge and increased my pace as the crowds roared. I searched the faces in the crowd and ran down the center of the road trying to remain visible. I heard my wife's voice above the crowd and made eye contact for the briefest of moments. It was enough to keep me going and I arrived at mile 20 in 2:29:53 at an average pace of 7:30 per mile.
Miles 21 - 26.2
Early on in the race, I had allowed myself to think about crossing the line in under 3:15:00 and qualifying for Boston. I was on pace and I was feeling good at the time. As I began mile 21, I was still on track and the window was open just a crack. A couple of quick miles near the end of the race and it would be mine.
"The marathon test does not really get started until mile 20, then each successive mile feels like a marathon unto itself." -- Mike Whittier, marathoner
Just after entering the Bronx at mile 20 I started feeling a twinge in the quadriceps of my right leg. It was a tickle that turned into a cramp and became a full-blown dagger of pain that shot through my body with every other step in the space of five minutes.
After entering Manhattan at mile 21 the race became a series of shorter goals. The miles were too long to contemplate, and I began chopping the distance up into much smaller chunks. Make it to the water stop. Make it to the corner -- just make it. Don't stop or you won't be able to start again. Pretend the pain isn't there. Enjoy the moment. Suffering is optional. I tried everything I could think of.
By mile 24 my right calf joined in as well. My pace had dropped to 9:14. I was hurting. The crowds were roaring with energy and encouragement, but I was in a little world inside my head fighting a private battle. The secret is, I had looked forward to this moment. Even as I was struggling, I was finding satisfaction in the answers to the questions that had led me to run a marathon in the first place.
Mile 25 was my slowest in the race: 9:34. It was more of a shuffle really. I was now using my family members to keep me going. Do it for Tina. Set an example for Peyton and Abigail. Make your parents proud and your brothers envious. Whatever it takes to keep moving forward. Ignore the headache that feels like it's piercing your right temple and threatening your vision, and do what you have already done almost 35,000 times today: take another step forward.
Mile 26 looped runners around the end of the Central Park and back into the park on the opposite side. I remember the crowds were thick and the runners were passing me in droves. I was spent, but I was determined. I saw a sign that read 800 meters to the finish. Two laps. I used to do this in just over two minutes back in high school. Easy. Almost there...
The last .2 of a mile seemed to move in slow motion. I was aware of what was happening, but I was processing things at a slower pace than normal. I registered that a man to my right had fallen down in the final stretch and was struggling to get up. But, as he tried to stand, his legs failed him. His body could no longer carry out the commands his brain was sending. He gave up on standing and started to crawl towards the line. Two runners picked him up by the arms and carried him towards the finish. All of this happened in a window of 10 seconds or less, but it seemed much longer.
I crossed the line moments later with a time of 3:26:15. I was quickly ushered away down the chute with my recovery bag and a heat blanket. The events I had just witnessed, combined with my own exhausted state, and the triumph of finishing my first marathon were almost too much. What a glorious world we live in and how thankful I am to be alive to experience days like this.
The Forced March
After finishing the race, runners were sent on a long walk with their recovery bag and heat blankets toward luggage pickup or the exit. I ate some kind of granola mix and drank a Gatorade Recovery drink as I limped and stumbled forward at the instruction of the race volunteers. I knew I needed to find the pink sign that matched my pink bracelet and then I could find my family under the letter S. That's about all I could handle. I was intermittently aware of the pain I felt shooting up and down my legs, but I also knew this walk was good for me.
Every volunteer said we were almost there, until finally one of them was telling the truth and the exit emerged on the left. I exited the corral only to find that the line had turned back on itself and was headed in the direction I came. That's okay. I see letters up ahead and that means family.
A volunteer placed a marathon poncho around my shoulders. It was such a compassionate gesture that I almost broke down. She even closed the front of the poncho for me and I couldn't have been more thankful. Someone was taking care of me and understanding how difficult that race had been. Race volunteers are so important to runners.
Family Reunion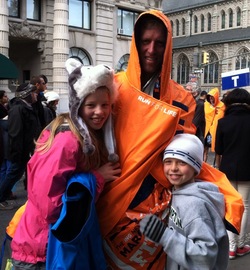 I continued to move forward in the halting limp that my wife said resembled the other orange zombies making their way into the family reunion area. We all had the same vacant stare and exhausted look on our faces. I spotted my daughter first and then my wife. My son was busy congratulating as many runners as possible and counting the smiles he got in return. He earned another as soon as we saw each other.
I hugged each of them and said very little. "I'm okay. We just need to walk back to the hotel room. I love you guys." The depth of my emotions surprised me and kept me from saying much more than that for the next hour.
As we walked a mile or so back to the hotel, I was congratulated by many people and once again impressed by the kindness of strangers. The city of New York had shown me every courtesy that day.
For more by Jason Saltmarsh, click here.
For more on fitness and exercise, click here.