Technology is a catalyst for change. If you want to disrupt a classroom full of children or young adults, try handing out an iPad or a Chromebook to each of them. You'll see lots of activity and excitement, but without solid planning and expectations, much of that energy will be counter-productive. Distractions lurk behind every keystroke, and you can be sure that our 21st Century learners know how to find them.
It's no wonder that teachers have mixed feelings about educational technology. Many school districts invest in new computers, label and configure them according to policy, place them in the hands of the students, and expect great things to happen. Not likely. When new and complex disciplinary issues arise, test scores gradually decline, and teachers begin asking students to turn off their devices, the finger-pointing begins.
A Model of K12 Technology Program Success
A successful school technology program not only supports, but is integral to, the delivery of curriculum. In every instance where technology is being used, it should be the best pedagogical approach as determined by the teacher. Rather than bend our curriculum to allow for the integration of technology, we should instead be using technology selectively to meet targeted learning goals.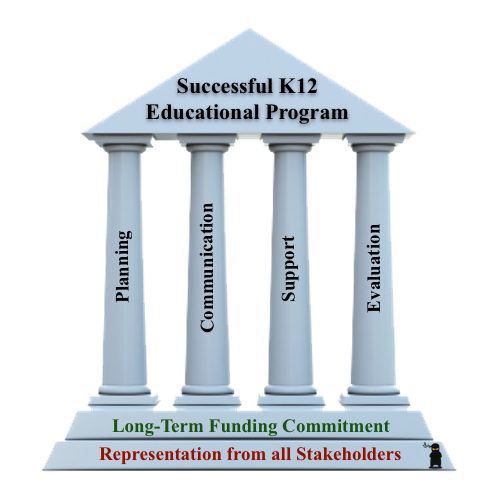 PLANNING
You can surmise a lot about a school's technology program based on how often the curriculum director and technology director have lunch together. Curriculum needs should drive technology planning. A responsible technology plan will address the specific needs of teachers and students, and allow for complete delivery of the K12 curriculum.
Any long-range technology plan should include the input and participation of all stakeholders in the school community. Special attention should be paid to policy and procedures regarding acceptable and responsible use of technology. An open and honest discussion of the educational value, as well as any perceived risk, in using technology should take place early in the planning stages.
COMMUNICATION
There are two methods for changing teaching practices. The first is to change philosophy and hope that a change in practice follows. The second is to change practice and hope that a change in philosophy follows. One is proactive, the other reactive. Introducing computers and hoping curriculum and teaching philosophy will change is clearly a reactive approach with no guarantees. It doesn't afford teachers the respect they deserve as professional educators, and it certainly doesn't do our children any favors. Instead, a thoughtful dialogue about teaching and instruction needs to occur so that schools can plan for instructional supports, professional development, and clearly define new expectations for staff and students.
SUPPORT
A successful school technology program includes both technical and instructional support. Technical support staff should be reliable and staffed sufficiently enough to handle issues as they occur in multiple locations. Instructional support methods should include peer mentors, professional learning networks, student technology teams, ongoing professional development (both in and out of district), and licensed technology integrators.
EVALUATION
Evaluation and adaptation should be an ongoing piece of any strategic plan. Is the technology plan aligned with the curriculum framework? Are there challenges or areas where more resources are needed? Can we cut costs and improve efficiency by identifying technology services or approaches that are no longer relevant?
Teacher and administrator evaluations are also crucial to the success of any technology program. Do the administrators know what to look for? Are the teachers meeting their technology goals? Is there a need for targeted professional development? Outstanding teachers should be identified and encouraged to share their successful integration strategies with others.
It's About Teaching
Technology is a catalyst. Certainly, it has the potential to make good instruction better, but it can quickly make bad instruction even worse. As any good technology director, curriculum director, or superintendent can tell you, instruction begins and ends with the teacher. A successful school technology program isn't about technology, it's about teaching.