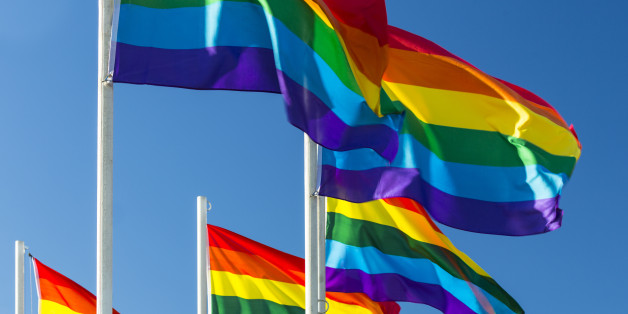 Latin America made world headlines in 2013 when Uruguay and Brazil, following the lead of Argentina in 2010, legalized same-sex marriage. In legal terms, nothing happened in the region this year that compares to last year's big gay-marriage stories from Uruguay and Brazil. Nevertheless, the region continues to be at the forefront of some of the most progressive lesbian, gay, bisexual, and transgender (LGBT) events in the world, often with the support from the United States. From a famous diver coming out to lesbians in office revealing their love, here is my list of the top 10 LGBT stories in 2014 from our neighbors to the South.

10. Goya goes gay. Not typically known for its defense of gay rights, Venezuela wins its first Goya Award (equivalent to the Spanish Oscars) for Best Latin American Film with the movie, "Blue and not so Pink," by director Michael Ferrari. The movie tells the story of a gay father reuniting with his teenage son.
9. Gay Diplomacy. At a meeting of the Organization of American States, Brazil with the support of the United States and various other members introduced a resolution condemning all forms of discrimination against people motivated by sexual orientation and gender identity and expression. It urges OAS countries to eliminate, where they exist, barriers that prevent "lesbians, gays and bisexuals, transgender and intersex people" from taking part in public life and the political process.
8. Anti-Gay Diplomacy. The Paraguayan Episcopal Conference, the Paraguayan Association of Evangelical Pastors, and the Paraguayan Association of Evangelical Churches openly opposed the OAS resolution. There were protests in favor and against the resolution in the Paraguayan capital. In addition, more than 47,000 people signed a petition on CitizenGo asking the OAS to protect itself from "the imposition from feminist and homosexual pressure groups."
7. Separation of Church and Congress. Anti-gay evangelical pastor Javier Soto interrupted a session of Chile's House of Deputies to protest a bill that would give legal protections to unmarried couples (the Acuerdo de Vida en Pareja). After his full-tilt meltdown, Mr. Soto was ejected from Congress.
6. Not All Bishops are Created Equal. In a country where most of the high clergy is publicly homophobic, Catholic Bishop Raúl Vera López of Saltillo made headlines by directly criticizing homophobia. In an interview published by Spanish daily, El País, Vera López declared: "The people who say homosexuals are sick are sick themselves." He also said: "The Church needs approach to [homosexuals] not with condemnation, but with dialogue."
5. In Tom We Trust. Inspired by British Olympic diver Tom Dailey's decision to come out in 2013 as a bisexual man, top Brazilian diver Ian Matos publicly came out in 2014. Matos also revealed that he was advised by many to wait until after the Rio 2016 Olympics to come out to avoid jeopardizing endorsements.
4. Husband and Husband. Six months after their controversial arrival in Santo Domingo, U.S. Ambassador to the Dominican Republic, James "Wally" Brewster and his husband Bob Satawake released an official video on occasion of LGBT Pride Month 2014. They talked about the importance of fighting homophobia in the Dominican Republic and abroad.
3. Hate Crime Refuge. Taking advantage of Costa Rica's policy of granting refuge to victims of hate crimes, activists from Honduras, Guatemala, Nicaragua, and El Salvador presented lawmaker and legislative Human Rights Commission Secretary Epsy Campbell with a white paper documenting cases of LGBT victims of violence. The paper claims that five LGBT people are killed in hate crimes every month.
2. It's never too late. Shortly before winning re-election, Colombian President Juan Manuel Santos announced his support for same-sex unions. In 2011, Colombia's Constitutional Court ruled that same-sex couples should have access to the rights and benefits provided by marriage and made moves within the government to ensure that the decision was respected at all levels, but congress has failed to legislate on the matter.
1. Lesbians Rule. Speaking of Colombia, Angélica Lozano Correa was elected in 2014 to the Colombian House of Representative, becoming the first openly lesbian national legislator in Colombia. She has publicly claimed that any peace agreement in Colombia must involve reparations to LGBT individuals, given that both sides of the conflict engaged in LGBT-related hate crimes. In 2014, she also revealed being in a relationship with Senator Claudia López. This prompted a lawsuit against them, spearheaded by Víctor Velásquez, a former senator and current Evangelical pastor, based on Article 179 of the Constitution, which bans two people in a relationship (marriage or permanent union) to serve in Congress. Ironically, Lozano and López contend that because marriage equality and civil unions are not legal in Colombia, this constitutional stipulation does not apply. The lawsuit against Lozano and López happened on the heels of revelations by two female cabinet members, Commerce Minister Cecilia Álvarez and Education Minister Gina Parody that they were involved in a "sentimental relationship" with each other. No other Latin American country has had this degree of coming out, let alone, lesbian openness, on the part of high-ranking, national-level politicians.