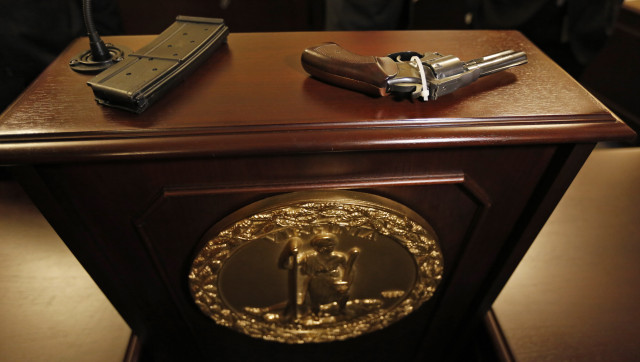 As New York legislators prepare to pass the strictest gun control law in the nation and Vice President Joe Biden leads a task force on the White House's response to gun violence, a group of religious leaders are joining in Washington, D.C. to demand quick action on gun control.
The group, Faiths United to Prevent Gun Violence, is holding a press conference Tuesday at the United Methodist Building, which is just around the corner from the White House, and delivering a letter to President Barack Obama and Congress signed by 40 national religious leaders urging action on guns.
HuffPost obtained an early copy of the letter and list of signees. Their demands: "Every person who buys a gun should pass a criminal background check," "high capacity weapons and ammunition magazines should not be available to civilians" and "gun trafficking should be made a federal crime."
The signees include:
-- Aidsand F. Wright-Riggins III, Executive Director, American Baptist Home Mission Societies. 
-- James Winkler, Chair, Faiths United to Prevent Gun Violence, General Board of Church and Society, United Methodist Church
-- Rabbi Steven Wernick, Executive Vice President and CEO, United Synagogue of Conservative Judaism
-- Jim Wallis, President and CEO of Sojourners
-- Jacquelyn Dupont-Walker, Director, Social Action Commission, African Methodist Episcopal Church
-- Sayyid M. Syeed,National Director for Interfaith and Community Alliances. Islamic Society of North America
-- Rabbi Gerald Skolnik, Rabbinical Assembly
-- Rajwant Singh, Chairman, Sikh Council on Religion and Education, USA
-- Suhag Shukla, Executive Director and Legal Counsel, Hindu American Foundation
-- Rachelle Lyndaker Schlabach, Director, Mennonite Central Committee, Washington Office
-- Rabbi David Saperstein, Director and Counsel, Religious Action Center of Reform Judaism
-- Djamillah Samad, National Executive, Church Women United, Inc.
-- James Salt, Executive Director, Catholics United
-- Fred Rotondaro, Chairman of the Board, Catholics in Alliance for the Common Good
-- Rev. Craig C. Roshaven, Witness Ministries Director, Unitarian Universalist Association of Congregations
-- Diane Randall, Executive Secretary, Friends Committee on National Legislation
-- Rev. LeDayne McLeese Polaski Program Coordinator, Baptist Peace Fellowship of North America
-- Sister Patricia McDermott, RSM, President, Sisters of Mercy of the Americas
-- Walter L. Parrish, II, Executive Minister, American Baptist Churches of the South
-- Sr. Margaret Ormond, O.P. and the Leadership Team of the Dominican Sisters of Peace
-- Harriett Jane Olson, CEO and General Secretary, United Methodist Women
-- Stanley J. Noffsinger, General Secretary Church of Brethren
-- Reverend J. Herbert Nelson, II, Director for Public Witness, Presbyterian Church (U.S.A.) Office of Public Witness
-- Janet Mock, CSJ, Executive Director of the Leadership Conference of Women Religious
-- Bryan Miller, Executive Director, Heeding God's Call
-- Pastor Michael McBride, PICO Network Lifelines to Healing
-- Kevin E. Lofton, President and CEO, Catholic Health Initiatives
-- Rabbi Mordecai Leibling, Jewish Reconstructionist Movement
-- Sister Gayle Lwanga, National Advocacy Center of the Sisters of the Good Shepherd
-- Sister Carol Keehan, President and CEO, Catholic Health Association
-- Rabbi Steve Gutow, President, Jewish Council for Public Affairs
-- Rabbi Marla Feldman, Executive Director, Women of Reform Judaism
-- Marlene Feagan, President, Health Ministries Association
-- Matthew Ellis, Executive Director, National Episcopal Health Ministries
-- Very Rev. John Edmunds ST, President, Conference of Major Superiors of Men
-- Rev. Ronald J. Degges, Disciples Home Mission, Christian Church (Disciples of Christ)
-- Shan Cretin,General Secretary, American Friends Service Committee
-- Patricia Chappell, SNDdeN, Executive Director, Pax Christi USA
-- Patrick Carolan, Executive Director, Franciscan Action Network
-- Simone Campbell, SSS, Executive Director, NETWORK, A National Catholic Social Justice Lobby
-- Carol Blythe, President, Alliance of Baptists
-- Rev. Geoffrey A. Black, General Minister and President-United Church of Christ
-- Peg Birk, Transitional General Secretary, National Council of Churches
-- Carroll Baltimore, President, Progressive National Baptist Convention