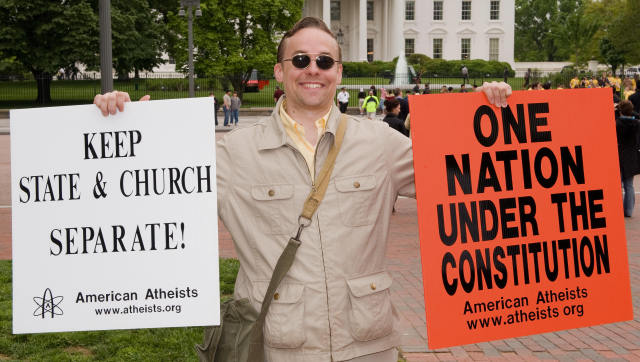 President Barack Obama declared Wednesday to be Religious Freedom Day, but what does "religious freedom" mean? And do nonreligious people fit into the picture?
The Secular Coalition for America took the president's declaration, one which he makes every year and one in which he typically mentions the nonreligious, as a chance to emphasize the separation of church and state and the freedom to not believe in any religion.
In a statement, the group says there has been "a major effort to assert a false definition of religious freedom." The reference is to Catholic bishops and evangelical groups who have fought the president's healthcare reform law and say it violates their religious freedom. They take issue with it because under the law, Catholic hospitals, universities and other employers that have religious roots must provide contraception to employees with no co-pay as part of insurance plans. (The contraception mandate does not apply to places that are strictly houses of worship. See my prior coverage here).
"We must remember that true religious freedom entitles us to our personal religious beliefs, but does not allow us to impose those beliefs on others," said Edwina Rogers, the coalition's Executive Director. "On this day we should remember the importance of the separation of religion and government, which is the best protection of religious freedom for all Americans."
The group's statement continued: "We encourage fellow Americans to take part in the National Religious Freedom Day by getting to know more about the religious liberties guaranteed to them, and by continuing to support the separation of church and state at every level of government."
What does religious freedom mean to you?