Contrary to popular believe, it is easy being cheesy ... when you follow my easy-breezy-cheesy engagement-photo-taking tips, that is! Check out the below methodology and become the cheese whiz you never really wanted to be. Don't worry, I'll be here posing awkwardly by your side, every step of the way.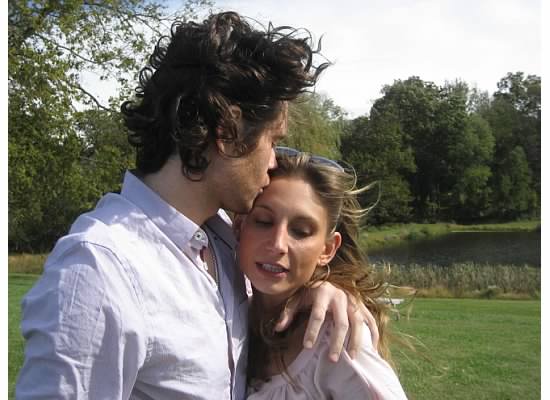 1. Use the wind to your advantage. The wind whipping through your hair is a key element to creating the cheesiest possible "We're engaged!" moment. It also helps if neither of you look at the camera, but rather focus on each other and/or something that represents your love, preferably in the distance, like the intense piece of grass that seems to have caught Caroline's eye in this particular (intimate) moment. Use with caution: the forehead kiss is a cheesy artform that clearly I've perfected. If you make such an attempt, be sure to clench your jaw a bit so that the tender act is still manly and Fabio-esque. Close your eyes, too; you're in love with her, not trying to suck her brains out. There you have it. Love is officially in the air!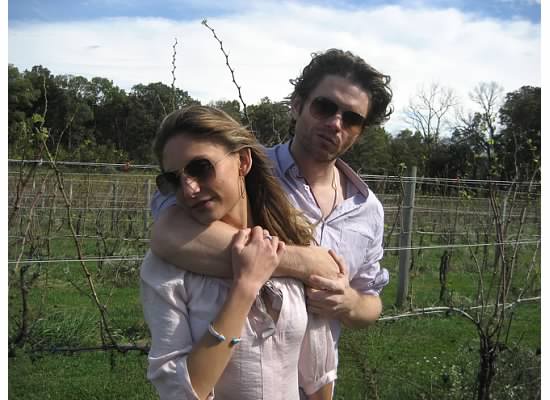 2. Wear aviators. There's something simultaneously cheesy and fashionable about aviators, and Caroline and I have captured both qualities to full effect in the above image. It's like a Guess ad gone bad, which was EXACTLY what we were going for at the time, I swear. I think the creepy look on my face and possessive positioning of my arm lends the image an unnecessary edginess it would otherwise lack. Great call on my part. Caroline plays the "innocent victim" role like a seasoned pro, but don't be fooled: she can be just as evil as me when she wants to be.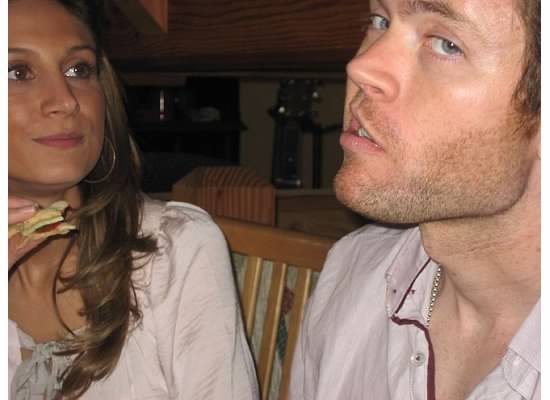 3. Be yourself. If you're looking to keep it a little more real for your engagement photo, try recreating a common theme in your relationship. For us, one of those themes is Caroline always insisting that I try some new kind of food, despite how I know I'm never going to like it, ever, I don't care if I eat one of the ingredients in something else, it's the conglomeration that's not appealing to me. Here I am taking a bite of a disgusting sandwich at her request while a good friend takes a picture of my mistake. This proves I'll do anything for the one I love, even if it means eating mustard and some other gross crap hidden within a sandwich (all I could taste was the mustard) and then saying, "Told you I'd hate it."
That's it. Your body of cheesy work shall stand alone (and also the test of time), speaking for itself for centuries. I'm almost positive you've captured the magic, but just in case you blew it, here's one more photo opp: As you walk away from the photographer, preferably on a bridge into the sunset, make sure to hold hands and look at each other longingly. Click! Cut!