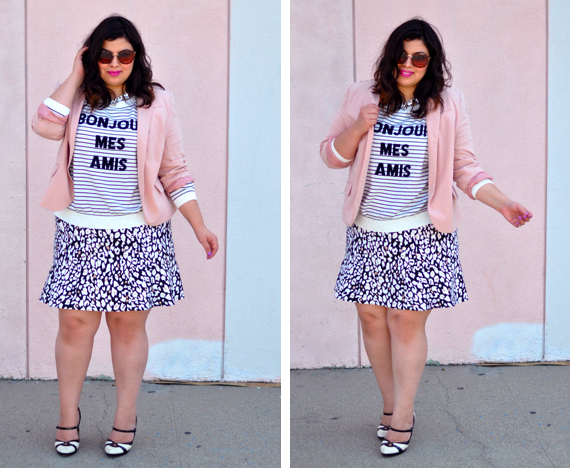 If you're a plus-size woman, some fashion expert has probably told to stay away from prints at some point in your life. Alternatively, you may have been instructed to only wear large prints. The rationale behind this rule is that small prints are not slimming and thus, they are in the restricted section of the plus-size fashion library. I've written here before about the importance of living and dressing according to our own rules. Do you love small prints? Wear small prints!
It's time to stop the obsession with dressing to look thinner. It's too limiting. I know that women of all sizes feel the pressure to dress and look smaller than we actually are. It sounds awful when you put it that way, don't you think? Instead of dressing to look thinner, dress to look like the most stylish version of you. Fashion is supposed to be fun and for too long, plus-size women haven't been allowed to play.
Prints are one of the easiest ways to build a stellar outfit and they're essential in every wardrobe. If you've been avoiding them because you were told you couldn't wear them, this is the season to find your perfect print. This spring, I'm loving abstract, geometric, art-inspired, and mixed prints.
If you follow fashion magazines and street style blogs, you know that all the fashion girls are mixing their prints. This trend is too fun to pass up, so I took a stab at it. Oh, you say plus-size women can't wear prints? Well then I'll wear two -- with (gasp!) horizontal stripes to top it off. I'm a plus-size woman who wore small prints and no, the world did not implode. By the way, the secret to mixing prints like a pro is to pull at least two colors from one print and have those colors make up your second print.
Mismatched prints used to be against the fashion rules too, but now it's the style du jour. Plus-size women: Let's continue to be daring with our sartorial choices, and maybe we'll change plus-size fashion too.
For more outfit ideas, tips, and inspiration, you can find me at jaymiranda.com and Instagram at @pinklip.