To those who know me, there are a few things that I'm truly passionate about in this world. Among those, there is my hobby of running, where I dedicate my days and nights to seeing how far I can run and challenge myself to new feats (of course my competitive nature leads me to being challenged by others too!); another of course is Alex's Lemonade Stand Foundation created by my daughter and our ongoing work to find cures for all kids with cancer; and finally, there's my love for dogs. Yes, you read that right, some people have even been known to call me a dog enthusiast. Are you wondering why I'm bringing this up now, and why I'd write about this on my Huffington Post Impact Blog? Well, the reason is simple -- our family took an unexpected blow a few short weeks ago when we lost our companion of nearly 11 years, our Curly Coated Retriever, Shammy -- and this got me to thinking about the "impact" that dogs have on our lives and just how much they add. They too are our family, our friends, and whether we realize it or not, our support through both the happiest and most difficult days of our lives.
If you've ever visited the Alex's Lemonade Stand Foundation office, you may have encountered a dog or two. Our office is proud to be dog friendly, and on various days you'll find a plethora of breeds roaming the halls -- you might see a Bernese mountain dog, a Wheaten terrier, a Portuguese Water Dog, and in days now past, Shammy. While some of the dogs in the office can be shy at first when visitors enter, Shammy was never that way. She'd walk up to you, wag her tail and not leave your side until your attention was drawn elsewhere. This was how Shammy was throughout her entire life, a dog who would greet you when you came home, stay by your side until your laughter or tears had subsided, and simply be there when you needed her.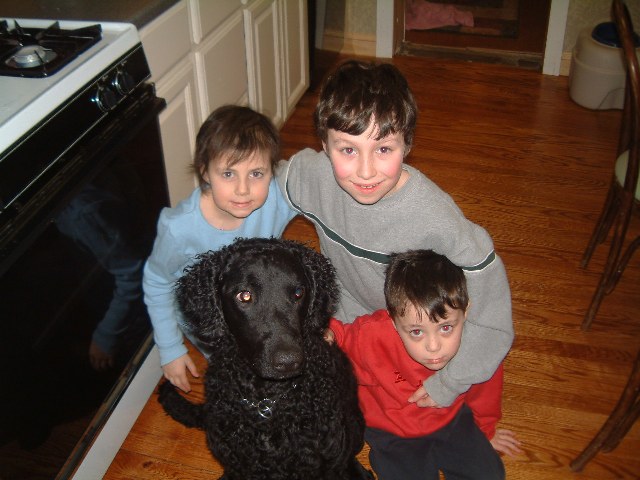 The evidence of this enduring loyalty followed Shammy from the beginning of her time with us. Shammy joined our family when Alex was battling cancer. One of my all time favorite photos is the one below of Alex with Shammy as a puppy, teaching Shammy how to shake. Alex was an animal lover, when asked what her favorite animal was, she would answer penguin, but I have no doubt that she too had a special affinity for dogs. Alex spent lots of time with Shammy, teaching Shammy tricks, while all along Shammy was teaching us an important lesson about life -- to be excited about the little things that life had to offer -- after all, as the saying goes, in the end those turn out to be the big things. Shammy would be equally excited if we saw her for the first time in a week or just went outside to take the garbage out. She would often greet us with a happy groaning noise that some people swear they could hear her saying "Hello."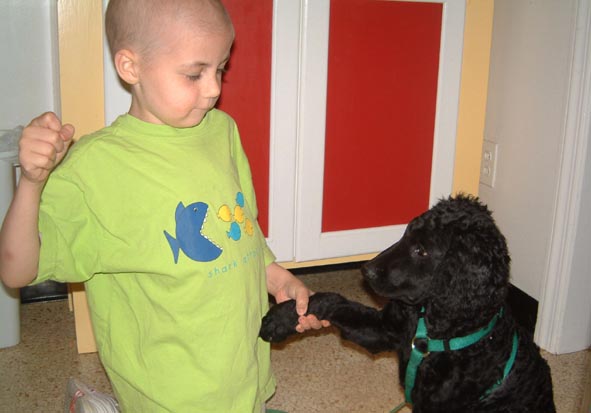 I'm thankful for everything that Shammy gave us, for greeting us with enthusiasm each night when we returned home; for bringing our children joy and protection throughout their lives; and for the things she added to our lives which may not have been so obvious. For instance, Shammy kept us steady in the uncertain times. Whether that was during Alex's treatment, following the loss of her life, the early days of the Foundation or even when our eldest son Patrick went away to college earlier this year; Shammy was a constant. No matter what the day brought, Shammy had to be walked, fed and taken care of. Maybe though, the real secret is this, that in those days, she was the one taking care of us. In the later years of her life, Shammy was given a companion when our Portuguese Water Dog, Ollie, joined our family. It's worth mentioning that Shammy did not protest, and instead, kept Ollie steady too. After Ollie arrived, Shammy had a new bounce in her step. He's been roaming around since Shammy's been gone, he's still looking for her.
Cancer took Shammy's life; and similarly to the kids with cancer we are working to help at the Foundation, Shammy had a great attitude. She was always happy. Even during those last days when we knew she wasn't feeling well. Whenever we would say her name, her tail would start wagging like crazy. She really knew how to appreciate life and have a good time.
I'll end by saying this, and it's been said so many times before, "a dog is the only thing on earth that loves you more than they love themselves." We love Shammy, and we'll miss her, and in the words of John Grogan in his famous column about the world's worst dog, Marley:
A person can learn a lot from a dog, even a loopy one like ours. Marley taught me about living each day with unbridled exuberance and joy, about seizing the moment and following your heart. He taught me to appreciate the simple things-a walk in the woods, a fresh snowfall, a nap in a shaft of winter sunlight. And as he grew old and achy, he taught me about optimism in the face of adversity. Mostly, he taught me about friendship and selflessness and, above all else, unwavering loyalty.
Thank you Shammy, for all you taught us.