Some may call me stubborn or pigheaded, but I like to think I'm committed and determined. Determination is just stubbornness channeled in a positive way, right? I have channeled some of this determination into running marathons so when Hurricane Sandy hit the East Coast last week, it put my plans for doing back-to-back marathons in jeopardy. You see, earlier this year I had hatched a plan to run the New York Marathon on November 4 and then two weeks later run the Philadelphia Marathon as part of Team Lemon. Clearly, putting a wrench in my marathon plans turned out to be an insignificant consequence of Sandy's wrath.
Like many throughout the northeast, when Hurricane Sandy hit, it knocked the electricity out at our house almost immediately. Additionally our house took on some water, and a large branch hit our roof, but we consider ourselves lucky for escaping unharmed and with our house intact. As the week went on and we received word that the NYC Marathon would go on as scheduled, I started to realize that I was going to have to go from what felt like camping out in our house (which was getting down to the 40s at night) to running a marathon in a few short days.
After seeing the reports and photos of devastation on the news, it was then that I realized I had mixed feelings about whether the NYC Marathon should occur or not. I am not one to back down from a challenge, so I felt that if the race continued as planned, then I needed to be there. My rationalization was a simple one -- New York City could certainly use the money that all the marathoners and spectators would bring, especially during a time like this. NYC has always led the way in times of tragedy, rebuilding and rebounding faster than anyone might imagine. However, another part of me thought -- how can the race go on when people are suffering without shelter, heat, water or food? Would the marathon be a symbol of inspiration and hope, or incite controversy in a city already struggling?
These thoughts took me back to a time of tragedy in my own life when our house was destroyed in a storm. It was 33 years ago that a tornado struck my hometown of Windsor, Connecticut. I remember the storm and the days following as if it were yesterday. I was in 6th grade at the time, and watching the storm out the window, I recall thinking it was a hurricane because a tornado in Connecticut was unheard of. We saw pieces of trees, houses and telephone poles blowing past our front yard. I remember seeing a school bus in the street with electrical wires on top of it. During the storm, one of my older brothers thought it was a tornado and kept telling us that we should get into the basement. I am not sure how he knew that, but attempting to get to the basement wasn't as easy as we thought. My sister was on the second floor and couldn't get down because the stairs were moving so much. The rest of us were unable to get to the basement because the entire house was moving too much. As it would turn out, not being able to get to the basement may have saved our lives because our metal bulkhead door was sucked into the basement causing destruction to anything in its path. Also, an addition to our house that connected to the basement was blown away and through the hole that was left, items in the basement were sucked away.
That's all I remember of the storm. In the aftermath, as kids who didn't fully comprehend the severity and impact of the damage, we had fun. Though we lost most things in the storm itself, it left us with a whole jungle of twisted and fallen trees to explore. For fun, my friends and I would climb through the woods to look for things that may have blown there. We came to find a lot of copper wiring, and we would sell it for recycling. One of the things I remember most is that a family from over 40 miles away came down to return papers to my parents because it landed in their yard in Massachusetts. It turns out in times of tragedy, the human spirit can really shine, it certainly did in that instance. I remember how the community came together to help and people from as far away as Pennsylvania, traveling to help clean up the area. The Salvation Army and Red Cross clothed and fed us during this time, which was a big deal for my large family.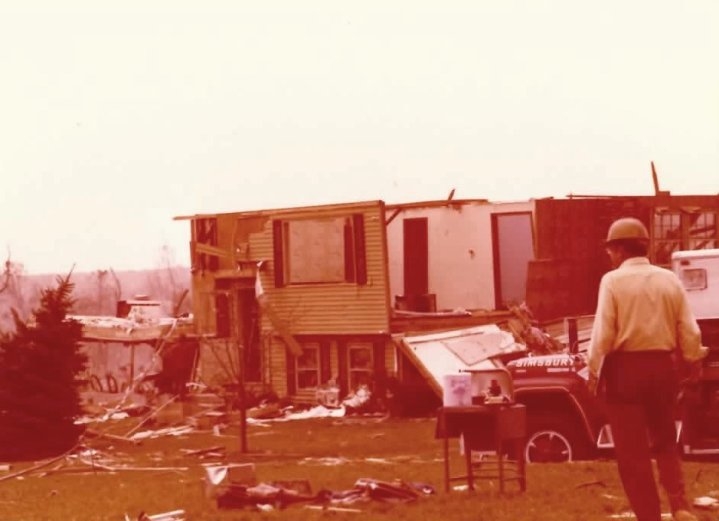 Now it's our turn to do the same for those touched by Hurricane Sandy. Looking back at the time in my life that the tornado struck and to where we are now, I think in the end it was the right decision to cancel the marathon. I also have this underlying urge to write a check to help people in New York and New Jersey; but more than anything I feel that I am being called to go spend some time helping them clean up. We are hoping to plan an Alex's Lemonade Stand Foundation staff outing to go help those affected as well, because I know that for my family, the help of strangers got us through a tough time, and now it's time for us to return that favor.