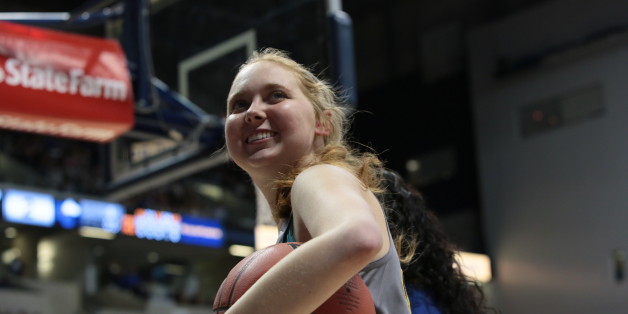 Many of you may have heard the story of Lauren Hill by now. Not Lauryn Hill of Fugees fame, but rather 19-year-old Lauren Hill, a student at Mount St. Joseph University near Cincinnati, Ohio. Lauren, a talented basketball player, stepped on the court recently for what should have been just the beginning of an illustrious college career. But instead, it would mark her very first and last game. Lauren is fighting an inoperable, and terminal brain tumor.
During Lauren's senior high school basketball season, she began experiencing headaches and dizziness, only to find out that these were the symptoms of a brain tumor. Undeterred by her diagnosis, Lauren pushed forward, wanting to live out her dream of playing college basketball. When Lauren was told that she would likely not live to see 2015, she never gave up for a second; instead, she kept her commitment to the college basketball team, and in turn inspired her school to petition the NCAA to move up their first game to give Lauren a shot at playing.
The first opponent for Lauren's team, Hiram College, would not only agree to move up the game by two weeks, they also gave up home court advantage, traveling to a 10,000 seat arena in Cincinnati, where every single seat was almost certainly filled with a Lauren Hill fan. The Hiram players however, had a secret -- they were Lauren Hill fans too. When Lauren scored the first basket of the game, and all eyes were on her, something went unnoticed: the 5 Hiram players on the court were cheering too.
When I first heard Lauren's story, I couldn't help but be reminded of the legendary college basketball coach Jimmy Valvano and his famous speech which still resonates with many of us today. In Jimmy V's words, "don't give up, don't ever give up." A funny thing happened then, my memory took me to an equally powerful speech by Stuart Scott, who received the Jimmy V Perseverance Award at the 2014 ESPY's. Stuart, who is most well-known as an anchor of SportsCenter on ESPN, has been fighting cancer for over seven years, and said something that I've carried with me:
"When you die, it does not mean that you lose to cancer, you beat cancer by how you live, why you live and in the manner in which you live."
These words could not be more accurate regarding how Lauren Hill has chosen to live with a terminal diagnosis. Lauren did not give up, she did not sit down, but instead kept her dreams alive in spite of the problems that she faced. The real winners in life aren't decided by the final score, who crosses the finish line first (or last), but rather how you choose to deal with the challenges presented to you. This is something that my daughter Alex embraced as well; she battled cancer for nearly her entire life, using the time she had to make a difference for others.
There was something else in that speech that I remember, that when Stuart Scott can no longer fight, he has others around him who pick up his battles for him. Lauren Hill fought to get herself to that game, but she wouldn't have been able to do it without the support of those around her. Even the players of Hiram College helped Lauren to achieve her dream. She couldn't do it alone, and she didn't have to.
The underlying theme here is twofold -- firstly that while sports can be divisive at times, at their core they make us cheer, bring us together and shine a light on important causes -- namely the fight against cancer. When the game is over and the crowd has gone home, let's not forget that the battle rages on. For Jimmy V., Stuart Scott, Lauren Hill, my daughter Alex, and the hundreds of thousands of other people who will battle cancer, the fight will not end until there are cures. These stories, the ones that we remember are not isolated ones, but rather snapshots of what is happening to thousands of people each day. After all, the second part of this story is those behind the scenes, out of the spotlight, who are moving us toward cures in their own ways. Maybe it's the parents, friends, family members, or maybe it's the doctors and nurses, or better yet, maybe it's all of us who are equally important to saving lives and moving toward the day when cures are realities. I urge you all to keep cheering, keep raising awareness for cancer, and continue to be moved to act beyond the final buzzer.