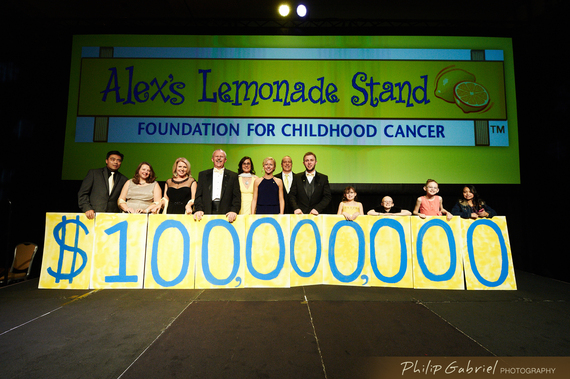 While the common conjecture may be that summer is the most important time for us here at Alex's Lemonade Stand Foundation, the beginning of the year brings with it some special inspiration as well. We host our annual gala, The Lemon Ball, and commemorate Alex's birthday on January 18. As we neared what would have been Alex's 19th birthday, we added one more milestone to this list -- reaching the $100 million raised mark since her first lemonade stand. I couldn't think of a more perfect time to reach this landmark in our history and it made me think about all the people I should thank. In order to do just that, I decided to take the advice of an old friend who said:
"One of these days, I'm gonna sit down and write a long letter to all the good friends I've known. And I'm gonna try and thank them all."
That old friend is Neil Young. Neil Young might not know that he is a friend of mine, he doesn't know me, and we've never met, but I feel like I know him. The song where these lyrics came from is "One of These Days," and I'd recommend the entire album, Harvest Moon, to anyone and everyone.
Regardless, my thank you letter goes something like this:
To Volvo, our founding sponsor, and all the sponsors who have come after (Northwestern Mutual, Toys"R"Us, Applebee's, Rita's, Auntie Anne's, the list goes on!) - I want to thank you for supporting Alex's mission. Whether you were there from the beginning, or have gotten involved in the last few years, you feel more like family than sponsors. Among the special qualities of our sponsors - supporting all of our special events, making childhood cancer your national cause, raising $2 million in a fundraising drive, and simply spreading Alex's message to your customer base - we simply wouldn't be here without all of you, and we wouldn't even be close to having raised $100 million! You have embraced our mission in your culture, truly dedicating yourselves to helping find better treatments and cures.
To our staff - we consider ourselves lucky to work with the best team. Thank you for coming to work every day and working so hard to help kids with cancer. The work we do is truly a group effort, and Liz and I feel grateful to you every day.
To our volunteers across the country - whether you were among the first supporters in Windsor, CT, where both Liz and I grew up, or from the opposite coast altogether, you are the carriers of Alex's legacy, you are truly following in her footsteps. We could not think of a more perfect way to honor Alex's dream than by continuing to do what she did. She'd be so proud of all of you.
To our Board of Directors - you have been instrumental in so many of the amazing achievements of the Foundation. Without your guidance and leadership, the Foundation may never have gotten off the ground.
To my family - thank you for your continued support year after year. You were great supporters during Alex's sickness and battle against childhood cancer, and you pushed us to continue that after she died. An extra special thank you to our three boys, we are so proud of you.
To Liz, my wife and best friend - you are an incredible woman. After Alex passed away and it was time to decide whether we could or should continue her work, I felt that while it was fine to continue Alex's mission, I did not want to leave my job. I wouldn't say that I especially loved my job, the money was good and it was a great way to support our family. Liz explained to me that we have the ability to help a lot of kids, and making money wasn't everything in the world. She made me realize that this wasn't something that we could do, it was something that quite simply we needed to do. Thank you.
Finally, thank you to Alex, for teaching me so many lessons in life. You taught me that despite the war you were waging against cancer, that we have to look on the bright side and find things to be thankful for. You taught us that you must do this to keep your sanity, but also because life is hard and without optimism it can be a long and awful journey.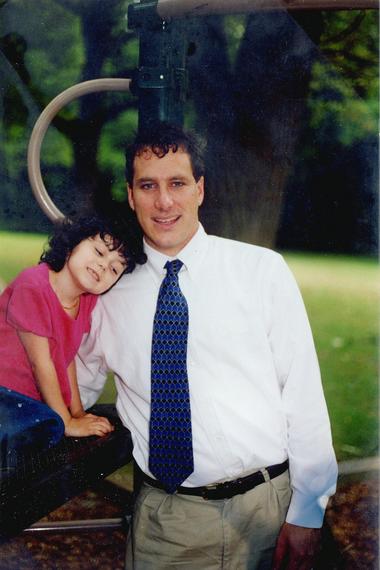 Because of Alex, I am thankful for the things that we do have, not those that we do not. I am thankful for the things that we have been given by Alex, and I am thankful for each and every one of our supporters who continue what she started.
The truth is, there are millions of reasons to be thankful, and these are just a few. In fact, I'm proud to say that there are now more than $100 million reasons to be thankful, and that we are that much closer to finding a cure.