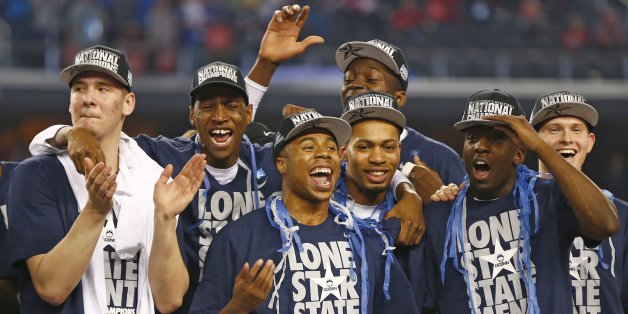 Update: On Monday, April 7, 2014, the UConn men's basketball team captured the 2014 NCAA Men's Basketball title, defeating Kentucky, 60-54.
March Madness may be over, but there are still two exciting nights of NCAA basketball left -- first up, the Huskies vs. Wildcats and then the following night, Huskies vs. Fighting Irish. You did not read that incorrectly, UConn will go for two national basketball championships over the course of two nights, fighting for both the men's and women's titles. In case you haven't figured it out yet, I am proud to be from Connecticut, and proud to be a UConn grad, but my love for the university and the town of Storrs goes much deeper than basketball.
Growing up in Connecticut, UConn was always the school to follow (are there any other schools in the state of Connecticut?). Throughout my childhood, I can remember staying up past my bedtime to listen to games on the radio, and once the Big East was introduced, I was always watching the UConn men's basketball games on TV. I can remember very vividly how the men's team struggled in those early years of the Big East against teams like Syracuse and Georgetown, but somehow we always knew that UConn had the heart of champions, it may just take a while for the skill level to match the heart.
When it was time for my wife, Liz, and I to decide where we would go to college, it is not surprising that there was only one choice, and it was UConn. As students, we were honored to be season ticket holders and in the years we attended the university, there wasn't a lottery for student season tickets, you just paid $50 and were granted access to a season's worth of games. We traveled to games in Hartford and the Big East Tournament in New York City in buses provided by the university, and what a time it was. I feel lucky to count myself among the early believers in Huskies basketball, and as I wear my UConn shirt proudly today; not much has changed.
Shortly after graduation from UConn, Liz and I would start our own business, opening a coffee shop, The Java Joint, at the UConn Co-op Bookstore. We were happy to provide students and faculty alike with a place to grab a good cup of coffee, and it was here that we continued our love for the basketball team. As avid basketball fans, we were pleased that many of the players and coaches frequented the Java Joint, and I can tell you from personal experience that Ray Allen was a hot chocolate drinker while Jim Calhoun preferred regular coffee.
It was during this time that Liz and I began a family, welcoming our first two children to our brood, Patrick and Alex, who spent their early years in Storrs on the UConn campus. In fact this was the place we called home when Alex was first diagnosed with childhood cancer. After her diagnosis and surgery, we returned to work at our coffee place, and found that the UConn community had rallied around our entire family. It's emotional to recall, but when they found out that we had sub-standard health insurance as self-employed people, the community supported us not only letting us know they were there for us physically, but in helping us to pay Alex's mounting medical bills. This is a gift that we will never be able to return, but it speaks to the character of the people at UConn, I don't believe they ever expected anything in return. I felt that it was a "we take care of our own" mentality from day one. I often tell my wife that when we retire I want to spend half the year in Storrs -- it means that much to me.
As we watch the basketball finals over the next couple of nights there is not a question in our minds (or our friends' minds for that matter) of who we will be rooting for. We will root for the Huskies, not just because we love UConn basketball, but also because we love the UConn community and the great people behind it. Who knows, maybe some of that great UConn mentality rubbed off on Alex, causing her to come up with her lemonade stand idea in the first place. She may not have won the national title like UConn hopefully will in the coming nights, but she certainly was the champion of many people's hearts, and a champion for others who faced childhood cancer. Thank you to UConn and Alex, for teaching us what champions are really all about.