When I was writing my last blog for The Huffington Post, memories of my daughter Alex came flooding back. As my family, friends and staff can attest, I've told stories of Alex's wisdom over the years. These stories have inspired many of us to work harder, whether it is to achieve Alex's mission of a cure for all kids with cancer, or simply to improve our own lives. I thought, maybe now was the time to share these stories with all of you, and to see if they could have a larger impact toward making a difference, whether it be big or small. So, this is the first in a series of occasional updates that will speak directly to lessons I learned from my daughter Alex. If you haven't had the pleasure of having your life graced with children yet, you will come to find that we learn so many of life's lessons from our children. So although I'll keep a few to myself, I'm proud to share some important lessons that I learned from Alex that stand out in my mind.
It was in the year 2003 that my wife Liz and I welcomed our fourth child, a son Joey. By the time Joey was born, Liz and I had made the mistake of getting rid of the majority of our baby items. What can I say, our third child had been born four years earlier and we thought that was likely the last. Thankfully, a family member was nice enough to gift us with a used baby swing that had proven to be a lifesaver for their infant. This was a very nice and generous gift, except for one very small thing -- the swing arrived without any instructions. For those of you that have tried to put baby equipment together without any instructions, it is not a simple task, not to mention that this particular swing was a top of the line model. The swing had so many parts, screws, and pieces to it, and I wanted to be sure if was safely constructed considering we would be putting a very precious piece of cargo in the swing, our newborn baby. I spent what felt like an eternity trying to put this swing together and I simply could not figure it out, I didn't even know where to begin. These failed assembly attempts were anything but fun and became increasingly filled with cursing, expletives, pounding on the floor and sounds of disgust emanating from me. It was not the shining moment of triumph I had hoped for.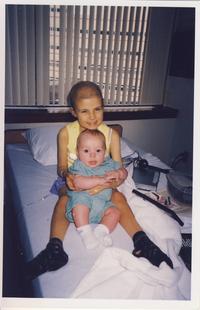 Finally, fed up, I went downstairs to tell my wife Liz who was working in the kitchen that this was impossible and that the swing would be useless for our purposes. I expressed my frustration and told her that we should throw the swing in the trash and go buy a new one... complete with instructions! Liz didn't disagree, I think she knew it was not the time, but instead allowed me to cool off in the kitchen for a while.
Sometime later, whether it was 15 minutes or half an hour I'm not sure, our daughter Alex joined us in the kitchen. She said something I was not expecting, "I just need a screwdriver to tighten up a few screws and the swing is done." To say that I was amazed is an understatement, astonished maybe, but I had to know how she had done it. I of course asked how she managed to put the swing together.
Alex looked at me with a bit of a grin, but very seriously and said, "You should never give up, it's never good to give up." I have never heard a wiser or truer statement; instead of becoming frustrated and increasingly angry, Alex became increasingly more determined. Not only did she prove this by putting together the baby swing, but through fighting her cancer and creating a movement to help others. She never gave up, and to this day, when I'm having a hard time, I think of this moment. It could teach us all something about fighting childhood cancer, but more than anything, about how we live our lives.