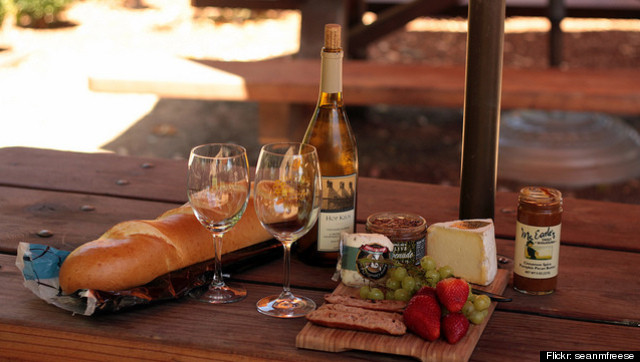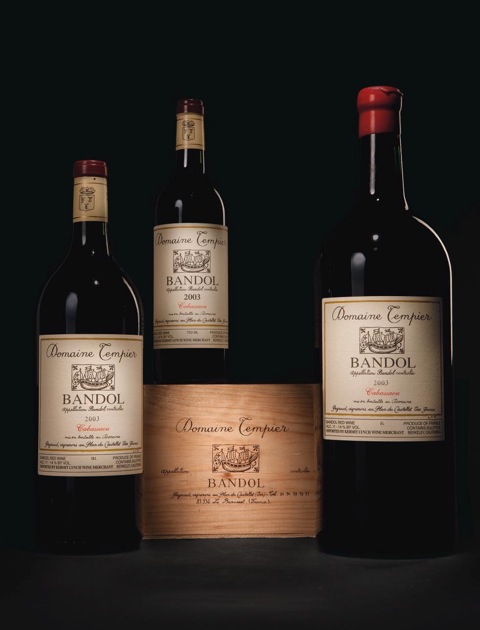 Over the years I have attended several wine auctions at Christie's, both here and in New York. I once purchased a six-bottle lot of Chateau d'Yqem for an exorbitant amount of money (for me) and enjoyed every drop of it. (One of the best birthday gifts I have ever received was a magnum of Yquem from Bill Wilder... hint, hint.) So when Scott Torrence, Vice President and Senior Wine Specialist at Christie's invited me to Bouchon to hear about the first-ever, for them, on line wine auction, I went with a sense of excitement and foreboding. Foreboding because I knew I might get hooked into bidding an outrageous sum on a lot or two of spectacular wines. So be it. Torrence is the guy who was head of LA wine sales 'til 2008, and holds the world record for auctioning 6 magnums of Chateau Mouton-Rothschild at $345,000. He taught a wine classs at UCLA which many of my Huffington readers attended.
Scott Torrance of Christie's samples some of the wine at auction.
I had followed with great interest their very successful pilot launch of a globally-accessible on-line auction last fall with The Collection of Eizabeth Taylor totaling $9.5 million, far exceeding the pre-sale estimate $1 million. Elizabeth devotees acquired some 400 gowns and pieces of jewelry, in part to benefit AIDS research. The recent on line only charity auction of couture handbags by Hermes tripled expectations, totaling $229,000. Obviously this is the wave of the future.
The Christie's wine auction begins at 10 a.m. EST on August 6th and runs until August 20th. Participating is simple: go to www.christies.com/signaturecellars... peruse the 301 lots being offered by three (anonymous) wine collectors, sign in to participate by giving some basic information and a credit card. Make your bids with a click of your mouse... and then you will be alerted each time your bid is bested... and you have an opportunity to increase your bid. That's it. Fun, interesting, informative, and who knows? You might end up with a fabulous lot at a very good price.
The Signature Cellars on line auction is offering a mix of blue-chip wines from the old world and the new, along with approachably-priced selections suitable for holding or drinking now. I found everything from a case of Chateau Lafite '82 and Latour, to hard-to-source California cult wines like Harlan and Screaming Eagle. I was, of course, intrigued by the rarities being offered, including magnums of fine Champagne and Imperials of Bordeaux, along with some unusual aged Ports. At Bouchon, Scott offered me a taste of some Bandol wines from Domaine Tempier, which are in the auction. He noted that estimates start as low as $200 and go as high as $35,000. He estimated that the total sale of the 301 lots would go for in excess of $750,000. My guess is that they deliberately placed the estimates low, to encourage bidding, and that the prices could be out-of-sight.
Tablemate Robin Canalis share tsting with me.
When I lived in New York a lifetime ago, I furnished much of my apartment by attending auctions at Christie's, which at 246 years old calls itself the world's leading art business. Last year they held over 450 auctions in 80 categories for a total of $5,7 billion. So be careful when raising your hand to scratch your face in their showroom, you may have bought something wonderful.
To subscribe to Jay Weston's Restaurant Newsletter ($70 for twelve monthly issues), email him at jayweston@sbcglobal