Photo courtesy of Cirque
Motown Record's founder, Berry Gordy, once told me that he thought Michael Jackson was the single greatest performer in show business history. Not true, of course, but he can be excused for saying this since he discovered Michael and his brothers. Actually, his assistant, Suzanne DePasse, found this ragtag Jackson 5 ensemble in 1970 and brought them to Berry's attention. The rest is history. I happen to have been around at the time, since I was producing a movie about Billie Holiday called Lady Sings The Blues and it starred Diana Ross, whom Berry managed and loved. I remember that Gordy asked if I could find a movie script for the five young brothers to appear in; eventually I found one about a group of youngsters on tour in Europe and all of their adventures. Unfortunately, when Berry realized that he would have to share a producer credit with me, he walked away. (Ironically, on the last day of production of Lady, he paid me an inordinate sum of money for the right to claim an executive producer credit on the picture, which for various reasons he richly deserved.)
Photo courtesy of Cirque
All of this flashed through my mind on Friday evening as I sat in my seat at the Staples Center waiting for the start of the Cirque du Soleil show, Michael Jackson Immortal World Tour. This is the third Cirque show I have seen recently, with Ovo opening last week at the Santa Monica Pier and Iris playing at the Kodak Theatre in Hollywood. The arena was packed with young (and older) people, children and families, black and white and in between. What then occurred was unprecedented, at least for me. I saw one of the most remarkable, exciting and unusual performances it has been my experience to observe in a long lifetime of seeing these shows. Quite simply, it was an all-in exhibition which encompassed all of the visual, musical, dance and acrobatic arts in one kaleidoscopic event that left me breathless and drained of emotion. I had intended to leave at half-time, but there was no way I could do so... I was riveted by what was happening in the arena... an unprecedented show-business spectacle, the like of which I might never see again. I just don't have the words to adequately express this spectacle... but I will try to find some way to communicate what a scintillating moment it was.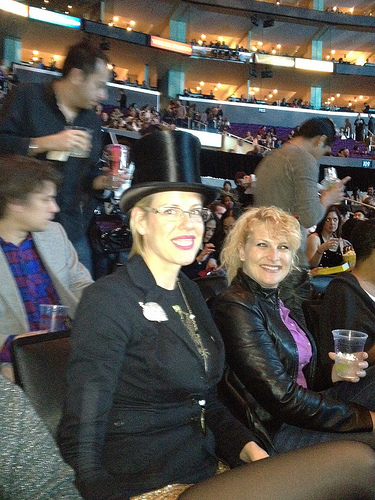 My neighbor, Elizabeth, was dressed for the occasion.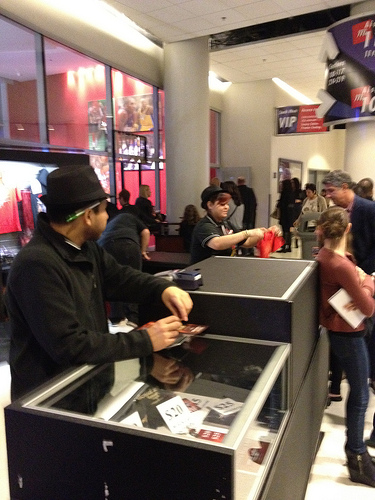 Sales of MJ merchandise was an expensive bonanza!
The Los Angeles Times recently described that Michael was mesmerized by the Cirque shows after he saw his first in the late 1980s. He later took his three children to see their shows and even toured their home base in Montreal in 2002. Several months after his death in June of 2009, his estate began planning for a live tribute... and Cirque was the natural venue for it. My Huffington Post readers will recall that I interviewed the founder of Cirque du Soleil, Guy Laliberte, when he returned from traveling in space on the shuttle. It was Guy who suggested to Michael's mother, Katherine, that they do a world-traveling show rather than a Las Vegas permanent one, and she quickly agreed. It opened in Montreal last October and has already grossed several million. Eventually, a smaller tech-heavy show will open in early 2013 in a permanent space in Las Vegas' Mandalay Bay.
The 'military' number utilizes several visual techniques to great effectiveness. Photo courtesy of Cirque.
Dangerous number. Photo courtesy of Cirque.
The writer/director, a fellow named Jamie King, working with Cirque for the first time, must be the 'Einstein of Entertainment.' He had worked with Jackson as a dancer on the '92 Dangerous world tour. Somehow, he combined Michael's music and choreography with Cirque's creativity to give the audience a unique view into the passionate heart of the artistic genius who transformed our pop culture. More than 60 international dancers, musicians and acrobats were melded into a dazzling, electrifying two hours... a fusion of amazing visuals (think split screens of every size and dimension), a fantasy in which I felt fully immersed. Yes, there were fairy tales, magic, the fragile beauty of nature... but most moving for me were scenes of Michael as a young boy singing some of the songs for which he became famous. The message seemed to be of love, peace and unity. The only negative for me was the strobing intensity of the pulsating spotlights, which eventually became disconcerting.
This one-legged acrobat was amazing. Photo courtesy of Cirque.
The Jackson 5 number. Photo courtesy of Cirque.
I looked up Jamie King in Variety, and they called him "the Jerry Bruckheimer of tent-pole concert tours." He turns out to be a multiple Emmy winner and MTV video music award nominee, working for the past 12 years as Madonna's creative director, as well as with Celine Dion, Ricky Martin and Elton John. Sheer creative... genius? Possibly.
Neverland number. Photo courtesy of Cirque.
Dance ensemble. Photo courtesy of Cirque.
I do know that the show is returning to Staples on August 14th and 15th for the final U.S. performances before the world tour continues, and on January 30th I will be purchasing tickets for both nights on the Ticketmaster site or at 1-800-745-3000. I strongly suggest you mark your calendar and do the same... it will prove to be a seminal experience for you also.
To subscribe to Jay Weston's Restaurant Newsletter ($70 for 12 monthl issues), email him at jayweston@sbcglobal.