My very favorite charitable food event of the year is coming up on Saturday, Sept. 29, when L.A. Loves Alex's Lemonade will be held on the lawn at the Culver Studios to raise funds for the that foundation. This is the event hosted by Chef Suzanne Goin and her partner, Caroline Styne (Lucques, A.O.C., Tavern) and Suzanne's hubby, Chef David Lentz (The Hungry Cat), which is hosted by Neil Patrick Harris and David Burtka along with Jimmy Kimmel.
What makes it special is that 40 of the top chefs and mixologists from around the country come to town to serve tastings of their delicious dishes, and all of the guests can interact with these famous chefs to say hello and discuss their food. You'll remember that this is the wonderful charity started by a young Philadelphia girl with cancer, which has mushroomed into a massive research program to fight childhood cancers.
In addition to general admission tickets for $175, there is a $1,200 premium ticket, which includes early admission, reserved seating and an exclusive meet-and-greet dinner the night before prepared by Nancy Silverton and friends where you can dine with the participating chefs. I suggest you go online and check it out. It's a more personal, fabulous fun party for a great cause and I strongly urge you to meet me there...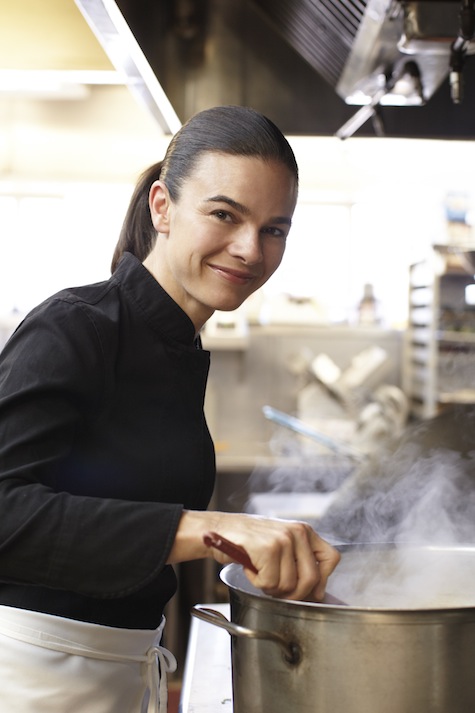 Chef Suzanne Goin is a co-founder of L.A. Loves Alex's Lemonade
If you are a fan of great espionage thriller novels, as I am, then I have a hot one for you. My buddy Larry Gordon handed me a copy of The Flag, by a fellow named Brian Burr, who is a graduate of West Point and served several years in the Army. I was going to just peruse it, but the moment I started reading I was hooked. The opening scenes take place in 'my' war, the Korean one, but then it goes to Vietnam and all over the world in the form of a case-hardened CIA-type agent named Stryker McGuire. There is inside stuff in the book which startled me: such as the unrevealed story of the shooting down of a Korean civilian airliner some years ago by the Russians over the North Pole. Definitely a hot read and I hope we'll see more of Stryker. You can get a copy on Amazon...
I doubt if I will do a review of a little kosher storefront restaurant on Pico Blvd. called Phinat Hakerer (translated roughly as 'Pearl of the Vineyard' even though they don't yet have a liquor license). Diagonally east across from the awful Twin Dragons, this place has only been open a few months, when an Israeli welder, Shimon, joined Dahlia, his chef sister (from Bensonhurst, Brooklyn) to augment the kosher dining scene in L.A.
Fred Levinson raved about the tiny eatery, and I reluctantly agreed to try it one evening. The hummus was wonderful, with crispy chickpea fritters, and there were many (really) well-done skewers of chicken and beef. But what blew my socks off was a soup, which the owner happened to mention in passing as I was ending my meal. "You like marrow? You like meat soup? We got cow's foot soup." What?? Not since my sojourns in the Middle East years ago have I heard that dish mentioned.
Fred's friend Tiffany Jones squirmed as he brought me a big steaming bowl of the beefy broth, with lots of 'stuff' floating in it -- chunks of tender leg meat, shreds of savory fat, a huge marrow bone. I licked the bowl clean and then ordered a container to take home. Oh, my, who would have dreamed? We ended our meal with his homemade baclava, rich with honey and cinnamon and nuts. I will soon be reviewing Got Kosher? Café and Bakery on Pico Blvd. west of Robertson, a French-Tunisian place, but don't be surprised if I stop off at the other one to pick up a container of cow's foot soup...
A steaming bowl of beefy cow's foot soup, with a big marrow bone.
Placido Domingo will be singing his 140th role in Verdi's The Two Foscari on Sept. 15
Opera fans will be thrilled to note that Mozart's Don Giovanni will be opening here on Sept. 22 at the Music Center. Both James Conlon and Placido Domingo will alternate conducting the seven performances. It's a new production by the celebrated German director, Peter Stein, and I know I will be there on opening night. I suggest you join me by going to www.LAOpera.com... and I will be at the opening of the L.A. Opera season on Sept. 15 to celebrate Placido's 140th role in Verdi's The Two Foscari, an opera I have never seen. Can't wait...
When asked what was the best dish he had eaten all year, the L.A .Times esteemed Jonathan Gold said it was spicy galbi jjim at Soban in Koreatown. Short ribs with chili -- I must admit I have never met a short rib that I didn't like. I'll stop in there next time I visit my favorite new supermarket, The Galleria on Olympic and Western... This may be icing on the cake, but I know I will be reviewing Thomas Keller's new Bouchon Bakery book. Love stopping in at the little place under his restaurant on Canon to pick up sweet pastries...
Chef Thomas Keller will be celebrating his new Bouchon Bakery book in October.
On Friday, Sept. 28, at 7 p.m., Hollywood's Cinerama Dome Theatre will be hosting a special screening of a film very close to my heart and mind: the original three-strip Cinerama production of How the West Was Won, celebrating the 60th anniversary of the Cinerama film system.
To subscribe to Jay Weston's Restaurant Newsletter ($70 for 12 monthly issues) email him at jayweston@sbcglobal.net.