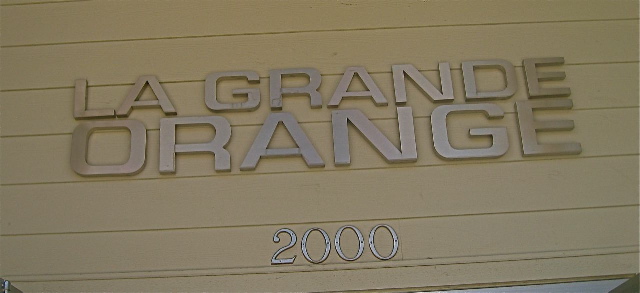 The name rolls off the tongue...La Grand Oh-range...vaguely French and elegant, a rather strange nomenclature for a deceivingly casual café featuring some Japanese and Mexican dishes, amazing American burgers, fabulous sushi and remarkable salads. I asked founder/resident co-owner Bob Lynn why the name and he laughingly replied, "It just sounded wonderfully European when we opened the first one in Arizona seven years ago in a vaguely Berkeley-looking neighborhood." We were seated at the recently-opened restaurant (310-396-9145) at 2000 Main Street (at Bicknell) in Santa Monica on the border of Venice, a beachy, sixties-raffish location which I had frequented years ago as Le Boulangerie. (There is a full parking lot just off the corner underneath the building, as well as some street parking.)
I was dining here because I knew of Bob from his many years as executive v.p. of the much-admired Houston's chain, as well as the fact that his new partners are R.J. and Jerrod Melman, sons of legendary Chicago restaurant mogul Rich Melman, who has been a friend and reader of ours for many years. Bob and artist wife Sara Abbott live on the 2nd floor, 3200 sq ft loft which he designed and built in a 1951 post-modern Santa Monica building, and where he houses his 1,200 volume cookbook collection and tests all the new dishes.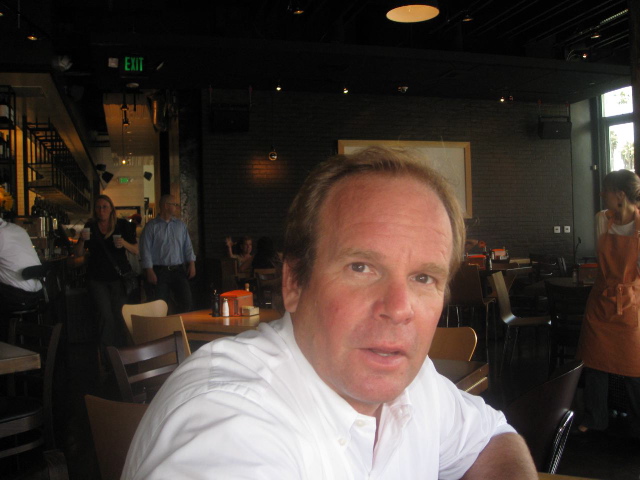 Bob Lynn
But after a long lunch last week here with jewelry heir Ronnie Winston, who was staying down the street at the Oceana Hotel, I was eager to return with a larger dining group to confirm my initial suspicion that this was a remarkably visionary eating experience which might well represent the future - or one aspect of it - of the evolving restaurant business. To explain, LGO is a multi-faceted place: at breakfast (served from 6:30 am to 11 am) you step up to the front counter, check out the blackboard menu while salivating at the sticky buns, order your croissant and coffee, or Lemon Skinny Pancakes ($7.95), Daybreaker ($8.95), egg white omelet, or Fried Matzo ($6.95) with apple sauce, described on the menu as "Jewish chilequiles" (I'm not kidding). A huge breakfast menu, from delicious homemade English muffins made from a 40-year old starter (take a few home!) to what has been described by some as the best Huevos Rancheros ($8.95) outside of Mexico, griddled and not deep-fried. Think organic eggs, homemade ranchero sauce, all built on a cheese quesadilla. You order, pay, and get a green slip with a number. Grab your drink and some silverware out of the cooler (they work on the honor system), go out on the terrace or into the main dining room, past the vast open kitchen, and in a few minutes your wait person will arrive with your order.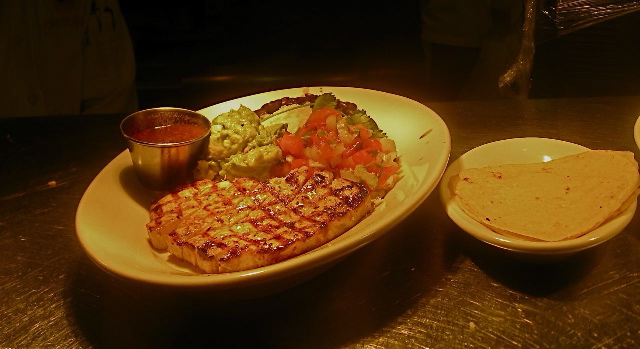 The swordfish.
At lunch (served from 11 am to 4 pm), the same procedure rules: we ordered up front several sushi rolls, the California ($8.95) and a Crunchy Spicy Tuna Roll ($11.95), along with Tuna Tartare and Guacomole ($12.95). I eyed the Swordfish Soft Taco ($14.95) but decided to hold for another day. (Tacos are made to order.) Later, Bob brought out his signature Brussels Sprout Salad ($12.95), shaved sprouts (actually blanched for a moment) with Manchego cheese, almonds, and honey mustard vinaigrette....so good that Ron ordered another to take to Santa Barbara for Heidi. I spotted a woman at the next table eating a Green Chili Burger ($12.95) and decided I needed one of those; think roasted, smokey poblano chiles and grated sharp chedder piled on top but not melted... piquantly wonderful. By now I realized that this was not the usual fast-food eat here-or-take out emporium... the food is absolutely wonderful, the service fast and efficient, and the kind-of-funky atmosphere was inviting and, yes, fun.
My waitperson, Amberlee, and her cohorts were all so attractive and helpful, full of zeal, that I commented on this and Bob noted that they had over 2,000 applicants for the 110 open jobs. He noted that his food guys, led by Chef de Cuisine Vincent Valenzona, are constantly walking over to the Santa Monica Farmer's Market and he doesn't have any freezer here except for the gelato/ice cream... it's all fresh, organic, healthy and utterly delicous. So back we came for dinner, my stalwart reviewing team of Penny McTaggart and David Rapoport, and new addition Patty Eisenberg. The wine was flowing freely (they have a full bar!), and I was delighted to find a bottle of Laetitia's Nadia Red and the fabulous Brut Rose on the list, while bar manager Brian assured me that the Laetitia Pinot Noir would soon join them. Wines are available in 6 oz. and 10 oz. pours as well as by the bottle. The music was not overwhelming, but as Penny noted, they were playing an eclectic soundtrack... from Neko Case to Zydeco to The Monkees. I was waiting for Sinatra, but he never appeared.
A wonderful website called A Hamburger Today just reviewed their burgers and said, "a beautifully crafted burger from a very professional operation." They went on to comment about the cheeseburger, open-faced and topped with a large pile of unmelted, shredded Tillamook sharp cheddar.
The beefy flavor cuts through the addition of lettuce, tomato, red onion and pickle. The grind is superb - course to the point of just being able to hold its form as it breaks apart in the mouth and allows the fat and juice to do what they are meant to do - please the eater. The meat is 100% chuck from Premier Meats, full of char and smoky flavor from the wood grilling (hickory, mesquite, white oak and cherry). The bun is our favorite part of this burger, a homespun recipe by Lynn made by a local bakery. With its slight crunch from a quick toasting and slather of Russian dressing (a recipe which Lynn cadged from his mother), it may well be our favorite bun in town.
Wow..that says it all, it's one of the best burgers to be found in Los Angeles! As I mentioned, after 25 years tooling Houston's operation and menu, Bob Lynn opened a few LGO places in Arizona to much acclaim. Then came a branch at the historic 1934 Del Mar train station in Pasadena, before he teamed up with the prolific restaurant group to help create Hub 51 in Chicago, Lettuce Entertain You, Rich Melman's operation out of Chicago... and the Santa Monica location is the initial result. My suspicion is that it won't be the last. That first dinner was a revelation for us all. I'm a nut about fried chicken, trying it everywhere and usually finding it lacking. Not here, oh no. It turns out that this is probably the only Southern California bastion of fried chicken made according to the treasured recipe of legendary Southern cook Edna Lewis, who died at the age of 97 and left her heritage to Scott Peacock, who wrote a slew of cookbooks memorializing her. Bob told me that it is brined for two days in buttermilk and a touch of sugar and spices, then crisply fried (in her day, I'm sure it was in lard, not here) and served with real mashed potatoes and homemade cole slaw ($17.95). Bob called it our "rock star dish" because it seems that some very famous musicians who live in the area and dine at LGO order it compulsively.
Patty wanted the Turkey Meatloaf ($14.95), a fine choice... it was spiced perfectly, served with a mushroom 'party' gravy and mashed. I was in need of a fatty, rich piece of meat, so the Braised Niman Ranch Pork Shoulder ($18.95) was the obvious choice. Incredibly juicy, utterly decadent, with a mustard-apricot glaze. Penny was paying attention to her Sonoma Salad ($12.95), butterleaf lettuce, roasted beets, Marcona almonds, asparagus and goat cheese. Did I mention that we had been graciously given a few Spicy Tuna Rolls ($10.95), so authentic it would have paused Nobu in his tracks. We finished with a selection of desserts ($5-7), my favorite the Red Velvet Cake, while Penny and Patty scarfed up the fruit-and-nut granola-like bowl. David set himself the task of finishing the cup of rich, dark Chocolate Pudding, which he accomplished with ease.
LA GRAND ORANGE is an exciting anomaly... a departure from the 'norm' which surprises and pleases beyond all expectation! A wise food critic friend who dined there yesterday emailed me her comment: "The food here is so far beyond what one would expect for a casual beachside restaurant... it would win praise at the finest white-table eatery anywhere in America." Hear, hear. It is my new favorite drop-in spot, and the moment the word gets out about the choice offerings and fun setting, it is going to roar like gangbusters. Bob Lynn, my hat is off to you. Doors open daily at 6:30 am every day of the year.
To subscribe to Jay Weston's Restaurant Newsletter, email him at jayweston@sbcglobal.net