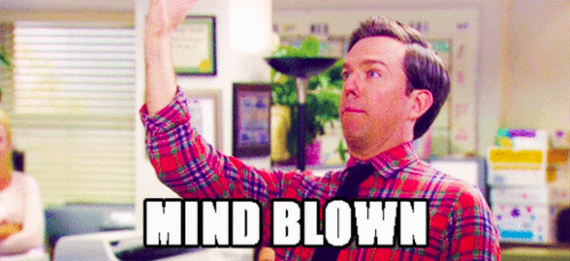 Looking to have a little fun with your Facebook friends? Here are 7 cool things you can do to amuse, entertain and yes - in some cases, seriously annoy - your friends.
Have fun!
1. Post a link that takes users to their own profile page.

Do you have any objections to messing with your friends a little? I didn't think so. Create a status update that goes something like this:
Look who posts the most boring updates: http://facebook.com/profile.php?=73322363
Or, if you want to be nice, try this:
Want to see my favorite Facebook friend? Click here: http://facebook.com/profile.php?=73322363
While the URL looks like any other normal link, it actually takes users to their own profile page. Imagine all the ways you can have fun with this one!
Just be sure to click the 'x' on the link preview, or else your plan will be foiled when your friends see your profile picture and name pop up.
2. Create a group album that all your friends can upload to.
If you and your friends attended a party, conference or event and want to compile all your photos into one single album, you can create a shared album that only invited users can add to.
Here's how:
1. Create your album as usual.
2. Go to your album, and click on 'Make Shared Album' in the top left hand corner.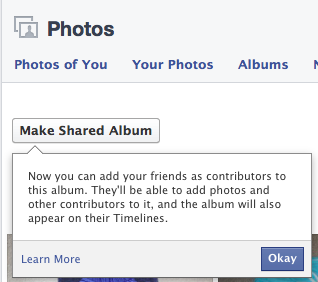 3. Enter the names of the friends you would like to add as contributors to your album.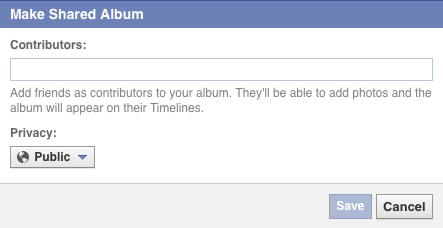 And that's it! The photo album is now managed by you and the friends you selected, all of whom can upload to the album and edit album captions. The album will also appear in the Timelines of all contributors.
3. Find out who's unfriended you.
There have been a number of browser extensions over the years that have allowed users to receive notifications when someone has unfriended them. It appears most have gone the way of the dinosaur, however, so I'd like to offer 2 other options for those of you desperate to know who's kicked you to the curb.
First, the quick and easy way: Go to Who.deleted.me, connect your Facebook account, and receive an email each time a friend deletes you.
Problem is, this only works for friends who delete you in the future. Option 2 tells you who's deleted you in the past.
For this method, you'll need to go to your Timeline, and click on a given year (to see all friends who have unfriended you, you'll need to do this for each year since you joined Facebook).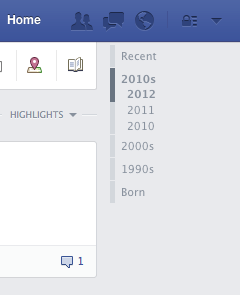 At this point, you may or may not see a 'Friends' box; if you don't, you'll need to select 'All Stories' under Highlights.

Now you should be able to see a 'Friends' box for each month of that year (or at least any month where you added friends). This is NOT what you want to click on. Find out where the year in question starts, and you should see a Friends box for the entire year (for instance, Friends - 2012).
Click on the box in the bottom right (should say +5, +3 or however many additional friends you added), and it will take you to a box that lists all the friends you added that year.
If any of these people have an 'Add Friend' button next to their names, you know they have unfriended you!
4. Post animated GIFs in your status update.
While Facebook doesn't technically allow you to post GIF's, it's possible to do so using a service like Giphy. Choose from Giphy's wide selection of GIF's, organized into categories such as reaction GIF's (like eye rolling), TV GIF's, weird GIF's and TGIF GIF's (say that one 3 times fast).
Search for the GIF you want, and then post it to Facebook one of two ways: either copy and paste the URL next to Share GIF, or click on the Facebook icon.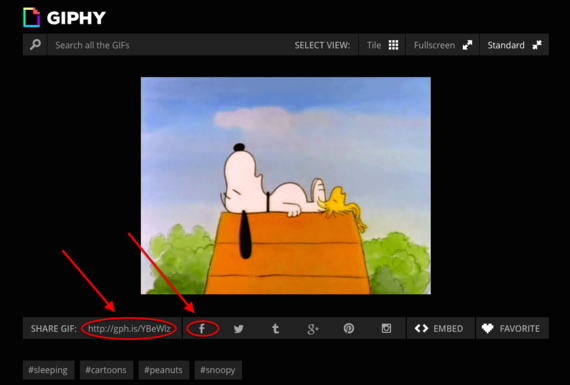 Unfortunately, your friends will still need to click 'play' to see the animation, but it's a pretty cool trick nevertheless.
5. Use cool symbols in your status updates.
FacebookSymbols.com lets you choose from thousands of symbols, emoticons, art (for those times when you HAVE to include an alligator head in your post).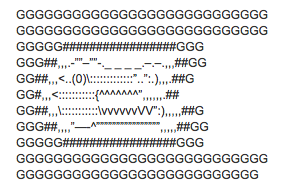 Simply cut and paste from the site into your status update and you're done! (What, did you think your friends made those things up on their own?)
6. Replace annoying stuff with cool stuff.
While your friends won't actually know you're using this one, it's been known to save friendships doomed to failure because of constantly annoying status updates.
Install the Rather extension for Chrome to block or mute annoying stuff (like photos or mentions of Miley Cyrus) and replace them with cool stuff (like cake or cats).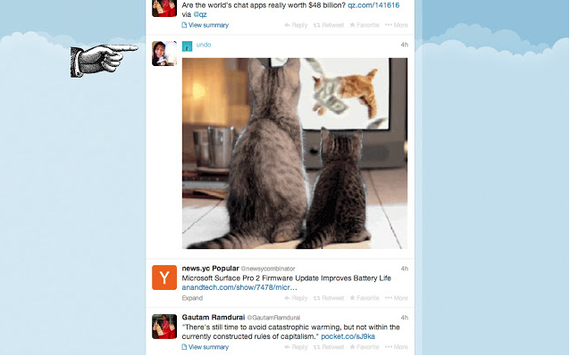 7. Find targeted conversations to participate in.

Just discovered Game of Thrones and want to talk to your Facebook friends about it? Use Graph Search to find out what's already been said instead of jumping in blind.
Commenting on old posts will bring the thread back up to the top of your friends' News Feeds and get the conversation going again.
For more Facebook tricks, see my post 6 (More) Interesting Facebook Tricks You Might Not Know.
What other cool Facebook tips or tricks can you share with us? Leave a comment below!
Header image courtesy of Giphy.com