If your business runs a company blog, then there's a pretty good chance that you offer RSS in one form or another. For just about as long as blogging has been around, feed readers have been used by fans and followers to keep up with new posts and updates.
One of the most popular feed readers has been Google Reader. Unfortunately, Google has announced the death of their reader, even though it has millions of users.
Now, you might think that because you're a shining star in your industry on social media in that email subscribers aren't the be-all and end-all. But you might be surprised by a report that Google Reader drives way more traffic than Google+ (according to BuzzFeed, which is where the image below comes from).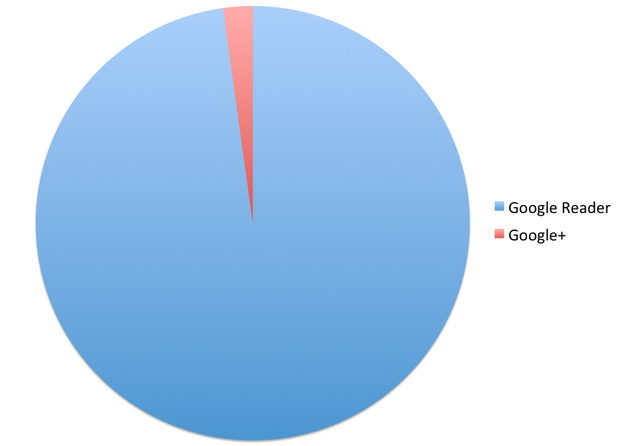 Many business owners may not realize this yet; but according to this data, a large percentage of your readers, customers, and subscribers will suddenly stop receiving updates whenever you post new blog articles. Could this lead to a sudden drop in traffic and, worse, revenue?
Sadly, this will likely be the case for many businesses. If you don't want to be one of them then you have to do something about it -- right now. You have barely two months before Google Reader dies on July 1.
What does the shutdown mean to YOUR bottom line?
First of all, how do you know if you have readers subscribed through Google Reader? Is there any way to know how many of those subscribers actually visit your site when you update your blog?
Out of the people who visit, how many of them actually buy from you and contribute to your revenue? In essence, just how much are those readers worth to your business?
Rebecca Lehmann wrote an amazing guide that shows exactly how she calculated those numbers in "How Much will Google Reader's Demise Cost your Business?" She even reveals her spreadsheet template and more to use completely free.
Make sure you don't lose subscribers
There are several ways you can minimize the number of readers you lose. Some of them are likely to go out and find their own way of staying updated on your blog through another service, once they discover that Google Reader isn't working anymore.
But others who aren't so Internet-savvy may feel lost and left behind. Worst of all, others might even assume your disappearance has something to do with your business and not even bother to look deeper.
As a result, you need to start preparing for the switch now. You need to let your followers know that the change is coming and the reader will no longer work once July comes. You need to assure everybody that you care and you've done the hoop-jumping on their behalf, to make the transition as smooth as possible.
Since they're currently subscribed, you could write a blog post about this. Add it to your daily blog routine. The folks who actually read your feed and keep up with the blog will get the update. Those that don't -- who probably don't really contribute to your bottom line anyway -- will not be any great loss if they fail to catch your notice.
A few alternatives to consider
If you don't have thousands of subscribers, my first recommendation would be to go to MailChimp.
They have an amazing service. The best part, especially for smaller businesses with limited budgets, is that it's completely free until you reach 2,000 subscribers. The service is mainly used for email newsletters, but many people don't realize that MailChimp offers an RSS-to-email service, too.
They make it easy to import all your subscribers from Feedburner RSS. Here's a guide for doing just that.
Another one that seems to have a lot of people talking is NewsBlur. I haven't used this one, but I have seen quite a few folks discussing its pros and cons. NewsBlur has received recent financial backing, so it's poised for improvement.
One that I haven't seen talked about as much, surprisingly, is the very familiar Old Reader. Users can transfer their subscriptions from Google Reader straight into it. You can organize with folders, rename them, use list view, or read all from a certain feed. Users can also share to Facebook a story they like from their feed.
Conclusion
Now that you know the death of Google Reader is approaching and that this could have very serious consequences for your website traffic and bottom line, be proactive and notify your readership of the upcoming changes. Your readers -- and your bottom line -- will thank you!
Do you have other ideas for migrating from Google Reader? Have you already implemented any tactics or strategies that are working? Leave a comment and tell me!